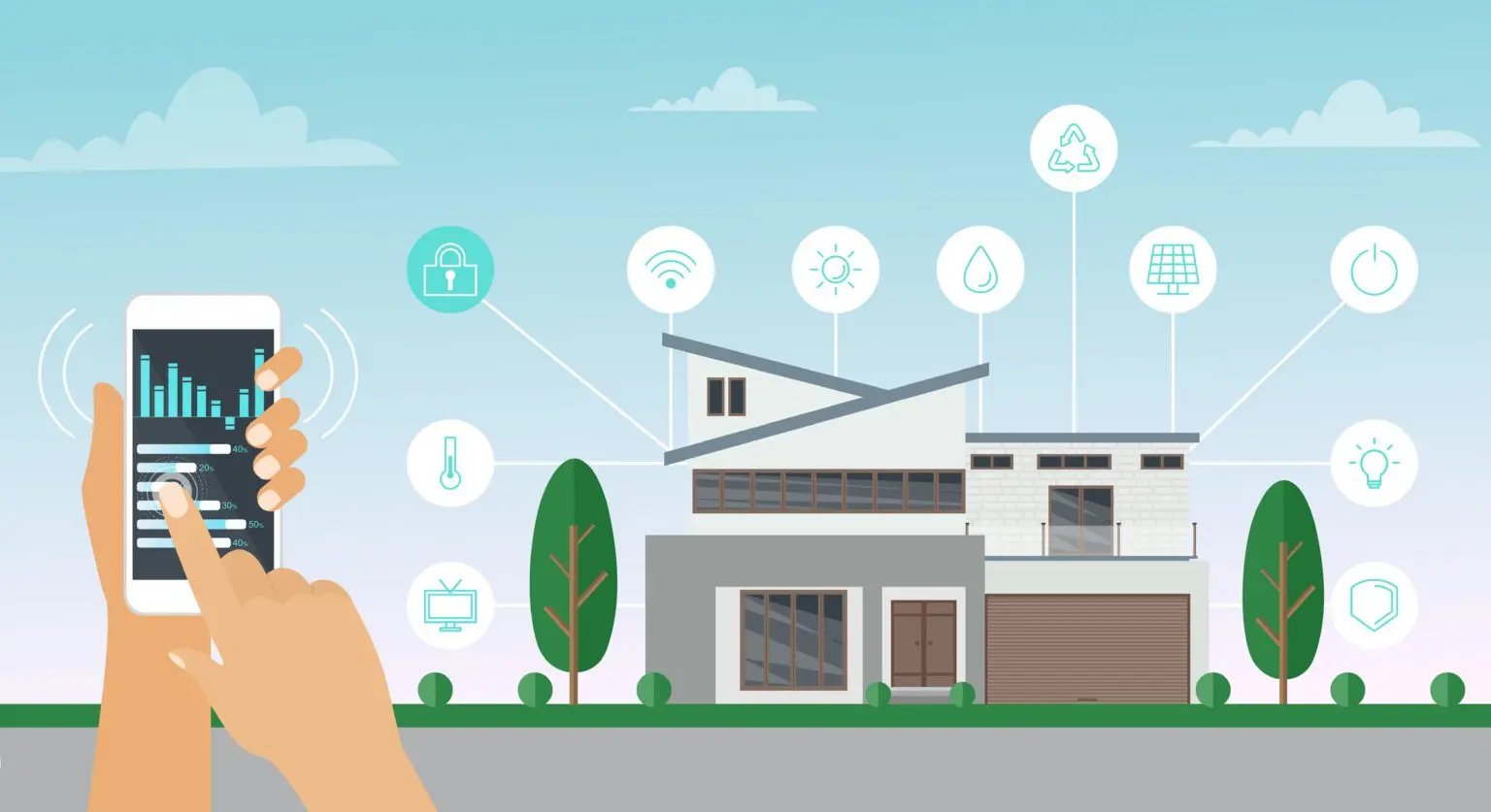 Nowadays, home issues are quite common, and every person faces them daily. Some are experts at handling them, but some need experts or home service apps to fix everything.
Suppose it's 9 a.m., and you get a call from your friends or family members that they come to your home and stay at your place for a couple of days. You go to the guest room and find out that the tiles are dirty and the shower is not working. And, you cannot finish everything on time, so what would you do?
You will contact the home service apps. These services are the quick solution to your home maintenance-related needs. With the help of home service apps, you can easily manage your homes. These apps are lifesavers for busy individuals and handle all home issues without hassle.
With only a few touches on your smartphone, you can connect to several specialists, from cleaners to plumbers and personal trainers. You can book the handyperson within a few minutes without searching for long hours.
For your help, we have compiled a list of top on-demand home service apps that are changing how you do your household tasks.
What are on Demand Home Services Apps?
On-demand household services apps are the convenient solution to all your home problems.
The app for home services is a platform that helps you to connect with a wide range of handypersons that provide a wide range of services, such as:
Cleaning services
Pet services
Handyman services
Home maintenance
Appliance repair
Grocery and food delivery
HVAC services and more
Moreover, the primary purpose of house service apps is to simplify the process of hiring professionals who meet your home-related needs. With the help of house service apps, you can easily browse services, book them, and make payments. These services have gained immense popularity and provide several benefits to their users.
Top 15 On-Demand Home Service Apps
Below are some top on-demand home service apps that simplify your selection process. Choose the one that best matches your needs.
1. UrbanClap (Urban Company)
UrbanClap is the one-stop shop. It is one of the most famous and largest home service provider apps in the United States, Singapore, KSA, India, and UAE. It is the largest platform that connects customers with service professionals and provides more than 50 services. They served 5 million customers.
Urban Company offers you to book several services, from house repairs to air conditioning services. It also allows you to book at-home services like beauty and wellness for women and men.
The best thing about UrbanClap home service provider app is that it provides pest control and health care services.
It helps you to simplify the process of locating and employing professionals. Further, UrbanClap allows you to get the services anywhere and select the preferred time to complete your job. 
Features
Download the app free of cost, and it is available on Android and iOS.
Customer reviews are available on the website and app.
Easily find relevant experts and services there.
Helps you to get the right service at your doorstep.
Get the work done quickly with this app.
2. TaskRabbit
TaskRabbit is an American-based most famous home service provider app. They have been in this business for 12 years. It is the winner in the gig economy due to its affordability, flexibility, and reliability.
It is an on demand home services app that provides services in 4 cities in the UK, 47 cities in the US, and 1 in Canada.
More than 700,000 people use this app for their routine tasks. With the help of this app, customers can easily book various services, which include:
Home repair
Home cleaning
Heavy lifting
Furniture assembly
Light installation
Plumbing
TV mounting
Delivery service
Painting
Further, TaskRabbit allows you to hire a trusted service provider at an affordable price. They have 148,000 independent contractors who have cleaned over 400,000 homes and repaired 218,000 household items. Also, they constructed 550,000 pieces of furniture and transported over 235,000 products.
Features
Easily hire assistance for several tasks such as cleaning, gardening, moving, etc.
Helps to connect with local professionals in your area.
Easily book and pay with their user-friendly interface.
1.1+ million reviews.
Schedule your task.
Partner with IKEA.
3. Housejoy
Housejoy is another popular on demand home services app that is free to download. It is your trusted partner for your home equipment and appliance needs.
With the help of this app, users can easily hire service providers for various tasks, from plumbing to home cleaning.
In addition, users can review the feedback of previous customers, book appointments, and check pricing.
It stands out for its dedication to its clients. Users can easily book appointments and list the professionals on the app. Housejoy is set apart from its competitors due to providing a wide range of home services.
Features
Provides insurance coverage to customers.
Offers discounts and offers on all services.
Provide a wide range of services.
100% transparent pricing.
Allow users to browse and book quality service professionals.
4. Zimmber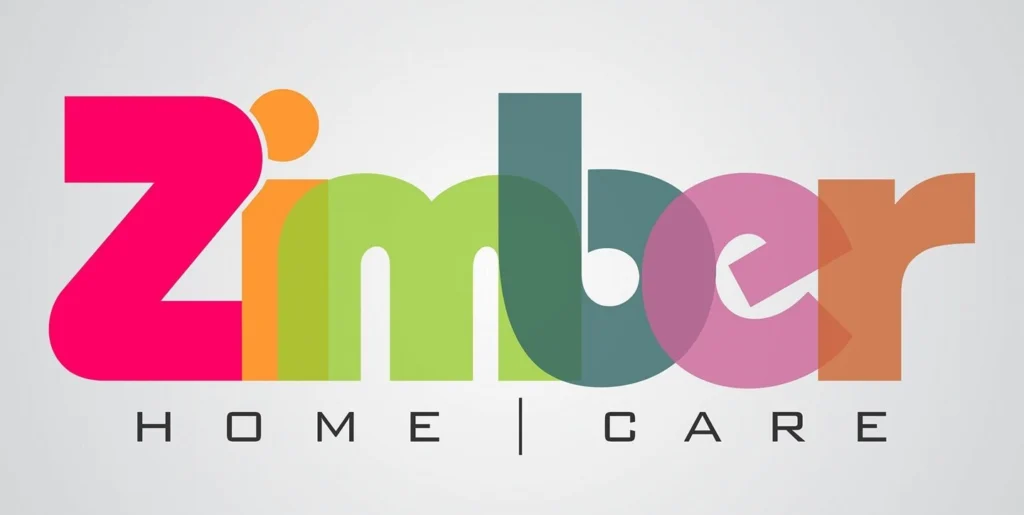 Zimmber app trusted home services help you manage your everyday tasks quickly and faster. This app is considered a major house cleaning app due to its services.
It provides you with a complete solution for your home needs by offering various services like:
Plumbing
House cleaning
House painting
Carpentry
Pest control
Laptop and PC repair
Salon services
On-demand drivers
Laundry
The app also has home refresh deals that make it easy for users to get all the services they need to keep their homes in good condition. Zimmber app was acquired by Quikr and transformed how people do their household chores.
Features
User-friendly layout
Offers all-inclusive home maintenance and improvement packages
Customer support is available to answer any questions
Users can select customized packages
Affordable service
5. Mr.Right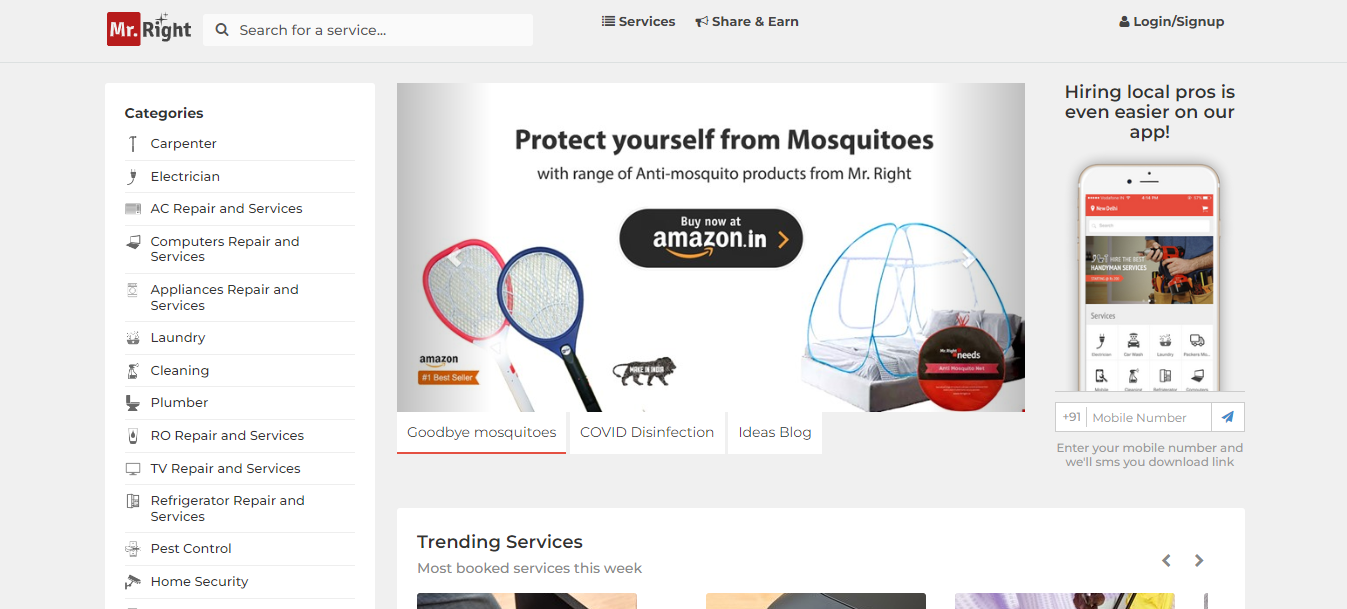 Mr.Right is an app trusted home services that provides difficult-to-find home services. This app provides 300+ services from verified and trustworthy professionals. Plus, it provides the option of upfront pricing and simple payment methods.
It offers the following services:
It offers the following services:
Fridge repair
TV repair
Computer repair
Plumbing
Packing and moving
House cleaning
Installation services
Pest control
Home security
Additionally, Mr.Right provides more than 300 services for the home. Users can quickly find experts in their area using the app's search function. A list of pre-screened service providers will be shown to them. Users of Mr.Right have access to a wide range of high-quality jobs, which improves their chances of getting a good job.
Features
User-friendly search options on the app.
Users can easily book appointments.
Reschedule appointments and cancel projects.
Get alerts or notifications when the task is completed.
Finding and hiring specialists is easy.
Hassle-free payment options.
6. Angi
Angi is formerly known as Angie's List. It helps you connect to the top-rated home service professionals at an affordable price. Also, it can help you easily find a local professional for any home improvement project. This app allows you to book professionals for various categories, such as:
Renovation
Home remodeling
Cleaning
Maintenance
Repair and more
At Angi, you can compare prices and book the service provider based on your needs. It is considered one of the most used and top renovation apps.
Features
500+ categories are available
Fair pricing of all home projects and services
Easy to research, find, and hire professionals
Easy booking procedure
Connecting millions of homeowners across the globe with home service professionals
7. Thumbtack
Thumbtack is one of the best home maintenance apps in America that allows users to hire local professionals for projects like home improvement, event planning, computer repair, and more. It can help you search for professionals in your area with expertise in household jobs.
This house services app lets you find plumbers, personal trainers, furniture experts, local movers, beauticians, and others. So, you don't have to look through hundreds of profiles to find the professional you're looking for.
Features
Read reviews
Get free cost estimates
App for Android and iOS
Affordable prices
Easily message professionals and hire them directly in the app
8. HOMEE
HOMEE is a great app for getting home services when you need them. This app can fix various house plumbing, repair, and electrical problems. With this app for home maintenance, you can ask for help from skilled professionals. You can also look at professional backgrounds and hire them right away. You can do everything from this best app for home services, from hiring to organizing to making payments.
Features
Easy booking process
Access to thousands of professionals
The customer service team is available to answer your queries
Various services are available
Handle the complete process on the app, from timing to payment
9. AllBetter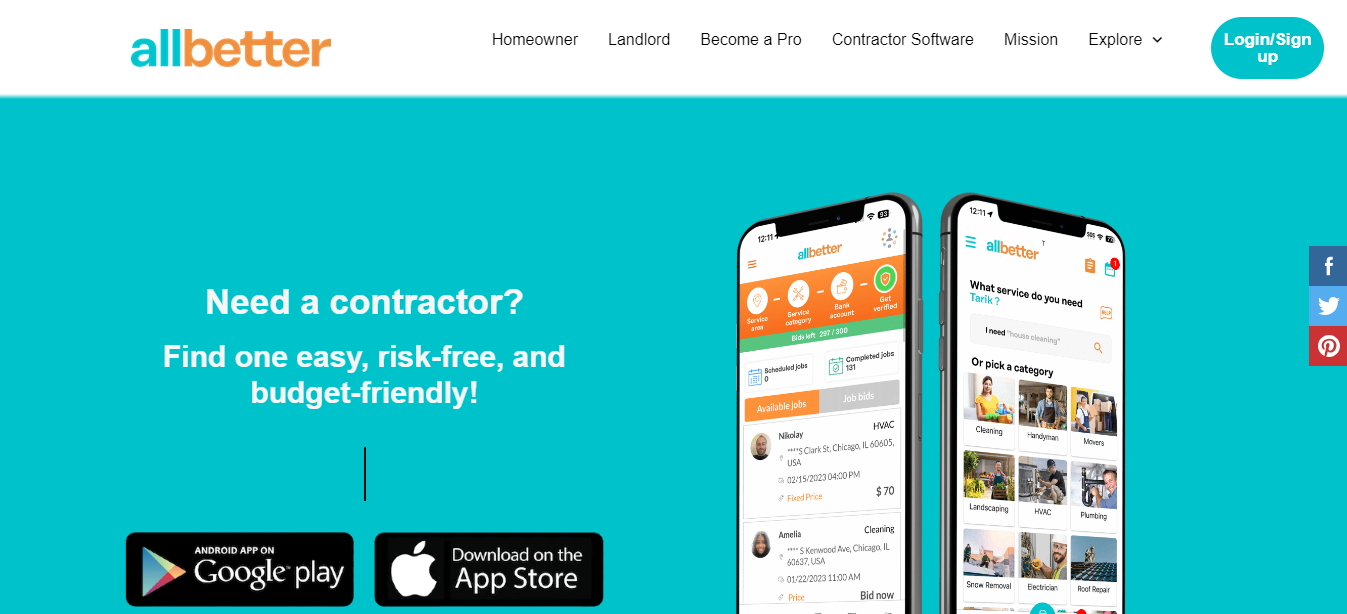 AllBetter helps you find budget-friendly and risk-free contractors. It has gained huge popularity among users due to seamless and exceptional services. You can book on-demand home maintenance services from the app, such as cleaning, flooring, moving, packing, plumbing, etc.
You can easily select and pay a professional based on your requirements. To book a professional for your service, you need a streamlined method. First, put the service you want, when, and how much it will cost.
Features
User-friendly interface
24/7 support
Secure payment system
Wide range of contractor options
Efficient communication with your contractor
10. Bark.com
Bark.com connects customers and service providers by offering top on-demand home services. You can easily find professionals for cleaning, gardening, furniture assembly, and more.
Bark's reviews are thorough and make sure that the person has the right skills and is a good fit. Users get more out of the service when they can talk to potential workers before they book. The app gives up-to-date information about service arrangements.
Features
Find local professionals according to your budget.
Available globally.
Direct chat with the service provider before booking.
Real-time status of the booking.
The app provides the latest updates.
11. Knockman
Knockman is the best and most trusted home service platform. Their prices are reasonable, and their certified experts do the best work. With the help of Knockman, you can easily simplify your life. At Knockman, you can easily book a range of home services at an affordable price. The Knockman app is available on Android and iOS.
Features
Get the home services at your doorstep
Reliable home service app
100% mess-free service
100% hassle-free service
Certified and verified professionals
12. Diem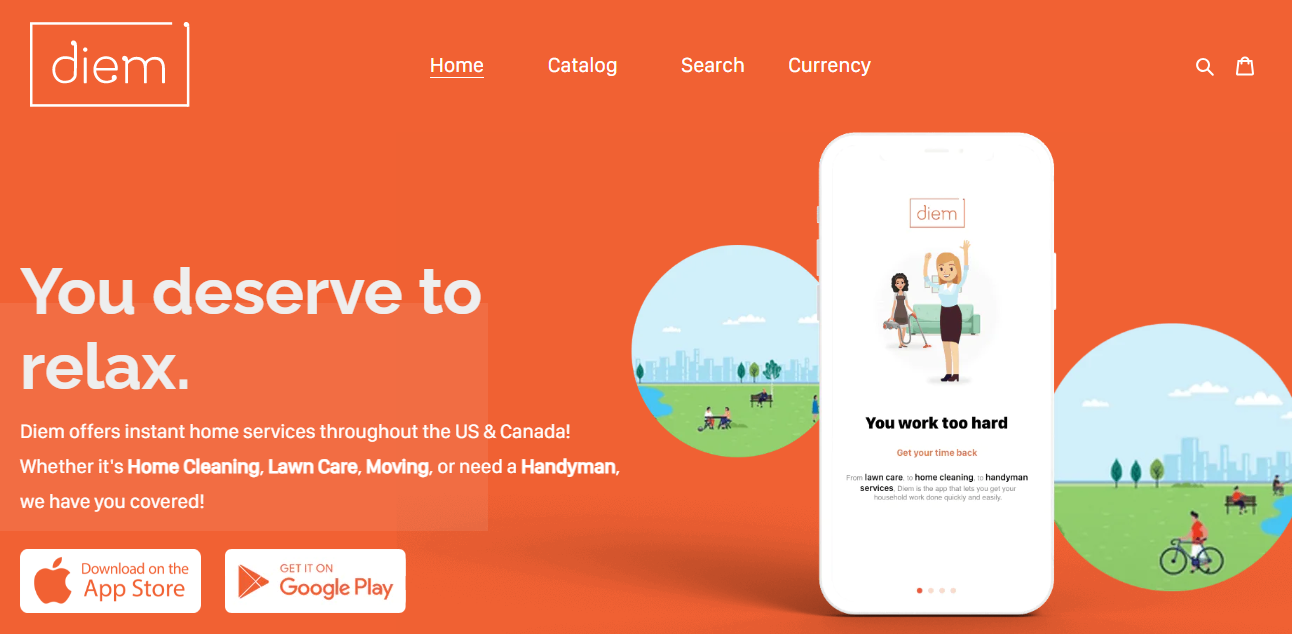 Diem offers home services in Canada and the US. Whether you need home cleaning, repairing, snow removal, lawn care service, etc., Diem can help you. At Diem, their goal is to give their customers valuable time. Their service workers, Diemers, are in your area and ready to help you get your time back. When you order from Diem, they'll take care of your housework so you can get the time for other tasks. Further, when you download the Diem app to your phone, it only takes a few taps to get a Diemer to do the things.
Features
Select your own time
Secure and convenient payment
Verified professionals
No charges to post a job on the app
Easy user-interface
13. Joboy
Joboy is the leading home service that brings the best experts for home services. They have a team of experts who help you complete the task on time without hassle. After you book a service, they'll take care of everything else. No more calling the seller, waiting, following up, or canceling things is required.
Additionally, you can see the live status of your request. You will get an electronic invoice and pay using online secure transactions. If something doesn't work how it's supposed to, which is rare, their service guarantee will cover the work, so you don't have to worry.
Features
On-time service
24/7 support
Transparent pricing
Verified service professionals
Secure payment methods
14. DARI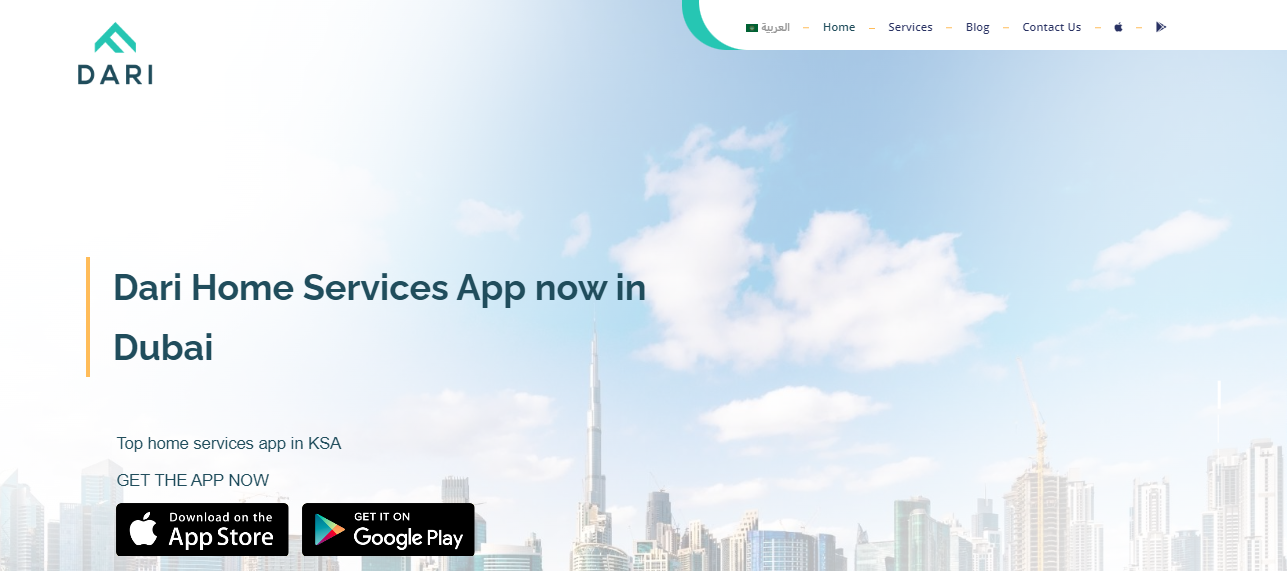 DARI is the top home cleaning services app in KSA. They designed their services to make your life easier so you can enjoy your free time. Over 700,000 users use the DARI app and are satisfied with their services.
With the help of DARI, you can easily manage these things:
Home cleaning
Car wash
Pest control
Laundry
AC repair
DARI's easy-to-use app is made to connect you with the best professionals in various fields like home cleaning, beauty and spa, home care, and more. At the moment, Jeddah, Dammam, Riyadh, Al Khobar, Al Hufof & Al Mubarraz, Al Madina, and Jubail are all places where they do business.
Features
Trusted service providers
Book in seconds
Discount on first order
Friendly customer support
Quality service
15. ServiceMarket
ServiceMarket is the trusted home service company in Dubai. It helps residents to book over 35+ services. Thousands of people use their services monthly and get the best home help. Their app user interface is easy and simple to use.
With ServiceMarket, you can get a salon at home, nannies and maids, painting, cleaning, gardening, moving, AC, and pet services with just one tap.
Features
More than 15,000 reviews
150,000+ happy customers
Live customer support
Trusted service providers
Provide refund policy
Main Features of On Demand Applications
On demand applications are popular in various industries and provide convenience to users. However, the features of these applications vary and depend on the specific industry.
Below are some key features that are the main reason for the successful on-demand app.
Live Tracking: With the help of this feature, the users track their delivery status. The users know the estimated delivery time via online maps with the exact location of their order.
Live Support: Provide live support 24/7 via chat, email, or phone. It keeps the customers happy and encourages continued loyalty and engagement with your services.
Reviews and Ratings: Allow users to provide feedback and ratings to service providers. With feedback, the on demand services companies can improve their services.
Push Notifications: Send notifications and alerts to customers about new deals, promotions, and other important information.
Schedule Ordering: Provide options to users to schedule the services according to the time.
Search and Filtering: With the search and filter feature, users can easily search for services or products according to price, location, ratings, and more.
User-Friendly Interface: The app should be user-friendly. Therefore, the users can easily use it without any difficulty.
Payment Gateways: Providing flexible payment options can improve customer experience. Also, it allows the users to access their transaction history and receipts.
Multi-Currency and Multi-Language Support: Offering multiple languages and currencies to cater to customers worldwide.
Key Considerations for Choosing On-Demand Home Service Apps
Below are some factors to consider when choosing on-demand home service apps.
Reviews and Ratings
Check the ratings and reviews of the customers provided on the app and website. They can give you insights into the quality of the services. You can also read reviews on their social media platforms. Also, consult your friends who have already used any services and get their feedback.
Payment Options
Before utilizing any service, you should make sure you have checked all the various payment options. Make sure they accept payments from credit cards, debit cards, digital wallets, and cash. Also, check there are no hidden fees.
By taking these precautions and being careful about payment choices and possible hidden fees, you can use on-demand home service apps with more clarity and less trouble.
Pricing and Discounts
Make sure that prices are affordable and without any hidden charges. Some home service apps offer deals and discounts to their customers. Therefore, try to visit the app or website of home services more often, where they offer discounts and promotions.
Services Offered
Always look for a service that offers various home services. Therefore, all your needs can be met in one place. Before using any services, check their services and make sure they provide all the common services like cleaning, plumbing, appliance repair, and more.
Availability in Your Area
It is an important factor to consider. Confirm that the home service app provides its services in your geographical area. Not all on-demand service apps are available nationwide or internationally, so make sure they cover your location.
Customer Support
A home service app with robust customer support can greatly enhance the user experience. Check out the home service app, which provides 24/7 customer support to its customers and answers all your queries. You can find this information on the app or website.
Benefits of On-Demand Home Service Apps
Below are some of the main benefits of on-demand home service apps.
| | |
| --- | --- |
| Time-Saving | The best home services apps save you time. You can easily find the service providers quickly for any home maintenance task. Book your appointment and get the completed task on time.   |
| Variety of Services | On-demand best home services apps provide a wide range of services, from cleaning to pet care. With the help of these services, you can take care of more than one part of home maintenance with a single app. |
| Affordable | On-demand services can save you money because you can often check prices and choose the service provider with the best price. You can also avoid hidden costs by negotiating prices before you buy. |
| Reduce Burden | Service providers reduce your work burden, and you can easily pay attention to other main tasks. Their expertise ensures that the tasks are completed on time. So, when you don't have time to do the home tasks, simply use the home service apps. |
On Demand Home Services App Development Cost
Home services apps in the USA are popular among users because of flexibility and time-saving. If you are considering developing an app, you should know the main app features, the number of platforms, and the complexity. These features will greatly impact the app development cost.
With a team of professional app developers, you will gain access to their expertise and build an online multi vendor marketplace such as Enatega.
The below table shows the hourly rates depending on the region that you are choosing to hire the developers for building an app.
| | |
| --- | --- |
| Region | Hourly Rate Range (USD) |
| USA | $80-150 |
| Western Europe | $50-120 |
| India | $20-80 |
| Eastern Europe | $30-100 |
| Australia | $70-140 |
Make Your Home Service App with Enatega
If you are looking to create the best app for home services business, Enatega is here to help you. Our team of professionals does the best work for you according to your requirements. Their expertise ensures that your on-demand app home services will be well-crafted and meet your business needs.
So, why wait? Contact us; we are here to help you create the best app for home services.   
Frequently Asked Questions
1. What is the best home services app Singapore?
ServisHero is one of the leading home services app Singapore for connecting users with a diverse range of reliable and vetted home service providers.
It is an innovative home services app Singapore that caters to home service needs of customers by connecting them with skilled professionals, including cleaners, part-time maids, electricians, air conditioning experts, plumbers, and a host of other home service professionals.
By leveraging the power of technology, ServisHero has become the go-to platform for people looking for convenient services to enhance and maintain their homes.
2. Why do you need home services app?
Customers are opting for a home services app because such apps let you connect instantly with the service provider to deliver efficient services at home.
With a home services app, you can easily book appointments for various services from the comfort of your home and keep your house well-maintained all the time.