Nowadays, e-commerce businesses seek ways to innovate, increase sales, expand, and connect to a broader audience. Therefore, creating a top multi vendor marketplace is the next step in expanding your eCommerce business. The online multi vendor marketplace platform websites are an amazing opportunity for businesses across several sectors. 
According to new research from IBE, a pan-European financial services advisory firm, about half (50%) of all online retail sales happen through marketplace channels worldwide. IBE also forecasts the sales derived from the multi-vendor marketplace will exceed $7 trillion in the next few years.
Most companies support multi vendor eCommerce websites to improve logistics, costs, and operations. Also, it helps them to increase their product range and makes cross-border expansion easier.
Several multi-vendor marketplace platforms are available. They help you build your own without needing coding or getting more help from the developer. 
Therefore, are you interested in e-commerce and want to open your store? Or a person who wants to switch platforms? Then, you're at the right place. This blog post will explore multi vendor marketplaces and list the best ones that help you.
What is a Multi Vendor Marketplace?
It is an online platform. It helps multiple independent vendors to sell their services or products online. The multi-vendor marketplace platforms are like a shopping mall with various stores. These platforms offer variety, convenience, and competition. Amazon, AliExpress, Flipkart, Etsy, and eBay are well-known examples of multi-vendor eCommerce marketplaces.
The main purpose of the best multi vendor marketplace platform is to:
Increase sales and revenue
Manage all the tasks properly
Help you manage a large number of buyers and vendors
Help in keeping track of earnings and expenditures
Promote transactions between owner and buyers
Help vendors to get exposure of their products to a larger audience
Help vendors without building their own e-commerce website
Moreover, the best multi vendor marketplace platform is designed to help businesses work with multiple sellers. Use an online multi-vendor marketplace platform instead of building something from scratch.
For example, if you are looking to buy a new mobile phone. You can simply visit a marketplace multi vendor platform specializing in mobile phones instead of visiting the physical store or a single brand's website. 
On these platforms, you can browse different vendors selling different mobile phone brands. Also, read reviews, compare prices, and buy the one that matches your requirements.
Best Multi Vendor Marketplace Platforms
We have compiled a list of the best multi-vendor marketplace platforms. Each platform has its unique features and serves different business needs. 
So, look at them and choose the best one that best fits your business needs.
1. Dokan
Dokan is the best multi vendor marketplace software. It helps you build online marketplaces like eBay and Amazon. Multi vendor WooCommerce powers it and provides several features that help vendors to manage their stores easily. The installation process of Dokan is very easy. It doesn't require technical skills, and in only 10 minutes, it is ready to use.   
With Dokan, vendors can easily manage orders, add products, and handle payments. Also, its responsive design makes it easy for customers to use and shop.
Key Features
Different payment gateways
Frontend product management
Online vendor customizable dashboard
Multi-language support
Advanced order management
Pricing
Dokan offers four pricing plans apart from the free plan. These are:
| Plans | Fees |
| --- | --- |
| Starter | $149 annually |
| Professional | $249 annually |
| Business | $499 annually |
| Enterprise | $999 annually |
2. Enatega
Enatega is another of the best marketplace software open source for food delivery businesses. Customers can browse different menus, place orders, and pay online through enatega. It's likely designed to connect customers with various restaurants or food vendors. It allows customers to order food online for delivery or pickup.
Additionally, enatega offers a single vendor and multivendor marketplace platform for businesses. With the help of enatega, you can easily manage your delivery operations and streamline the business. 
Key Features
Rider app
Restaurant app
User app
Transparency
Data protection
Customize it according to your needs
Pricing
Enatega offers different pricing plans, and they depend on your business requirements.
3. Sharetribe
Sharetribe is another popular no-code SaaS multi vendor marketplace platform. It is used for building multi vendor websites more easily with minimal technical expertise. This best multi vendor marketplace platform is good for transactions, hosting, and online payments. 
Further, Sharetribe easily integrates with other applications. Sharetribe's easy-to-use interface makes sure that the start of a service, product, or rental marketplace goes smoothly.
Key Features
Mobile optimization
Good technical support
Offers a 30-day free trial
Secure transactions
Easy to use
Pricing
Below is the pricing plan for Sharetribe.
| Plans | Fees |
| --- | --- |
| Hobby | $99/month |
| Pro | $149/month |
| Growth | $199/month |
| Scale | $299/month |
4. Spree
Spree is another open-source multi vendor eCommerce platform that helps you empower. It also helps you to build sophisticated online marketplaces. Spree supports 45 languages and any currency. Plus, it supports any payment or shipping method.  
Further, Spree is known for its seamless integrations with e-commerce tools. It could also be used as an e-commerce engine and manager dashboard for native mobile apps on iOS or Android.
Features
Customizable storefronts
Multi-currency support system
Multiple payment gateway options
Mobile responsive
Advanced analytics
Pricing
For its multi-vendor marketplace platform, Spree offers customers the ability to choose their own prices.
5. Yo!Kart
Yo!Kart is a cloud-based customizable and best multi vendor eCommerce platform. It is best for startups, small and medium-sized businesses. It helps you to launch your own marketplace efficiently and easily. The best thing about Yo!Kart is that it allows you to launch any online marketplace like eBay, Amazon, etc.
Further, Yo!Kart is self-hosted, and you install it on the server of your choice. No need for any plugins. It has complete solutions for B2B and B2C niches. Also, it has been tested by more than 1 million products and 250 concurrent users.
Features
SEO-friendly architecture
Support for digital products
User-friendly mobile and web apps
Multiple storefront themes
Flexible payment options
Pricing
The pricing plan for the best platform for multi vendor marketplace Yo!Kart is mentioned below:
| Plans | Fees |
| --- | --- |
| GoQuick | $999 (lifetime ownership) |
| GoQuick Boost | $2499 (lifetime ownership) |
| GoCustom | $6,499 (lifetime ownership) |
| V10 | $149 (lifetime license) |
6. Arcadier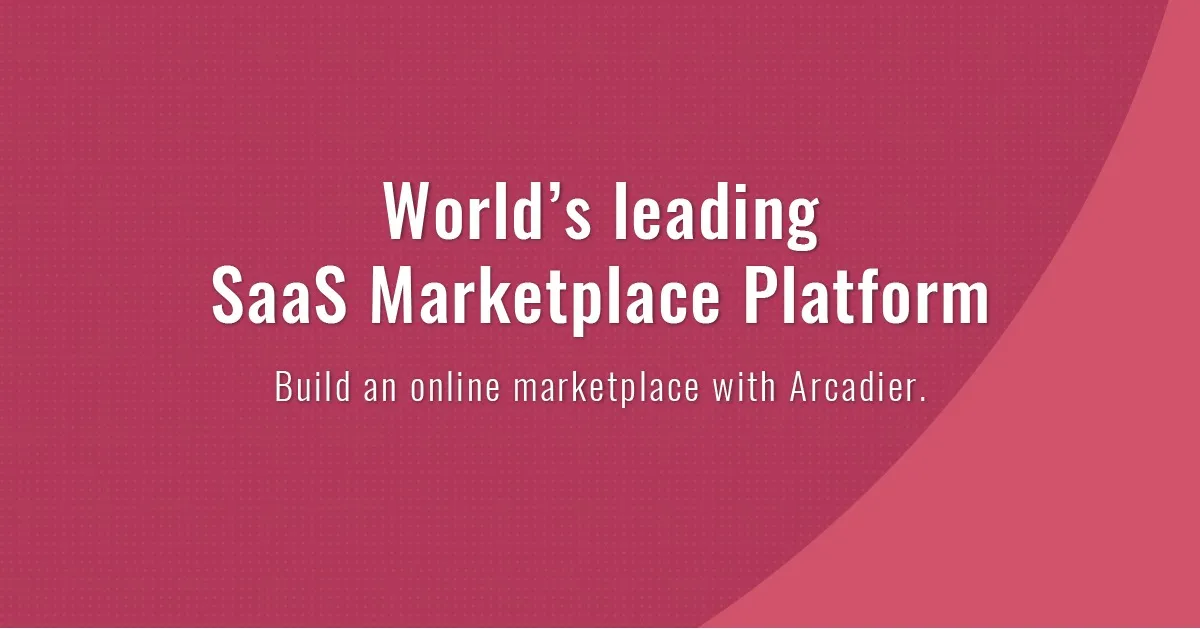 Arcadier is the best platform for multi vendor marketplace. It is a no-coding platform. It helps local communities, enterprises, SMEs, and government agencies easily build and manage the best ecommerce platform for multi vendor. In addition, it provides several features that help users grow their marketplace. Its user-friendly interface allows users to create their marketplace in simple steps easily.  
Arcadier is best for those who can use one of their numerous pre-made templates or one of the many built-in features if they do not require something unique or do not wish to spend the resources necessary to create it.
Features
Email management
Custom domain
Social media marketing tools
Affordable monthly fee
No transaction fees
Pricing
The beginning price is $79 per month ($68 per month when billed semi-annually or $60 per month when billed yearly). Every package comes with a free trial period of thirty days.
Magento Multi Vendor Marketplace
Magento is a powerful tool. It helps you to turn your websites into an automated marketplace. It helps to boost profits and sales. Several e-commerce startups have integrated it into their systems.
Below is a list of the best multi vendor marketplace for Magento.
1. CedCommerce
CedCommerce is the best choice for entrepreneurs who want to build a multivendor online marketplace. It is a powerful tool that helps you grow your online business. With CedCommerce, vendors can easily promote their goods. Also, monitor sales figures, handle orders, view sales reports, and more. 
This platform offers several customization features, which include:
Commission rates
Vendor registration process
Shipping rates and more
Moreover, CedCommerce helps to make it possible for users to build a multi-vendor marketplace on top of their current eCommerce setup. It is easily integrated with other ecommerce plugins such as Shopify, Magento, etc.
Key Features
Separate vendor profile
Secure payment gateways
Support for several currencies
Import or export goods in a bulk form
Responsive mobile and web interface
Pricing
CedCommerce offers various pricing plans, such as:
| Plans | Pricing |
| --- | --- |
| Basic | $60 |
| Platinum | $299 |
| Advance | $1600 |
You may have to pay extra to add an enterprise package to either of these deals.
| Plans | Pricing |
| --- | --- |
| Basic | $60 + $100 for enterprise |
| Platinum | $299 + $200 for enterprise |
| Advance | $1600 + $1000 for enterprise |
2. Webkul
Webkul is a unique solution for businesses who want to create and manage multi-vendor marketplaces hassle-free. This platform caters to several startups and established companies. In addition, it allows you to add many vendors. You can also give them control over various things, such as:
Manage shipping
Manage inventory
Create seller storefronts
Manage orders
Each vendor may add numerous commodities that can be delivered by:
FedEx
USPS
DHL
PayPal
Stripe
Aramex.
Features
Review and feedback system
Simple and fast user interface
Customizable storefront
Responsive design
Easily manage multiple sellers and their products
Pricing
Webkul has a variety of add-ons that you can buy for a fixed price to make your store better or more unique. By choosing and buying certain add-ons, you can change how your marketplace works to meet your specific needs without exceeding your budget.
3. LandOfCoder
Customers worldwide are becoming more interested in e-commerce platforms, especially Magento. As a result, Landofcoder has been slowly expanding its services to offer customers useful digital marketplace platform solutions.
LandOfCoder helps you to transform your eCommerce site into a fully functional multi-vendor marketplace. It allows you to upload products in bulk and easily control everything. With the help of LandOfCoder, you can take your eCommerce store to the next level. Moreover, it supports both customers and sellers.
Features
Competitive price
Easy to use
Easily integrate multiple payment gateways
30-day money-back guarantee
Show feedback and consumer evaluation
Pricing
The LandOfCoder pricing plans are:
| Plans | Pricing |
| --- | --- |
| Single License | $299 |
| Standard | + $249 |
| Premium | +$899 |
| Agency | +$2999 |
4. Magenest
Magenest is the popular Magento 2 multi vendor e-Commerce tool. It provides several features to its users to boost their products, purchases, and customer traffic. With this, you can systematically manage several vendors.
Features
Easily manage orders, products, and vendors
Allow customers to provide feedback
Vendor verification system
Allow customers to buy products from multiple vendors
Fixed commission for each vendor
Pricing
The Magenest offers various pricing plans according to your requirements.
5. Magetop
Magetop is one of the most amazing Magento 2 multi vendor platforms. It provides many features that turn your website into a functioning e-commerce website like Alibaba, Etsy, etc. You can easily manage your products hassle-free.  
You only pay once to use Magetop for life. Also, it's a risk-free investment because their support policy gives you a 30-day money-back guarantee, one year of free help, and free updates for life. Magetop will keep making your goods better and coming up with new ideas.
Features
Charge commissions for each seller and vendors
Responsive seller panel
Helps a large number of sellers and vendors
Flexibly manage your products
Manually or automatically approve vendor products
Pricing
Magetop can be purchased for a starting price of 299$. However, it is based and varies according to your requirements.
Multi-Vendor Marketplace Shopify
Shopify is the number one e-commerce platform for all businesses of several industries. You can easily grow your business with Shopify. It meets the demands of Shopify vendors, whether they're in electronics, beauty, fashion, or another industry.
Here are some great multi vendor Shopify marketplace platforms.
1. ShipTurtle
ShipTurtle helps you transform your e-commerce store into a marketplace in minutes. With the help of this platform, you can easily expand your product range by partnering with brands. It is trusted by more than 1,000 D2C brands and marketplaces worldwide.
With its white-labeling solution, you'll put your brand in the spotlight and eliminate Shipturtle's from all unique pages, including vendor registration, vendor login, and shipment tracking. Not only that, but vendors can change the URL they use to access the app from the default app.shipturtle.com to whatever URL best fits your brand.
Each "Vendor page" has an option that lets customers email the vendors if they have any questions. The customer and the vendor can both communicate through the Chat feature in the Shipturtle app.
Features
Payout integrations
Shipping profiles
Order managed by several stages
Complete scalability
Easily set up many shippers
Inventory management
Data security
Vendor onboarding
Warehouse automation
Pricing
The ShipTurtle pricing plan is as follows:
| Plans | Pricing |
| --- | --- |
| Startup | $19 |
| Business | $29 |
| Enterprise | $69 |
2. Onport
Onport automates your multi vendor marketplace. The Onport marketplace plugin integrates all main platforms, automates merchant payments, and syncs inventory. Integrate effortlessly with vendor online shop CSV or XML feeds. Automatically sync inventory, orders, and payments after publishing. Vendors can log in to a customized site to send orders, verify payments, and verify customer information.
Features
Payment automation
Order routing
Inventory syncing
Catalog management
Integrations with certain vendors
Pricing
The Onport offers three pricing plans, which include:
| Plans | Pricing |
| --- | --- |
| Standard | $19 |
| Advanced | $29 |
| Plus | $69 |
3. Marketcube.io
Marketcube.io is a multi-seller management solution. It helps marketplace operators run and automate their businesses efficiently. It also helps to manage inventory, shipping, payouts, and order splitting.
Marketcube.io helps over 1,500 companies run multi-seller marketplaces globally, from real estate to fashion to art and pharmaceuticals.
Features
Product management
Time-based services
Drop-shipping
Accounting & payouts
Allow integration to third-party platforms
Order and return management
Seller management
Pricing
The app only costs $10 per month, and some of its benefits cost extra.
4. Duoplane
Duoplane is an automation dropship software for vendors and retailers. It allows you to strengthen relationships and scale your business operations. Plus, it lets you connect your Duoplane account to your Shopify store. So, you can communicate with all your dropshipping suppliers and 3PL warehouses automatically.
Features
Automate orders to multiple vendors
Automate accounting and payments
Manage supply chains of e-commerce businesses
Streamline the tasks
Easily integrate with other plugins
Pricing
You can automate your eCommerce operations with Duoplane. Below is the pricing plan for Duoplane.
| Plans | Pricing |
| --- | --- |
| Standard | $299 per month |
| Professional | $599 per month |
| Premium | $1199 per month |
| Enterprise | Price according to your business plan |
5. Vendor Consignment

This great tool could make a big difference in handling vendor commissions and reports. You can easily keep track of vendor fees and see payment records with vendor consignment. Since payments are made through PayPal, you can be sure that the money going to your vendors is safe.
You can also monitor how much sellers are paid and automatically track commissions. There are download choices that let you change the data and pull out useful information for analysis when you want to get the information into a third-party program.
Features
Automatically calculate vendor commissions
Override the commissions on an order-by-order basis
Allow the vendor to view their own orders
Easy to use
Helps you to automate your consignment business
Pricing
They offer a 14-day free trial. The prices are based on your needs.
WordPress Marketplace Theme
Several WordPress marketplace themes can help developers create a visually appealing and feature-rich online marketplace. The WordPress themes are designed to work with various plugins, such as Dokan, WooCommerce, and others.
Below are a few popular WordPress marketplace themes:
1. Martfury
Martfury is a marketplace WordPress theme. The theme has an easy-to-use WooCommerce plugin. With Martfury, you can effortlessly and quickly create a multi vendor marketplace, furniture store, electronics store, clothing store, etc.
In addition, Martfury has all the necessary plugins and impressive ready-to-use demos that help you create a great web platform. This theme is suited for
The main features of Martfury are:
Order tracking
Responsive ready
Translate ready
Unlimted Shop Layout
Reliable support
SEO ready
2. Urus
Urus is the best theme with a modern, minimalistic design for online shops. This tool offers 30+ pre-defined demos, all easy to use and fully customizable. Urus offers 4 footer styles, 6 blog options, 20 product page design options, 16 header styles, and many color and font options.
Urus main features are:
Google fonts
Custom colors
Infinite scroll
One-click install
Demo import
Translation ready
Mega menu
3. Cartzilla
Cartzilla is the all-around WordPress theme and is 100% customizable. It is one of the best solutions for building marketplace websites. Cartzilla is a powerful e-commerce front-end solution based on Bootstrap 5. With Cartzilla, create a sophisticated online platform for selling products or even a general marketplace.
The main features included in Cartzilla are:
40+ flexible components
User-friendly interface
Google interface
Touch-enabled sliders
Detailed documentation
Ajax search
Advanced styling
4. Besa
Besa is a professional WordPress theme for online eCommerce platforms. The theme is optimized for Elementor, so building a website will be easier and faster. It is suitable for any online store. With Besa, you do not need much work with the pre-defined home and index layouts.
Besa is well-known for these things:
Multivendor compatibility
Mobile optimized
User-friendly and interactive searches
Ajax mini cart
Vertical menu
Flexible theme options
5. Stocky
Stocky theme helps you find the photos, images, or other digital assets you're looking for. Its layout is easy to navigate, and you can present your photos and images neatly with the auto-generated product gallery. The Stocky theme includes these features:
Full responsive layout
High-quality image previews
Integration with secure payment gateways
Responsive design
Advanced search filters
Translate website into any other language
Benefits of the Best Multi Vendor Platform
Here are some benefits of a multi-vendor marketplace.
Increased Exposure and Traffic
Most of the time, a well-established multi-vendor platform has more visitors than individual vendors' websites. This can help potential customers discover a vendor's products, increasing sales possibilities.
The marketplace already has a customer base that vendors can use to reach a bigger audience without starting from scratch. This can help sales and growth happen faster.
Unless you're selling something unique, people will want options. And you can easily offer that in your store; you get goods from multiple vendors instead of just one.
Joining a multi-vendor marketplace can be cheaper for sellers than creating and keeping their e-commerce websites. The marketplace takes care of sellers' infrastructure, technology, and marketing costs.
It is the best benefit that customers leave reviews and feedback. Their feedback helps vendors to improve and build their reputation. Also, it helps them to improve their offerings based on customer input.
How to Choose the Best Multi Vendor Marketplace Platform for Your Business?
Selecting the best platform for a multi-vendor marketplace for your business is important. It can help you to grow your business and impact your success. However, choosing a platform could be hard because there are so many to choose from. 
Therefore, for your help, we gathered some tips to help you make a better decision.
Determine your business needs: First, you must identify your business goals. Also, the types of products, target audience, and services you offer.
Check the platform features: Look for the platform's features. Plus, see that they meet your business needs.
Check payment plans: Don't forget to check prices. Some charge a monthly fee, while others take a percentage of sales. Consider both upfront costs and long-term expenses.
Customer support: Always check customer support. The responsive support team addresses your issues and concerns quickly.
Reviews and References: You can read reviews online. Read what others say about this platform. It can help you to make a better decision.
FAQs
Is multi vendor marketplace profitable?
Multi-vendor marketplace platforms are profitable. However, choose the one that best matches your requirements.
How much does a multivendor marketplace cost?
The cost depends on your business needs. However, typically it ranges between $10,000 to $80,000.
How do I start a multivendor website?
Below are some steps to help you start a multivendor website.
Determine your niche
Find the vendors
Attract buyers
Focus on your customers and vendors
What is the cheapest online marketplace?
The cheapest online marketplaces are Facebook Marketplace and Craigslist.
Can you sell on multiple marketplaces?
Selling on various marketplaces will allow you to utilize the greatest features of each platform.
What is single vendor and multi-vendor?
A single vendor is a marketplace website where a single seller sells to several buyers. In contrast, a multi-vendor marketplace has multiple suppliers and multiple consumers.
Which online marketplace is best?
The ideal marketplace software is feature-rich, scalable, and user-friendly for you and your merchants. We recommend the Enatega multi-vendor platform for the food delivery business.
What is a peer-to-peer marketplace?
A decentralized peer-to-peer marketplace allows two people to buy or trade goods or services.