Now, technology has changed the way we dine. Online ordering is a trend that will never fade because of ease and convenience. An online ordering platform plays a vital role in our daily lives. The online ordering platforms help you to order food from your favorite restaurant, book a ride, shop for groceries, and more.
Online restaurant ordering will continue to be a significant revenue stream in 2023. 1.17 billion people use food ordering and delivery services worldwide in 2019. Experts believe there will be 2 billion global food delivery service users by 2024.
Further, online ordering platforms make it easier for restaurant businesses, bakery businesses, b2b eCommerce businesses, and other hospitality businesses. More and more customers prefer to buy products online from the comfort of their homes. It increases the popularity of online ordering platforms.
Several online ordering platforms are available to choose from. However, there are many questions in people's minds like:
What platform to use for online ordering?
Which white-label online ordering platform for restaurants offers benefits?
Which online food ordering platform delivers everything?
Which digital ordering platform for restaurants meets your needs?
Therefore, in this blog, you get the answers to all your questions. Also, know the top order food online delivery platforms to help you choose the right one.
Best Online Ordering Platforms for Restaurants
When many digital ordering platforms for restaurants are available, knowing the best ones that meet your specific requirements is essential. Below are some of the best online food ordering platforms that help you make an informed decision.
UpMenu
UpMenu is a cloud-based online ordering food platform for restaurants. With UpMenu, customers can order online from the website or app. They offer the option of delivery or pickup directly from the restaurant. UpMenu offers several features that help restaurants to streamline their ordering process for restaurant staff. These include:
Online payment processing
Automated printing of kitchen tickets
Manage menus online
Manage inventory and customer data
POS integration
Moreover, restaurants manage orders efficiently, create an online presence, and improve customer satisfaction with UpMenu. It also allows restaurants to create customer loyalty programs and marketing campaigns.   
Pros
Mobile-friendly design
Easy to use
Fully customizable
No commission fees
Integration and POS compatibility
Monthly subscription fee
Cons
Not a free service
No sales forecasting
Require ongoing maintenance and support
Online orders have a limit
No barcode/ticket scanning
Enatega
Enatega is another one of the best online food ordering platforms. It is best for any sized business. It is the most widely used food order online platform that simplifies your process. With this online ordering platform for restaurants, you can easily set up your own online food order delivery business. One of its best features is multi-vendor and single-vendor.
Enatega offers these benefits to its uses:
Restaurant app
User app
Manage orders easily
Pros
Easy to use
Affordable
Customize it according to your needs
Data protection
Transparency
Cons
No loyalty program
No SMS marketing
ToastPOS
ToastPOS is a popular platform for online food ordering. It is the best online ordering platform for restaurants, coffee shops, cafes, and food delivery businesses. It can be accessed from anywhere with any internet connection. Toast is subscription-based, like ChowNow. ToastPOS has gained significant popularity due to its unique features, which include:
Commission-free transactions
Email marketing tools
Inventory management system
Customer management
Online ordering
Real-time reports
Easily integrated with third-party apps
Moreover, ToastPOS allows restaurants to customize their menus. Also, they change prices and add new features according to their needs. Also, it helps restaurants to track stock levels and optimize purchasing prices.
Pros
Fraud protection
Automated customer alerts
Kitchen display system
User-friendly interface
24/7 customer support
Streamlined setup
Cons
No free trial
Limited offline features
Require hardware purchase
Sign long-term contract
CloudWaitress
CloudWaitress is a browser-based digital ordering platform for restaurants. It makes food ordering online more accessible and provides a seamless experience for customers. It helps online ordering for small restaurants and independent restaurants. Customers can easily place orders online, get live updates about their order status, and make reservations.
With the CloudWaitress menu template, you can easily set up your ordering site and take orders for delivery or pick up. When you hit 100 monthly orders, you need to upgrade to a subscription. However, no long-term contracts exist, and you can cancel your subscription anytime.
CloudWaitress offers top-notch benefits to restaurants, such as:
Delivery integrations
Secure website
Managing pickup deliveries
Table reservations
Open communication
QR tableside ordering
iPad and Windows compatible
Moreover, CloudWaitress actively keeps track of user feedback. Also, they promote request features the restaurants need. Restaurants view insights about their business that can help them reach their goals. Plus, take advantage of in-house marketing.
Pros
Provide a free plan
Menu customization
Integrated with third-party apps
Allow mobile ordering
Reports management
Cons
No loyalty program
Expensive to add extra features
No inventory management
Flipdish
Flipdish is the one-stop shop that every restaurant needs to win. This online ordering platform helps restaurants create their website and mobile app for online ordering. Thousands of restaurants worldwide use Flipdish to grow their business.
Flipdish comes with several features, which include:
Managed marketing on behalf of the restaurant
Quickly build customer loyalty campaigns
Track order volume and amount across multiple stores automatically
Easily integrate with your existing site
Pros
Menu customization
Multi-language and multi-currency support
Data analytics and reporting
Easy inventory management
Integration capabilities
Cons
Costly
Technical expertise required to set up the Flipdish
No promotions management
No credit card processing
BentoBox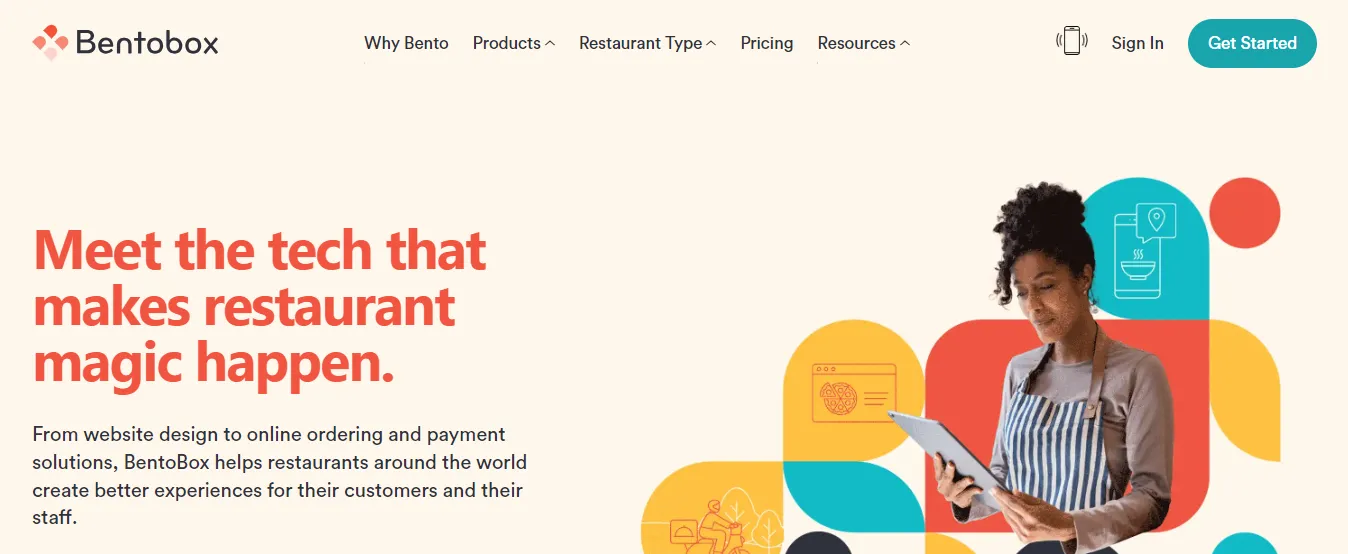 BentoBox helps restaurants around the world to manage different eCommerce operations. From website design to online ordering and payment solutions, BentoBox offers everything. It allows restaurants to manage their orders through the website easily.
The wide range of features offered by BentoBox are:
Track online sales
Update menu items
Commission-free ordering
Email marketing
Pros
Make it easy to drive more business online
Loyalty program
Third-party integration
Low-cost monthly subscription with no contract
Digital order and pay
Help all kinds of restaurants
Cons
No customer database
Costly
No SMS marketing
Tock
Tock is a complete online ordering platform for restaurants. It has everything you need to drive revenue and increase your customer base. Tock has all the necessary tools and technology. It allows you to personalize service to meet your needs. Thousands of businesses around the globe trust Tock.
You don't need special tools to use Tock, but most people use a tablet or computer to run the order dashboard. Plus, you can share the Tock order link with the customers on your restaurant website and social media channels.
Additionally, Tock has offered some great features to its users, such as:
Marketing tools
Orders are organized by timeslot
In-app text messaging
Table management
Ticketing system
Pros
Easy-to-use software
7000+ restaurants, bars, and more use Tock
20M+ guests use Tock to book an amazing experience
Dynamic pricing
No long-term contract is required
Cons
Customization is limited
Advanced features cost more
Availability is limited in some regions
Menufy
Menufy is a browser-based online ordering website design service that provides various tools. It focuses more on functionality and less on design. Menufy is similar to Toast, Tock, and DoorDash.
Additionally, it has a listing website and a mobile app that work together to help bring new customers to your restaurant. Menufy users can buy a portable receipt printer and a Menufy tablet for online orders.
The following are the features provided by Menufy.
Multilingual support
Get order alerts without an internet
Easily integrate with DoorDash and Uber
Pros
24/7 customer support is available
Pay-as-you-go pricing
Fast and easy
Cons
Charges a 12% commission fee on delivery orders
No tools to manage in-house drivers
Prices of marketing packages are high
Olo
Olo helps 600+ restaurants manage their online ordering and delivery. It offers a seamless online ordering process with several features, such as:
Easily integrate with other popular food services
Order tracking
Manage online orders
Create a specialized menu
Customize order interface
All the information is stored in the cloud
Pros
Easy to use
Easy to set-up
No coding is required to build a website
Increase direct sales with a fast and reliable ordering platform
Offer various payment options
Trusted by 75K+ restaurants
Cons
Expensive.
Stay up-to-date with maintenance and support; otherwise, it could lead to technical issues.
The integration process is complex.
Bbot
Bbot is the most widely used online ordering platform for restaurants worldwide. It allows guests to order their food and drinks from their phone to their location. There is no need to sign up or download an app. Owners can still get information about their customers through the restaurant ordering system. Guests can order and pay without swiping a card, signing a receipt, or waiting in line.
Despite these, Bbot offers some great benefits to its users, such as:
Group ordering
Multi-menu support
Easy payment
Automatically sync the Bbot menu with your POS
Custom menu
Pros
Customer contact forms
Assign unique location codes to each table. So they know where they are ordering from.
Printer routing
When your kitchen is too busy, pause taking delivery orders.
Contactless ordering
Cons
The main features are missing in the essential plan
No loyalty program
iMenu360
iMenu360 is the world's #1 most trusted restaurant online ordering system. It offers all the functionality that any restaurant needs. It is a complete restaurant management platform solution that helps to grow your business online. iMenu360 proudly partners with thousands of restaurants globally.
Moreover, iMenu360 is a robust, feature-packed solution that helps restaurants enhance customer experience and increase profitability.
The main features of the iMenu360 are:
Mobile ordering
Loyalty programs
Restaurant manager app
Delivery zone geofencing
Integrate with your POS system
Pros
Low monthly cost
No contracts
Offer 30-day free trial
Free marketing support
Coupon engine
Cons
Charges fee for its services
Available in some regions
Free Online Ordering Platform for Restaurants
Several free ordering platforms are available online for restaurants and small businesses. These digital restaurant ordering platforms provide basic order functionality without monthly subscription fees.
Below is the list of free ordering platforms that are available online.
Wix
Wix is a famous website builder that helps beginners create beautiful and professional websites. It is the best platform for designing online ordering websites without programming or coding skills. Wix offers several advanced features, such as:
Social media integration
E-commerce integration
Customization options
SEO tools
Built-in blogging platform
Pros
Easy to use
Website templates are customizable
Data collection
Customer contact forms
Cons
The free plan has limitations
No mobile alerts
Advanced features require expertise
Weebly
Weebly is used to create a simple ordering website for your restaurant. It has some advanced features. It is best for those who want to create a website for their business without coding or web development skills.
Further, Weebly is very easy to use, and you can easily create a website according to your needs. The features provided by Weebly are:
Powerful drag-and-drop tools
Professionally designed website templates
Full customization
Third-party integration
Free hosting
Pros
SEO features
User-friendly interface
A variety of designs and templates are available
Easy customization
Offer hosting services
Cons
The free plan has limitations.
More skills are required for advanced features.
Switching to a different design is challenging when you start building the website.
GloriaFood
GloriaFood is a free online ordering system that is best for small to medium-sized businesses. It helps restaurants to streamline their point-of-sale operations and manage orders. In addition, GloriaFood allows users to place orders in advance and gain more customers.
GloriaFood supports multiple languages, so restaurants can serve a wide range of customers, including those who prefer to order in a language other than English.
The main features of the GloriaFood are:
Online payment processing
Manage menu online
Provide tools for marketing
Provide a table reservation widget
No setup fees
Pros
Accept unlimited orders
Order tracking in real-time
No hidden costs
Automated printing of kitchen tickets
Cons
Limited customization
Charges transaction fees on orders
Limited support
Features of Online Food Ordering Platform
If you are confused about what features to look for in the online ordering platforms for restaurants, then look at the features below. They will help you choose the right one that matches your needs.
| | |
| --- | --- |
| Budget-Friendly | A user-friendly interface is essential for customers to place more orders easily. It should be easy to use, whether a dashboard, menu display section, search area, kitchen display system, and more. |
| User-Friendly Interface | This feature is crucial for online ordering websites. Customization makes the website more user-friendly and visually appealing. Users can easily customize the platform according to their needs, like adding a logo, changing the theme color, etc. |
| Multiple Payment Gateways | The restaurant's online ordering system offers multiple payment options to customers. Therefore, customers can easily place their orders without any hassle. |
| Customization | This feature is very important for online ordering websites. Customization makes the website more user-friendly and visually appealing. Users can easily customize the platform according to their needs, like adding a logo, changing the theme color, etc. |
| Social Media Integration | A social media integration method should be part of an online ordering system. When you can connect your social media, you'll be able to get ten times as many orders as you did before. |
| Easy Billing System | The online ordering platform should have a smooth, secure, and safe transaction system. It should be quick, and no information is leaked from the system. Otherwise, customers will get irritated and not use your ordering system. |
Advantages of Restaurant Online Ordering Platforms
Online ordering platforms offer several advantages over the traditional methods of delivery. So, let's look at the advantages and know its importance.
Better Experience
With an online ordering system, the customers can get a better experience. It is an easy way to place an order from the restaurant quickly and effortlessly. Within a few clicks, your customers can easily place their orders from anywhere and at any time.
Automation

With online ordering systems, you can save your money. You don't need to hire employees to take orders and manage accounts. Also, if the employee is busy talking to the customer on the phone and another customer calls, find the number busy. So, the customer turns to another restaurant. This can be avoided with an online ordering system.

Error-Free Orders
With online ordering systems, restaurants can easily manage large orders without any mistakes. Every detail about the order is saved on the system, so there is no room for errors. Restaurants can easily deliver hundreds of orders every day without hassle.
View Order Status
One of the best advantages of online buying is that customers can see their order status, like waiting, cooking, wrapping, and bringing.

Customers can still see how far away the delivery person is and how long it will take to get their food. When you have your online ordering system, you can offer your users all these things.
No Fake Order
Restaurants get many fake calls when customers place food orders, and when it's time to deliver food, they don't receive the calls. This is the main problem that many restaurants face when taking orders on call instead of online. However, with the online ordering system, this problem can be solved.
Lower Cost
Online ordering platforms are cheaper for small businesses. These platforms can eliminate the cost of hiring staff that manages orders and answer customer queries manually. Also, they wipe out the need to print physical menus.

Increased Food Orders
The online ordering platforms increase food orders for restaurants, cafes, and cloud kitchens. It helps the food businesses retain customers and generate more revenue and profit.

How do Restaurants Implement Online Ordering?
Here are a few steps that restaurants should follow to implement online ordering.
Choose the Online Ordering Platform: Several online ordering platforms are available, but select the one that meets your needs.
Create Digital Menu: Create a digital menu with high-quality images and descriptions. It should be clear and visually appealing for the customers.
Set Up an Online Website or App: Set up a website or mobile app just for your business with a way for people to place orders online.
Integrate with POS System: Integrate POS with your online ordering system to get real-time updates and streamline order processing.
Build User-Friendly Interface: Create a user-friendly interface so users can easily navigate, place orders, customize orders, and pay online.
Payment Processing: For online orders, set secure payment processing options, which include digital wallets, credit/debit cards, and cash on delivery.
Order Management System: Implement an order management system to receive and process online orders efficiently.
Define Delivery Options: Define delivery and pick-up options, which include in-house delivery, third-party delivery services, and more.
Push Notifications: Set notifications informing customers about their order status, estimated delivery time, new deals, promotions, etc.
Data and Analytics: With data and analytics, you can track customer behavior, sales, and order history. This information will help you to make an informed decision.
Customer Support: Offer customer service options, like live chat or a separate phone line, to help customers with questions and problems related to your services.
FAQs
What is the purpose of the online food ordering system?
The primary purpose of the online food ordering system is to:
Manage orders hassle-free
Provide a digital menu to customers
Reduces the potential for miscommunication
Help customers to customize their order
Get more customers
Why is an online ordering system important for business?
The online ordering system is vital for business for several reasons, such as:
Increase sales
Expand customers reach
Enhanced customer loyalty
Reduce overhead costs
How to choose an online ordering platform for restaurants?
Below are some steps that will help you to choose the best ordering platform for restaurants.
User-friendly interface
Clear menu and pictures
Secure payment options
Customization options
How to make an online ordering platform?
Here are some steps that will help you create a platform for online food ordering.
Select the website builder
Set up hosting and domain name
Create a professional-looking design
Add the ordering system
Implement payment platform
What are the benefits of ordering online?
Below are the main benefits of online ordering.
Flexibility
Convenience
Queue avoidance
Easy reordering
Why is online ordering important?
Online ordering allows customers to place an order from anywhere and anytime. It also helps restaurants to manage their operations easily from a single platform.