We live in a fast-paced world where online ordering has been a new trend. From getting groceries to ordering food, everything is delivered to your doorstep. Millions of people use apps to order food/groceries from their favorite place and get it quickly. However, all this is possible with the rider delivery apps.
The rider apps for delivery are an innovative solution that provides a convenient and seamless delivery experience. Many restaurants and grocery stores have adopted and moved to using these apps to provide better services to customers.
However, when businesses use delivery rider apps, they have two options: hire reliable riders or use third-party delivery services. They both provide benefits, but choose the one that best meets your needs. You can also have the option to use a rider app for delivery services that manage both in-house and third-party riders.
With the help of the rider delivery app, businesses can streamline their day-to-day delivery processes. It also allows tracking your order in real-time and knowing the delivery status. Therefore, you should use the rider delivery app for your business to stay competitive in today's fast-paced market. Businesses can gain a huge profit edge, and customers are also very satisfied.
For your help, we gathered complete information about the rider delivery app in this blog. So, let's get started.
What is the Rider Delivery App?
The rider delivery app is a type of delivery app that provides a convenient solution for delivering goods and services to customers. These apps deliver online orders straight to the customer's doorstep. Restaurants and grocery stores commonly use rider apps for delivery services.
The main purpose of using the rider delivery app is to:
Make it easy for customers to order and get their products on time.
Optimize the delivery process.
Allow customers to track their orders.
Help businesses to reach a large number of customers.
Save the customer time that they spent to travel.
Help businesses streamline their logistics.
The rider delivery app has become an essential tool for businesses to provide convenience to their customers. They can stand out by providing a convenient alternative to traditional shopping or dining experiences. With the help of rider apps, businesses can retain their existing customers.
Moreover, the demand for rider apps for delivery services has increased due to the COVID-19 pandemic. In those days, the restaurant industry's food delivery riders were the major defense against business closures. These apps also provide the facility of contactless delivery for better safety of customers.
Benefits of the Rider Delivery App
Food rider apps for delivery services are popular across the world. They provide several benefits to customers and businesses, from timely deliveries to better profits. 
Below are some benefits of the rider delivery app that you can enjoy when using these apps.
Improved Customer Service
For food delivery businesses, their customer service matters significantly. Rider apps help businesses provide customers with a better, more efficient, and more convenient service. The delivery rider applications help better communicate between customers and businesses to address issues faster.    
In addition, the customers get notifications about their order status and track their deliveries. This gives them a better sense of power over the process, leading to a better customer experience.
Reach a Large Number of Customers
The delivery rider apps help businesses reach a wide range of customers. They can serve customers in different parts of the world and even bring to places they couldn't reach with just their physical locations.
Improved Security
These apps help businesses to improve security. Tools like background checks and real-time tracking ensure that order is delivered safely and securely. Customers can monitor where the driver is reached to ensure their order is not delayed or misdirected.
Additionally, all the profiles of the riders are available on the app, such as their driving records, criminal history, etc., so the customer can rest assured that whoever is handling the products for delivery is trustworthy. It boosts customer confidence and keeps the customers safe.
Increased Efficiency
The delivery rider apps can transform delivery businesses by making them more efficient. The riders can access multiple orders from the single app. They can save riders time and help them to plan routes. These apps can improve shipping speeds and reduce administrative costs.
Improve Schedules
Using the fast rider delivery service app can improve schedules. With an easy-to-use and well-organized system for arranging deliveries, riders can quickly and easily plan the best routes to reach more customers without spending more time on the road. Accurate arrival times are also good for businesses because they can better plan for customer orders.
With this well-organized process, the customers receive their orders on time. This can lead to customer satisfaction.
Competitive Advantage
Businesses that provide delivery services have to get more advantages. With the help of these apps, they can differentiate themselves from their competitors by offering a more reliable and convenient experience.
Secure Payments
Customers can easily make secure payments with several payment methods. These include cash on delivery, credit/debit cards, and digital wallets. All the payments on the app are secure because businesses use strong safety protocols.
Better Insights
With these apps, businesses can track everything from the number of orders to the delivery time spent on each order. This data can help them make informed decisions about equipment, routes, and more. Also, gives a clear picture of success that businesses should implement. 
Features of the Rider Delivery App
The importance of delivery rider apps will grow as the restaurant industry expands. These apps are equipped with several features and serve the needs of the rider and customer.
Here are some key features that should be included in the delivery rider app.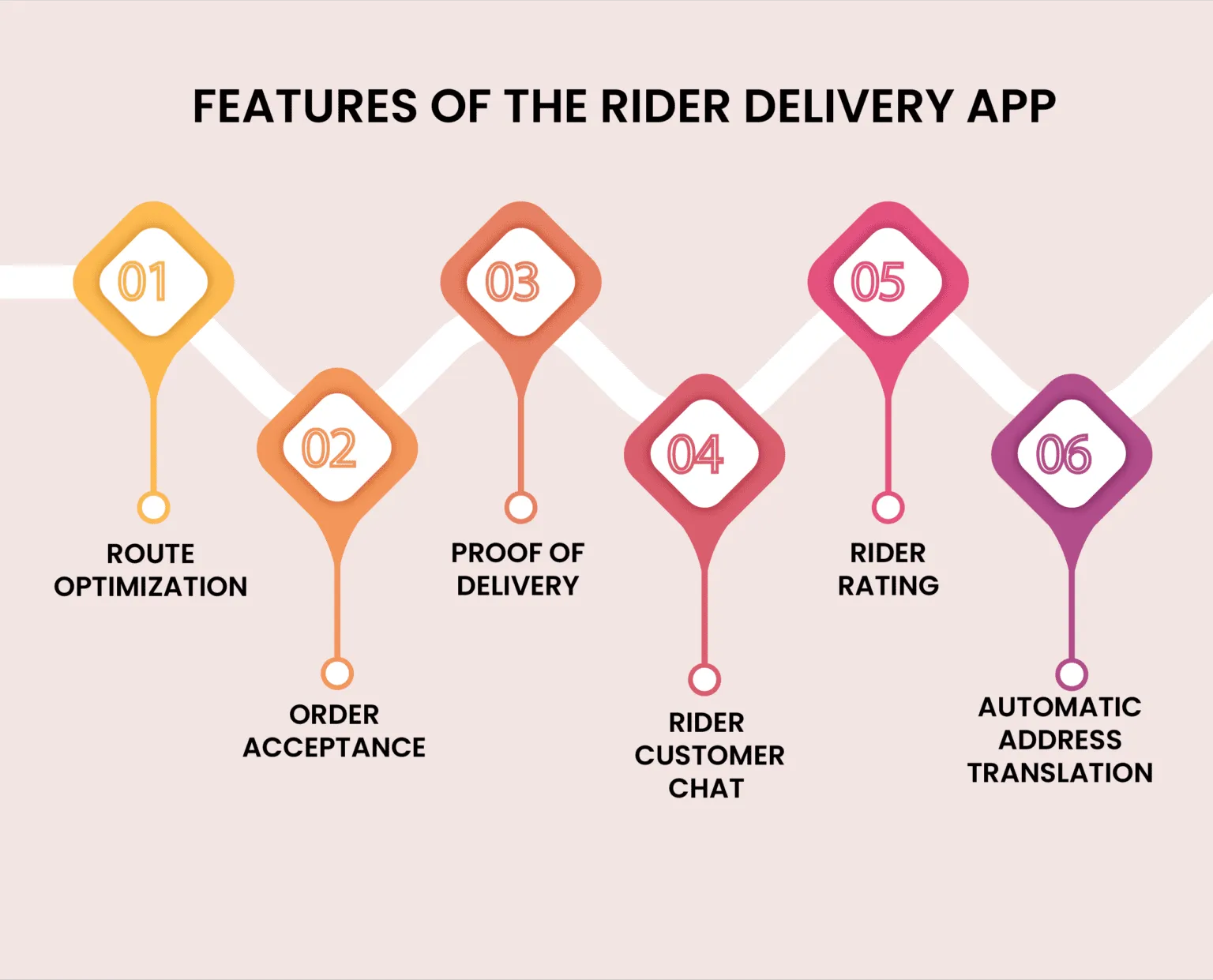 Route Optimization
A good delivery management app streamlines the route planning process. Use different algorithms and give the best route to the driver. Riders can spend little time figuring out the routes. They just enter the delivery address, and the app gives them the best route. Therefore, the delivery drivers can deliver their orders on time.       
Order Acceptance
It is one of the main features of delivery rider apps. Riders can accept and reject the orders according to availability and proximity to where the order is delivered. With the help of this feature, they can save a lot of time and gasoline.
Proof of Delivery
This feature protects the riders against any future disputes with customers. Also, it can save them from fraudulent orders and improve the delivery experience. The riders are expected to take a picture of the order at the drop-off area as proof of delivery and submit it on the app.
Rider Customer Chat
With this app feature, the customers and riders can communicate. It can reduce misunderstandings and improve the overall delivery experience. Customers can add special instructions or preferences to the rider; if they want a contactless delivery, they can add the specific place where they place their order.
Rider Rating
Customers can rate the rider according to their experience. The feedback and ratings help the riders to improve and maintain their service. These ratings work as an evaluation tool. The higher ratings and reviews can give them incentives and rewards from the company. Additionally, it helps the future customers to select the best rider.
Automatic Address Translation
Add the automatic address translation feature to improve the delivery process. The app will automatically translate the address into the language that the rider wants. It helps the riders to go to the delivery location easily.
How Rider Delivery Apps Work?
Below is the procedure that shows how rider apps for delivery services work.
Registration: The first step for users is to download the app and register them. They provide information, including their name, address, contact information, etc.
Browse the Menu: Users can go through a comprehensive range of goods and services offered in their locality, such as supermarket shopping, meal delivery, and courier services. They browse the store, pick out the desired products, and put them in their shopping cart.
Payment: After all the items have been added to the shopping cart, the user will move to the checkout, where they will complete a safe transaction using the mobile application. Credit/debit, digital wallets, and cash on delivery are frequently accepted payment methods.
Delivery: The rider is responsible for picking up the order from the restaurant/shop and delivering it to the location that the user specifies. Additional contactless delivery solutions are available for those who choose this delivery option.
Feedback: After the user has received the order, they can give feedback about their overall experience. Also, give a rating on the app, which contributes to the continued service improvement.
Steps to Create the Rider Delivery App
Creating the rider app is simple but needs some planning. If you follow the proper steps, you will easily build a top-notch rider app.
Here are some steps that help you create the rider delivery app.
1. Do Research
First, you have to conduct research and gather all the information. You need to understand what customers want, industry trends, and more. Also, identify the gaps in the competitor apps that you can add to your app.
2. Determine the Business Model
Select the business model for your rider delivery app. Many business models are available. However, carefully choose the model by keeping your requirements in mind. Always decide on the model that helps you generate revenue from the app.
3. Decide the App Features
Identify the key features of the app. This includes real-time order tracking, rider profiles, multiple payment methods, and more. Add interesting features for the customers and force them to use your app.
4. Select the Right Technology Stack
Select the technologies for your app's front-end and back-end development. Use the right technologies and frameworks that you can easily use to create the app without any difficulty. Never use technologies that you have no or little experience with.
5. Start Developing the App
After selecting the technology stack, start developing the app. In this phase, work on the app's UI/UX design, front-end, and back-end. Work on each feature and implement the app according to your needs.
6. Testing and Quality Assurance
After developing the app rider delivery, start the testing phase. Conduct thorough testing and remove all the bugs and errors. Make the app bug-free and test it on different platforms before deployment. 
7. Launch the App
Launch the app on Play Stores when the testing phase is complete and make the app error-free. Make sure that you meet all the guidelines and requirements.
8. Maintenance and Updates
Remember this step if you want more customers to use your app. Maintain and update your app regularly and address any issues. Keep customer preferences and feedback in mind when updating the app.
Best Rider Apps for Delivery Services
The rider apps for delivery services are designed to save time, money, and effort on your deliveries. These apps are designed to make your daily operations stress-free.
Below are some of the best rider apps for delivery services that you can use easily.
Amazon Flex
Amazon Flex provides the opportunity to work the way you want. It gives you a lot of flexibility in the way you work. This app pays you according to the number of deliveries you complete and accept.
Additionally, this app offers delivery assignments to drivers. These include packages picked up from Amazon delivery stations or warehouses and delivered to customers.
| Pros | Cons |
| --- | --- |
| Offer flexible working hours | Delivery conditions can vary |
| Pays in hourly blocks | Issues with payment processing |
| Earn extra money by delivering Amazon packages | Don't have job security |
Uber Driver
The Uber delivery rider app is popular, and many drivers use this app. Uber Driver provides a flexible earning opportunity. Uber delivery rider app is best for part-time, temporary, and full-time drivers. The drivers who work on Uber come from all backgrounds and industries.
| Pros | Cons |
| --- | --- |
| Working hour flexibility | Fewer benefits |
| Earn extra income | It is difficult to get more rides |
| Cashless payments | If you use your car, expenses are high |
DHL Express
DHL Express is a well-known package delivery and express mail service. It is a popular choice for users due to its speed and reliability. It is a one-stop shop for international shipping and courier pickups. The DHL Express mobile app allows you to track your shipments and manage your deliveries all in one place.
| Pros | Cons |
| --- | --- |
| Fast delivery | More expensive |
| Tracking facility | Restrictions on size and weight |
| International shipping | Delivery charges vary for less accessible areas |
Uber Eats
Uber Eats delivery rider app is the most popular food delivery app. It connects users to several restaurants. This food delivery rider app provides various features, from online order tracking to scheduled deliveries. This app is easily accessible on iOS and Android devices.
| Pros | Cons |
| --- | --- |
| Offer various payment options | Prices are increased in peak times |
| Real-time tracking | Not available in all areas |
| A wide variety of restaurants are available | Customization is limited |
Grubhub
Grubhub is another famous food delivery rider app. It is a platform that allows you to order food and groceries from the comfort of your home and get it at your doorstep. This food delivery rider app connects customers with several restaurants and grocery stores.
| Pros | Cons |
| --- | --- |
| Offers deals and discounts | Fuel costs |
| Provide subscription service | Peak pricing |
| Provide the facility to customize your orders | Available in some areas |
Postmates
Postmates is an on-demand food delivery service. It offers a variety of delivery options. This app delivers the food from your favorite restaurants and cafes on time. Plus, it offers several features and benefits to its customers.
| Pros | Cons |
| --- | --- |
| Contactless delivery | Limited delivery in some areas |
| Deals and discounts | Fewer benefits for riders |
| Partner with many restaurants and grocery stores | Peak pricing |
Foodpanda
The Foodpanda rider app delivers food, groceries, and more to the customer's doorstep. It is one of the most widely used food delivery rider share apps worldwide. This app provides its customers with several benefits, like discounts on the first order, order tracking, and more. In addition, the Foodpanda ride rating helps customers to rate their delivery services.    
| Pros | Cons |
| --- | --- |
| Rider for delivery contact with the customer | Deliver orders at peak hours can be challenging for riders |
| The navigation feature helps riders find the best possible route | Less income and riders rely on tips and bonuses |
| Bonuses and rewards | Provide fewer benefits |