In recent years, the online food delivery market has been growing significantly. They have changed how we dine and make it easier for people to get their food without leaving the comfort of their homes. Online food delivery apps have made online food and grocery ordering seamless. Also, the food delivery app development company helps you create food delivery apps. Experts predict the food delivery service market will reach $126.91 billion in 2023.
Nowadays, mobile food delivery applications are an economical and efficient way to attract new customers. Also, it helps develop loyalty and obtain feedback in real time.
After the COVID-19 pandemic, people prefer to order food online instead of dining out. It is the main reason food delivery apps come into play and more people use them. 
The food delivery businesses strive to provide customers with a seamless experience. However, the market is full of several food delivery apps. In such cases, creating a top-notch app is essential. Therefore, partnering with a skilled, best online food delivery app development company in USA is important. 
Choose a good online food ordering app development company that turns your ideas into reality. Many food app development companies are available, so picking the right one can be complex.   
However, worry not. For your help, we gathered complete information about food and grocery delivery app development companies in this blog.
Let's get started.
What is a Food Delivery App Development Company?
The food delivery app development company is a company that specializes in creating mobile applications for food delivery businesses. They create apps that meet your business goals and needs. The food delivery development companies provide services to cafes, restaurants, cloud kitchens, and those needing an app for their food business.
The primary purpose of the food app development company is to help businesses to:
Get more customers.
Increase their visibility.
Streamline their operations.
Reduce manual efforts.
Reduce administrative errors.
Make the ordering process simple.
Improve the customer experience.
Furthermore, working with a reliable food delivery application development company helps you grow your business. The on-demand food delivery app development agency has professionals who use the latest technologies and develop an app that caters to the evolving needs of modern-day restaurants and food delivery businesses. 
Role of Online Food & Grocery Delivery App Development Company
Online food and grocery delivery app development companies play a main role in the food delivery business. They help the companies to provide customers with a better experience. Food ordering app development agencies develop apps enabling customers to order food online from various restaurants. 
Additionally, they create the apps by following strong security standards and protecting all the customer data. Also, these companies know the latest trends and make the most market-competitive app.
Some companies help businesses by offering marketing services to get more customers. They can guide them about different marketing strategies so they can easily boost their business.
Benefits of On Demand Food Delivery App Development Company
Below are some main benefits provided by on demand food delivery app development companies.
Expertise
The food delivery development companies have IT, marketing, and sales experts. These experts have several years of experience in their field. For example, the best food app developers in USA create user-friendly and efficient iOS and Android apps. The marketing team gives you unique ideas that help you improve your visibility. The sales experts help increase your number of customers.  
Save Time and Effort
With the help of app development companies, food businesses can save time and effort. They can get the app according to their needs, simplifying their business operations such as:
Order tracking
Manage orders and payments
Inventory management
Restaurant management and more
Faster Time to Market
The food delivery development companies have the expertise, and they quickly develop and deploy your app. It helps you to enter the market quickly and gain a competitive edge.
Support and Maintenance
The app development companies provide ongoing maintenance and support when the app is deployed. They can update your app day-to-day and make it functional. Therefore, your customers can use it without any problem.
Testing and Quality Assurance
The development companies use the latest best practices and conduct thorough testing to make the app error-free. If there's a problem with the app, you can talk to them, and their team will fix it.
Services Provided By Top Food Delivery App Development Companies
The best company for food delivery app development provides several services, which include:
Design and Development: The companies create the app according to the exact specifications. This includes UI/UX design, front-end development, back-end development, and integration.
Customization: Some companies provide the facility to customize the already-built app. They can add features and functionalities according to your requirements. For example, they can add the tracking feature to your app if you want to add it.
Testing: Companies provide testing services to ensure your app is bug-free. Also, the app runs on different platforms without any glitches.
Maintenance and Support: Provide ongoing maintenance and support to address issues. They help you troubleshoot any issues and ensure your app is running smoothly.
Marketing: They can help you develop a full marketing plan for your food delivery app to get more people to use it and bring new customers. Plus, they can help you in boosting order frequency.
10 Best Food Delivery App Development Companies
Every company promises to give top first-class solutions, but most fail. You need to know which food delivery app development companies are the best. Therefore, you can pick the best one for your business according to your requirements.
Below are some top food and grocery development companies that help you create the best ordering app.
1. GeekyAnts
It is a well-known mobile and web app development company. GeekyAnts offers great solutions for web and mobile apps with innovation. All of their team is skilled and can help you with your business app needs. Thay have been in this business for several years and help businesses transform digitally.
The company worked with 500+ clients worldwide and delivered customized solutions. They cater to different industries, such as finance, education, banking, real estate, etc.
Why GeekyAnts?
Provide customizable solutions
500+ completed projects
A team of 700 professionals
Prices are affordable
19k+ GitHub stars
2. Enatega
Enatega is the best food delivery app development company. The company creates user-friendly and functional apps to help grow your food business. Enatega has an expert team of developers and designers that works 24/7 for their clients. With an experienced team of developers, we have successfully delivered advanced solutions to various clients in the food industry.
The company majorly focuses on the sector of food developing apps. Many well-known companies and brands work with Enatega. From Enatega, you can get the various apps, such as:
Medicine delivery app
Pizza delivery app
Grocery delivery app
Beverage delivery app
Why Enatega?
Offer single-vendor and multi-vendor products.
Transparency
Use latest technologies
Deliver full-fledge food ordering solutions to startups and entrepreneurs
Cloud-based food delivery solution
3. TechAhead
TechAhead is another famous mobile app development company. They deliver the best online food delivery solutions and help you with unique ideas. They offer many IT services and deliver businesses the best food delivery management system. The company has a proven experience in providing customizable solutions at cost-effective prices.
Moreover, TechAhead provides food app development services to cloud kitchens, restaurants, and home delivery businesses. The food app development services they provide are:
Full-fledged food ordering app
Real-time tracking system
Order management
In-app payment system
Fleet management
Menu and deals platform
Why TechAhead?
Deliver 200+ mobile app and IOT solutions worldwide.
The biggest global brands have trusted them.
Provide full stack services to clients.
Team of 250+ professionals.
Use the latest technologies.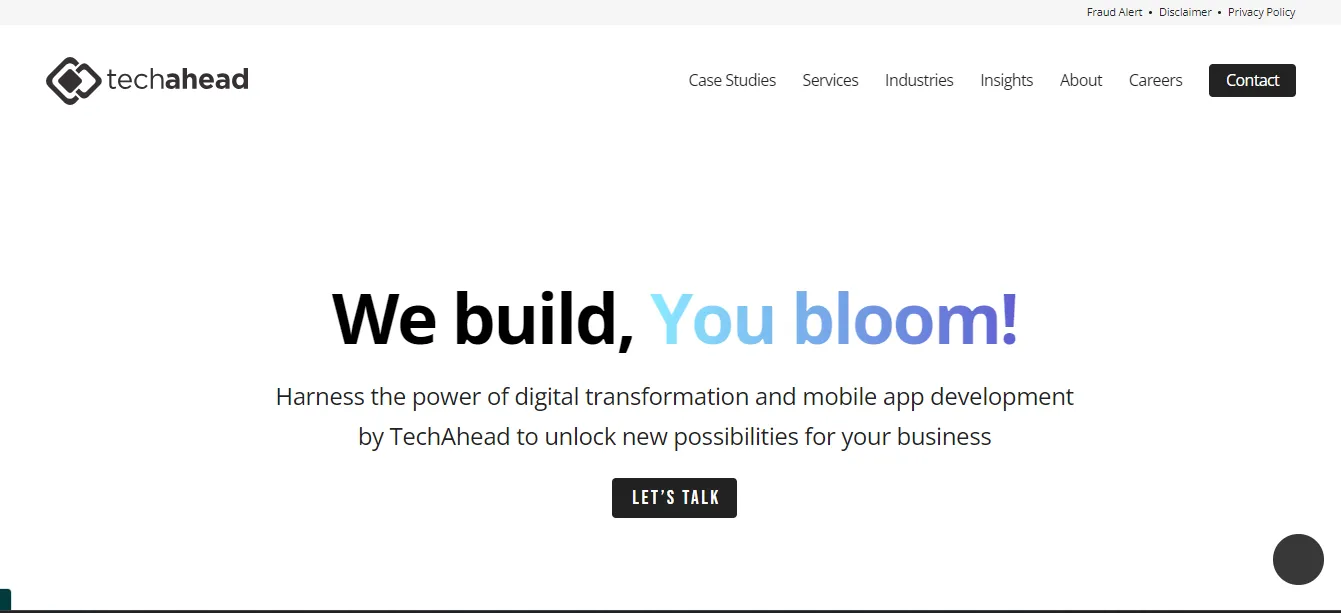 4. iCoderz
iCoderz is a leading mobile app and game development company. The company was founded in 2011 and has helped several food businesses increase their sales and brand visibility. They have experience in providing online food delivery app development services.  
In addition, iCoderz specializes in developing full-fledged online ordering apps with a team of experts. They have been making food service apps for over 12 years and are among the best in India, the US, and Germany.
Why iCoderz?
Provide the best-in-class customized restaurant app development solutions.
220+ food delivery clients
1.7 million orders delivered
Clients in 30+ countries
Make unique food delivery apps according to businesses
5. Five
Five is a mobile design and development agency. They craft the best products for businesses and help them generate investment returns. The company offers full-stack services to its clients across the world.
Five is number one on the list of best food delivery app development companies because they made the online ordering system for Marriott International.
Why Five?
Helped hundreds of organizations
Provide a wide range of services
Deliver the perfect solution to clients
The talented team that delivers the best products
4.9 rating on clutch
6. 10Pearls
10Pearls is an award-winning digital development company in the US. They have a huge team of developers who build great apps. The company serves small and large enterprises. All the projects are handled professionally. The team always does what the client wants and works toward their main goal. The company started in 2004 and has become well-known for providing great services to its clients worldwide in the last few years.
Why 10Pearls?
Partner with high-growth companies
Design transformational digital products
Use latest technologies
Offer various services such as digital marketing, software development, and more.
4.9 rating on clutch with positive reviews
7. Cubix
Cubix is a software development company in the USA. They turn great business ideas into reality and deliver the best product. The company has more than 10 years of experience helping food delivery businesses.
Cubix uses the latest technologies, such as SaaS, IoT, ML, AI, augmented reality, and more. Cubix's innovative approach makes it one of the best Indian culinary app development companies. They have also worked for Canon, Hindustan, Suzuki, Unilever, etc.
Why Cubix?
250+ employees
Develop results-driven products for startups, entrepreneurs, and enterprises.
Receive many awards like top mobile app development company 2023.
Google developer-certified agency
600+ completed projects
550+ clients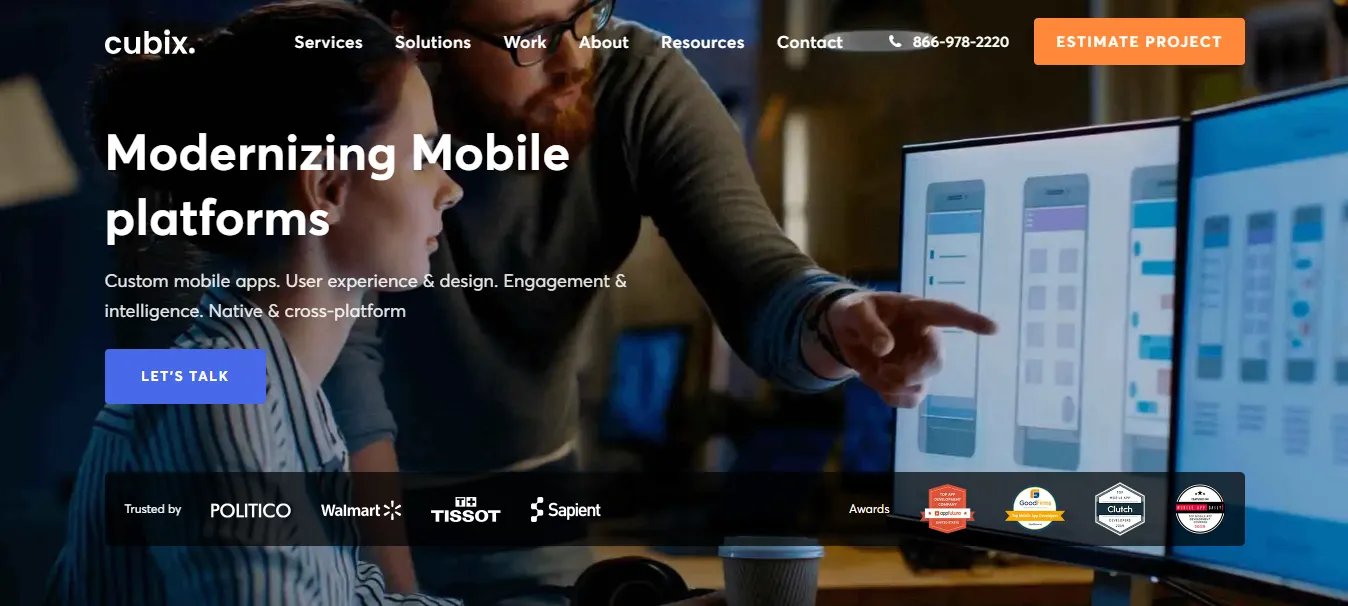 8. Tapptitude
Tapptitude is another famous mobile app development company offering the best food delivery software. It is a top-rated company on clutch. The company partners with established brands and funded startups to create mobile-first products.
Many brands choose Tapptitude because they get the best help with planning, building, and creating a great product.
Why Tapptitude?
4.9/5.0 rating on clutch
Many famous companies partner with Tapptitude
Build high-quality iOS and Android mobile apps
Team of professionals
Satisfied clients
9. Interexy
Interexy is a custom software development and IT consulting company. They help businesses of all sizes. Their expert developers develop a food delivery app to help businesses improve their presence in the food industry. The company designed the app to give customers a personalized experience.
In addition, Interexy helps startups develop market-winning mobile applications. They provide custom software solutions and IT consulting services for 30+ industries.
Why Interexy?
Work with only middle and senior developers.
Developers work on the project as full-time employees.
Deliver the work on time.
Create tailored products that meet the customer's requirements.
Provides full-cycle app development services.
10. ValueCoders
ValueCoders is a company that creates food delivery and ordering apps. The company worked with 2000+ clients in 33+ countries. Top companies in every sector use their top-notch technology solutions, from fast-growing startups to small businesses.
The company delivers online food delivery solutions with great features, such as:
Online/offline management
Order management
Admin dashboard
Tip management
In-app search
Why ValueCoders?
18+ years experience
2,500+ satisfied clients
650+ in-house software developers
2000+ person-years experience
4,200+ projects launched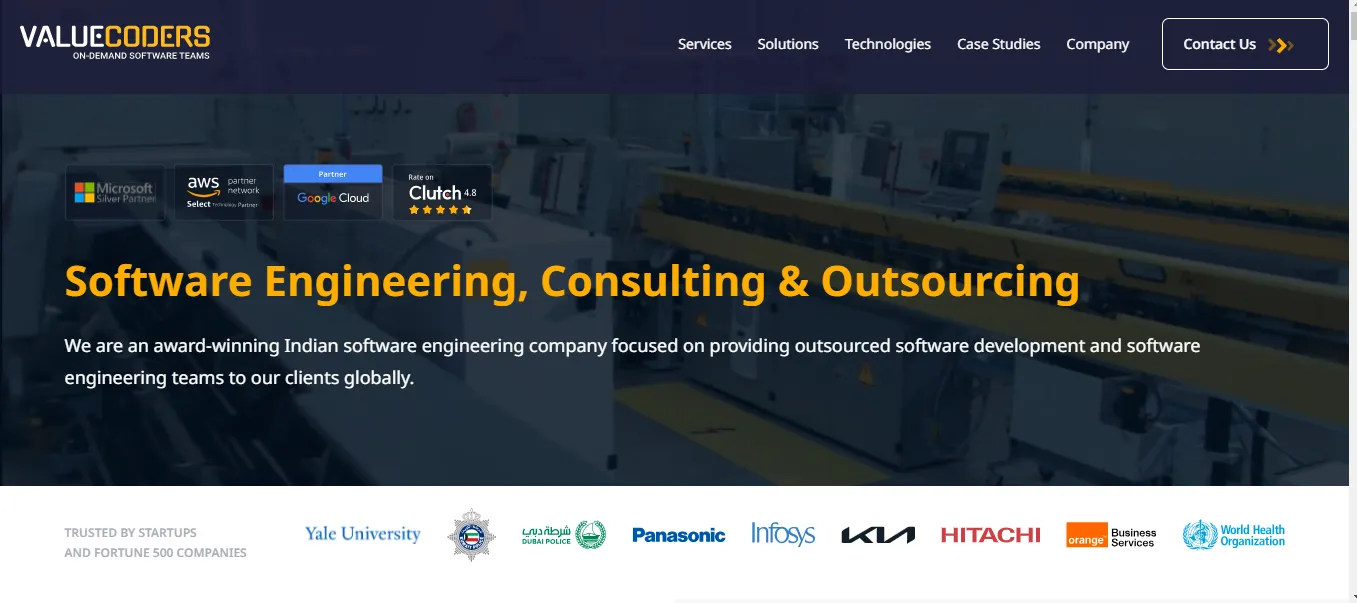 Tips for Selecting the Best Food Delivery Mobile App Development Firm
Selecting the best food ordering mobile app development agency is essential for the success of the food business. For restaurant owners, food manufacturers, and food startups, always choose the company that best aligns with your requirements.
Here are some tips that help you make an informed decision.
Determine Your Goals
First, identify your main goals, objectives, and specific needs. Knowing your goals will help you find the best food app development company for your business. You must know these things:
Are you improving your existing app?
Do you want to add a new feature to your existing app?
Are you looking to create a new app for your business?
You would have a clear picture of what you need. This would make it easier for you to explain what you need. Meanwhile, you'll know if the company you want to hire can meet your standards.
Conduct Research
Do some market research and understand current trends. In this step, you should know about your competitor's business, customer preferences, industry trends, and more. With proper research, you can easily make an informed decision for selecting the best company.
Check Reputation and Experience
Always look for a company with a strong reputation and a proven track record. Read reviews, check previous projects, and ask those who already have experience with the company.  This would help you choose the top food delivery mobile app development firm.  
Check Prices
Always check the prices and compare them with other companies. Ensure they offer affordable prices and you can easily afford them. Also, remember that some companies offer cheap rates and deliver low-quality work. Therefore, working with a company that has a good reputation and delivers the best work without compromising quality.
Know the Team
Get to know the company team members. Engage in discussion and know about their industry experience, approach towards the project, what technologies they use, and more. Discuss your ideas and get their opinions and feedback from them.
Project Timeline
Make sure that you know your project completion deadline. Break your project into smaller tasks and assign a timeline for each task. This can help you track your project. Plus, this will help you select the company that can meet your deadline.
Country Origin and Location
When you look at the food delivery app development company, you should consider how far away they are from your business and what country they are based in. Central and Eastern Europe and Western Europe are two of the best places to live in terms of service quality, price, and communication.
Years on the Market
Check whether the company has been in this business for many years. Check their company profile, potential partners, and projects.  You should know their management and development process if you work with a startup company. Triple-check all the information before you choose the food delivery app company for your project.
FAQs
Who offers the best food delivery app development services?
Enatega offers the best food delivery app development services to its customers. When you work with Enatega, you will get these perks:
Customization
Transparency
Flexibility
Free demos
What are the top 3 food delivery apps?
Below are the top 3 food delivery apps.
Enatega
DoorDash
Uber Eats
Which platform is best for food delivery?
There are several platforms available for food delivery. However, the right one, like Enatega, is the best food delivery platform that provides its customers with top-notch services.