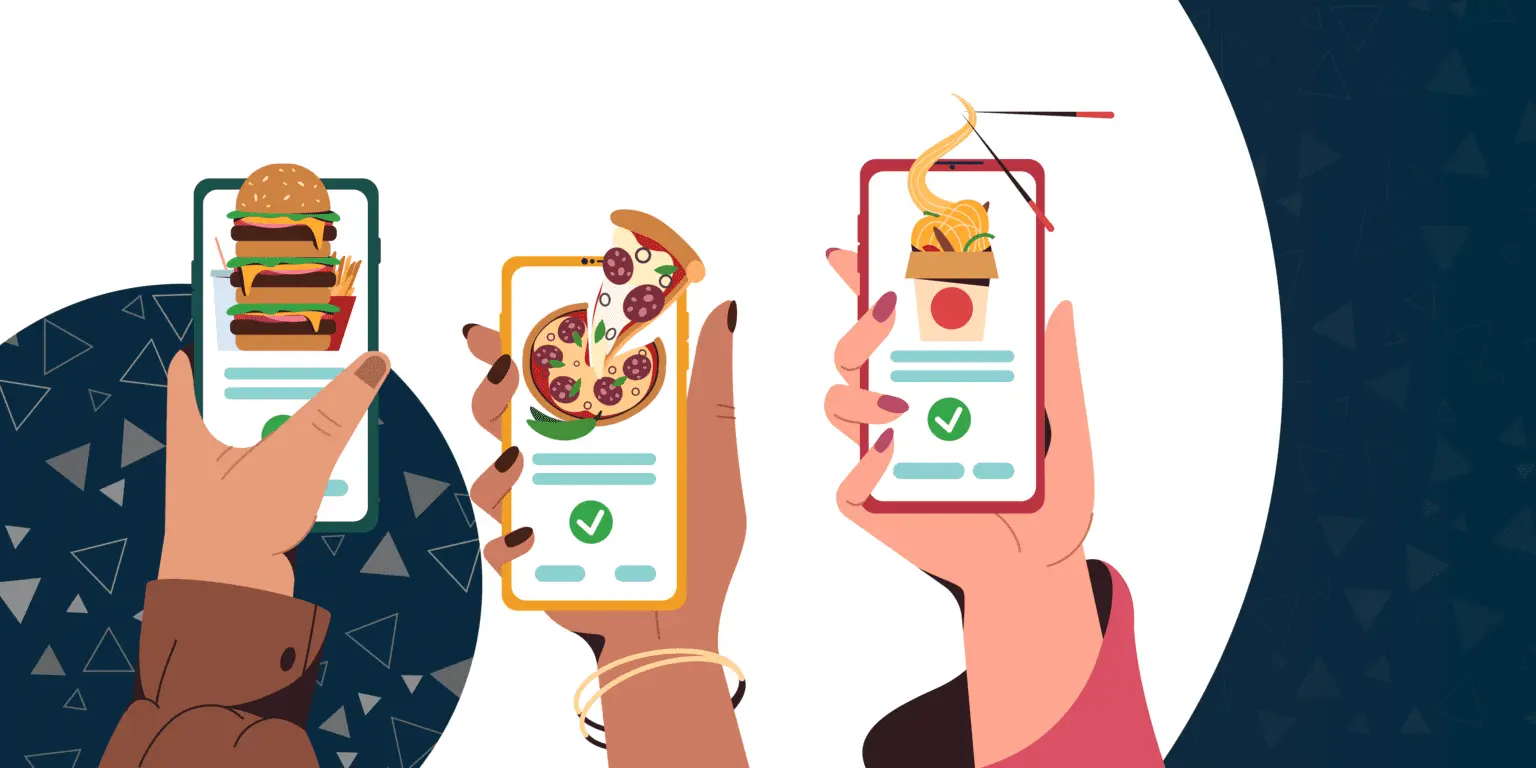 Online food ordering apps have become popular across the world. Millions of people use these apps to order food from the comfort of their homes and satisfy their cravings. The food-ordering apps are the lifesaver for those who don't want to cook and get the food ready on their table. Therefore, food business owners know how to make an online food ordering app because they get a lot of revenue from these apps.
In addition, with the help of a food ordering app, restaurants, cafes, cloud kitchens, and food businesses can improve their visibility. They can also help them to boost their businesses and increase sales. Therefore, developing a food ordering app can be a profitable venture.
According to food delivery app industry stats, the global online food delivery market will grow 10.2% annually from 2018 to 2023. It is expected to hit $154.34 billion in 2023.
Experts say that more than 1.6 billion people worldwide used apps to get food delivered in 2021. As you can see from the numbers, more and more people find ordering food online easier and more handy. Business owners can easily serve more customers by making a food delivery app, which will finally lead to more money.
Some restaurant owners think developing a food ordering app can be complex. You don't need expert coding skills; hire a food app development team. However, you can easily create a top-notch food-ordering app with proper planning and preparation, giving you several benefits.    
This blog provides a complete guide on creating an online food ordering app that makes your food delivery service process easy.
Let's start.
Why Create an Online Food Ordering App?
The popularity of online food delivery apps USA has increased significantly. Many restaurant owners are moving to these apps and simplifying their delivery process. 85% of users prefer mobile applications over websites for food ordering. 
There are numerous advantages to creating a mobile app ordering system for your business.
Time-Saving
Online food ordering apps save time for consumers and restaurants. With these apps, customers can quickly place orders, and restaurants can deliver the order on time. Also, the apps save restaurants from fake orders.
Reviews and Ratings
The apps allow the customers to provide feedback and ratings about their overall experience. The feedback lets the restaurants know where they lack and which service needs more improvement. They can improve their services and provide customers with a better experience.
Revenue Generation
For business owners, making an app for buying food online can be a good way to make money. Commissions from restaurants, ads, delivery fees, and premium membership subscriptions are some of the main ways businesses make money.
Minimize Errors
The ordering apps can reduce the chances of mistakes if you manually manage tasks. The app securely handles payment information. It reduces the risk of errors in processing payments or providing incorrect change.
Customization
The online ordering apps provide the facility to customize the app according to your needs. You can add the features without the hassle you need in your app. Plus, you can change the theme, color, font, and more on your app.
Reach a Large Number of Customers
By establishing a food delivery app, restaurant owners may serve more customers and increase income. With online ordering apps, you can reach many customers worldwide. Most people prefer to use food-ordering apps to order food.
Promote your Brand
Mobile app delivery platform to help you create customer loyalty programs. With the help of this, you can retain your customers. Users may discuss your food ordering platform on Facebook, Twitter, and Instagram. Your services will be promoted and can boost brand awareness.
So, do you want to know how to create your own food delivery app? Consult us and get the best food ordering app.  
How to Make an Online Food Ordering App for Free?
Food delivery app development involves some careful planning and steps. Below are some steps you should follow when creating the ordering app for your food delivery business.
1. Start Research
First, you have to start the research phase. You must conduct in-depth research and gather all the information that helps you create a food ordering app. You have to look at these things:
Know your competitors
Find the competitor's strengths and weaknesses
Identify the market trends
Determine your target audience
Identify the audience's interest
Identify unique selling points
With good research, you can easily create a food delivery app. Also, remember that this step allows you to create a good app that sets you apart from your competitors. 
2. Define Your App Features
According to your research, outline the key features of your app. Divide the app features into four categories, such as:
Admin
Customers
Restaurant
Rider
Below, we discuss each role's features in more detail that you should include in your food-ordering app.
Admin
| Features | Description |
| --- | --- |
| Admin Login | The admin creates an account so they can log in securely and manage everything. |
| Restaurant Manager | This feature allows the restaurants to add or delete different restaurants. |
| Payment Manager | With the help of this feature, the admin will change the delivery fees. |
| Analytics | With this feature, you can keep track of important things, like which restaurants are the most famous, and sort them by profit, average check, and other factors. This information will help you understand the business better and give you good ideas for growing it. |
| Discounts Manager | Allows you to provide discounts to users. With this strategy, you can easily attract new and existing customers. |
Customers
Features
Description
Registration and Login
This feature allows customers to create an account. They can create an account with their email address and password. In addition, the more login options provided in the app, the more users will register and use the app.
Restaurant Search
With this feature, customers can easily search for nearby restaurants. They can search using various filters, making the search process convenient and faster. You can also add short descriptions about restaurants so the customers know them before ordering.
Location Tracking
The customers can track their orders in real-time. This feature makes the user experience more intuitive.
Order Placement and Payment
Make the order placement and payment process as simple as possible. Try to reduce the number of steps in placing the order and payment. Add various payment methods so the customers can make payments without hassle.
Get Notifications
Add push notifications that remind users about new discounts, delivery status, and many other new services.
Ratings and Feedback
Feedback is an important part of growing a business. You can use it to find the weak points in your service and improve it. Allow people to leave a review and rate the food and delivery service.
You can also add the "Give a Tip" button. If your customers choose this, they can tip riders for being accurate and quick with their deliveries.
Restaurant
| Features | Description |
| --- | --- |
| Registration | Allows the restaurant owner to log in and see the incoming orders. |
| Order Management | The restaurant can easily accept and change the status of orders. They also know their incoming orders and work on them properly. |
| Menu Management | Restaurants should be able to change their menu so that customers can see the most up-to-date information when they choose what to order. |
| Ratings and Reviews | The restaurant owner can see the customers' ratings, reviews, and comments. They also have an option to reply to the comments. |
Rider
| Features | Description |
| --- | --- |
| Registration | The rider creates an account and provides basic information such as name, email, contact number, etc. |
| Order Details | The rider gets all the information about the order, such as delivery address, delivery time, and meal price. Also, the rider has the option to accept or reject orders. |
| Order History | The rider sees their order history, like the number of delivered orders. |
| Navigation | Make it easy for the rider to find their way around the city by marking the fastest paths and destinations (such as the pickup and delivery addresses). You can use Google Maps Platform for Android, and for iOS, use Location Framework. |
3. Determine the Business Model
Choose the business model that best meets your business needs. For example, if you want to create an app like Uber Eats or Postmates, you should know that the model aligns with your requirements. Carefully select the business model and keep the overall app plan in mind.
4. Select the Technology Stack
You must select the right technology stack. The stack you select depends on the app's functionality. Before choosing the technology stack, you should know that you have expertise in it.
Below are some common technologies for making a mobile ordering app.
Front-end: HTML, CSS, Javascript, React Native and Flutter
Back-end: Ruby on Rails, Python, PHP, and Node.js
Database: MongoDB, MySQL, and PostgreSQL
5. Start Developing the App
In this phase, start developing the app. First, you have to design the user interface of the app. When you design the app interface, ensure it is user-friendly and users can easily navigate. Also, make it visually appealing and attractive for the users.
The next step is to work on the back end and make the features functional. Using your chosen technology stack, you will code and build the best food delivery software. 
6. Testing
Test the app and remove all the bugs, errors, and issues. Conduct thorough testing and ensure all the features work properly. To make sure the app works on all devices and browsers. Make sure that the app works properly on both newer and older devices.
7. Deployment and Support
Once you have finished the testing phase, start deploying the app and meet all the necessary guidelines and requirements. You should also keep the mobile food ordering app up to date and meet the users' needs by providing regular support and updates.
How Do Food Ordering Apps Work?
When creating a custom food ordering app, you should know its architecture. The food-ordering apps work simply. Here is a step-by-step process that shows how food-ordering apps work. 
Download the app: First, users download the food ordering app on their mobile phone from PlayStore. Android users download it from the PlayStore and iOS users from Apple Store.
Registration: After downloading the app, users create an account. They provide information such as their name, email address, delivery address, and phone number.
Find Restaurants: Users can browse menus and restaurants that are available in their area. The app also displays the prices, ratings, and reviews. Users can filter and search for specific cuisines or types of food.
Place Order: Once the users select the order, they place it. Before payment, they check their order and then select the payment method. Users can either pay online or through cash on delivery.
Order Confirmation: When the order is confirmed, the users receive the notification through email or within the app. This includes your complete order details, rider details, and estimated delivery time.
Delivery Service: The rider picks up the order from the restaurant with complete details. This includes the deliverer's name, contact number, address, and food order.
Feedback: After receiving the order, the customer gives feedback and ratings on the app according to their experience.
How Much Does it Cost to Build an Online Food Ordering App?
Predicting the exact cost of building an online food-ordering app is difficult. The cost of creating the food ordering app depends on various factors, which include:
App features
Timeline
Number of platforms
Marketing and promotions
App design and more
However, food ordering apps may cost $20,000–$50,000. Complex apps might cost over $50,000 – $150,000. 
FAQs
Which is the best app to order food?
Enatega is the best app for ordering food online from various restaurants. This mobile food ordering app covers several restaurants and provides the best features to its customers.
What are examples of online food ordering systems?
Below are a few examples of online food ordering systems.
Enatega
Toast
MenuDrive
Square
ChowNow
Which company is best for food delivery?
Enatega is the best company for food delivery. Whether you want a pizza, burrito, or anything, they deliver almost everything at any time.