Online food delivery apps in USA are becoming popular and transforming how people enjoy their meals. Most people rely on food ordering apps instead of going out. With just a few taps on the smartphone, a diverse array of delicious delights are delivered to your doorstep.  
Online ordering food and takeaway apps in the USA have also grown rapidly since 2020. 53% of the increase in 2020 as compared to 2019. Sensor Tower's new State of Food Delivery Apps analysis shows that the food delivery industry will continue to drive adoption until 2021. 
In 2022, the United States had anticipated revenues of 218 billion U.S. dollars. More than 76 billion dollars of this total originated from the meal delivery sector, positioning the country as second only to China in terms of the largest online food delivery market.
Due to the growing demand for food ordering ease and accessibility, the online meal delivery industry will grow significantly by 2023.
However, sometimes people get confused about which apps that deliver food to be used. So, worry not. For your help, we gathered a list of top food delivery apps in the USA, highlighting their unique features to help you make a decision more easily.  
Top 10 Food Delivery Apps in USA
Here are a few of the most well-known food ordering apps in USA where you can effortlessly place your order.
1. Grubhub
Grubhub is the most popular name in the food delivery apps in America. It is known to deliver food to more than 1,000 cities all over the USA. This USA food delivery app has offered more than 50,000 restaurants, cafes, and snack bars. 
In 2020, the company achieved a remarkable revenue of $1.8 billion. This app ranks 5th as the most installed food app in the USA. It helps users to search for and order their favorite cuisine, like Detroit-style pizza, apple-pecan chicken salad, margarita, and more.
Moreover, the app has an easy-to-navigate interface, and a user-friendly design is one of the most preferred factors for users looking for a streamlined ordering process. The Grubhub customer service is available round the clock to help you.
Unique Features of Grubhub
The app is customizable and offers 30 unique features.
Provide loyalty program "Perks".
Track the location of the delivery valet with just a single tap.
Offer cash payments.
Offer corporate plans.
2. Enatega
Enatega is the best food ordering software in the USA that delivers food to your doorstep. It offers a full menu from local food outlets. The Enatega app is available in many cities in the US. 
Users like this app for its great features and timely deliveries. In addition, on the Enatega app, users can easily place their order in simple steps and check their order history. The food order in the USA is made simple with Enatega.  
Unique Features of Enatega
Customer app
Rider app
Restaurant app
Easy-to-use interface
Reviews and ratings
3. Uber Eats
Uber Eats is an extension of the ridesharing giant Uber, and now it's become a famous household name in food delivery. With its user-friendly interface and full menus from local food restaurants and outlets, Uber Eats is one of the most used food delivery apps.
Uber Eats typically charges a 10% delivery fee with a $5 minimum and offers coupons for consumers' preferred cafes. It offers deliveries from eateries and grocery stores.
This food delivery app in USA also allows customers to choose from subcategories, including cuisine style, dietary constraints, and ethnicity. Customers may easily and quickly get customized menu options from various eateries. 
Unique Features of Uber Eats
Ranks 2nd as the most installed food order app in the USA.
Allow the user to check where the deliverer is reached.
Provide extensive choices of cuisines and dishes.
Deliver food in all urban cities and gradually extend to rural areas.
Offer free delivery.
4. DoorDash
It is another popular online food ordering app in USA, and its goal is to deliver food from various local restaurants and popular chains. DoorDash sets itself apart from others because of its commitment to delivering an extensive assortment of restaurant chains and an impressive array of over 110,000 menus. 
They offer breakfast, dinner, and lunch delivery services. Enjoy the convenience of having your favorite meal at any time of the day at your doorstep.
This service has established a footprint in over 1,200 cities across the United States and Canada. It claimed the title of the most downloaded application in the US during the second quarter of 2019, amassing a staggering 7 million downloads. Further, this app has 8. 9 million users on the Apple Store and 10M+ users on the Google Play Store.
Unique Features of DoorDash
Offer subscription service "DashPass" for users. Members get fewer service fees and unlimited free delivery.
Timely deliveries.
Rating system.
Delivery tracking.
Offer contactless delivery.
5. Postmates
Postmates was founded in 2011 and is known for its ability to deliver food and anything from over 10,000 retail stores, grocery stores, restaurants,  etc. The layout of Postmates is similar to a food delivery app like UberEats because it was acquired by Uber in 2020, and the customers can link an Uber account with the Postman app.  
Each Postmates order is subject to a delivery charge known as a Blitz pricing cost, which rises during peak hours. Additionally, for $10 per month, it offers its customers a Plus Unlimited plan that entitles them to free delivery from selected retailers and eateries. However, the minimum order requirement must be higher than $15.
Unique Features of Postmates
The layout is very simple.
Available in 50 cities in the USA.
Timely deliveries during peak hours.
Members get great perks like unlimited free delivery.
Offer food delivery combined with retail shopping.
6. Instacart
It is not exclusively a food ordering app but emphasizes local grocery deliveries. Instacart is well-known for delivering household essentials on time to the user's doorstep.
With its user-friendly interface, extensive store partnerships, and ability to cater to specific needs, Instacart has become an essential tool for those seeking a more efficient and flexible way to stock their pantries. As technology advances, platforms like Instacart will likely play an even more significant role in reshaping how we access and enjoy our everyday essentials.
Unique Features of Instacart
Offer discount coupons to users.
Offer same-day delivery in some cities.
Quality guarantee on every order.
Customizable orders.
Members get unlimited free delivery.
7. Seamless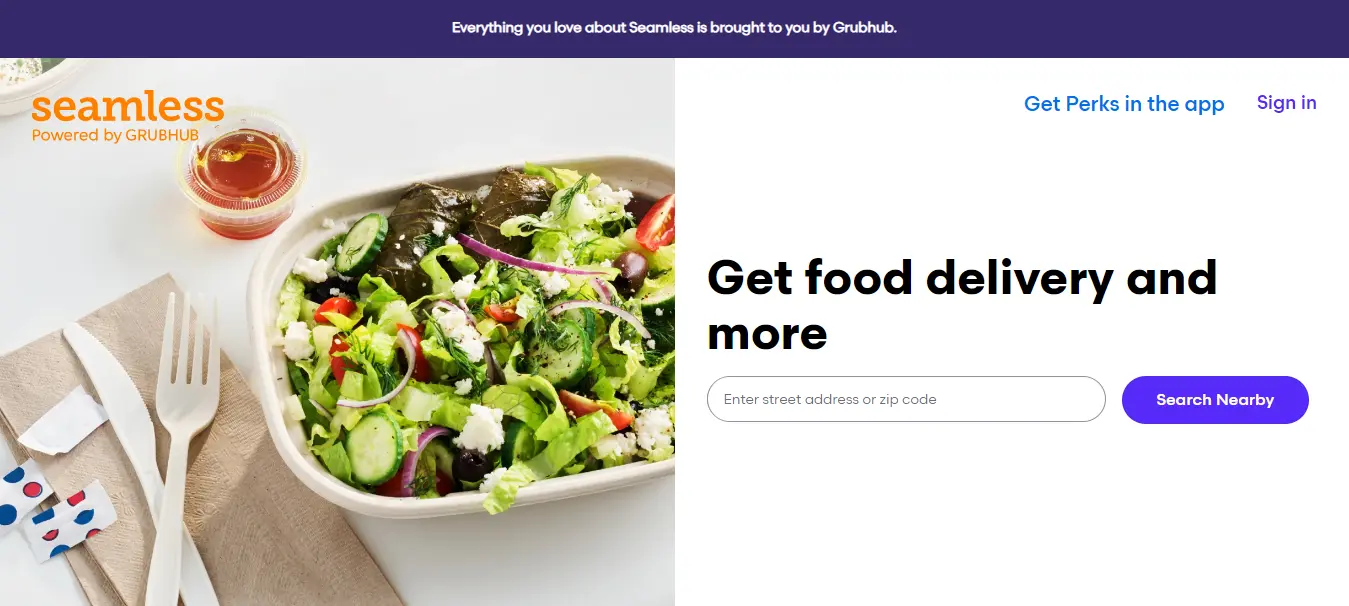 The ordering process's simplicity and ease are the primary goals of Seamless. Any food you need or want can be readily ordered for delivery in your neighborhood, no matter where you are. Fast food, chicken, Mexican food, snacks, Tacos, noodles, and pretty much any food are all readily available.
Seamless has 700,000+ users on the Apple store and more than 1 million on the Google Play store. Due to the Covid-19 epidemic, the brand has taken the required delivery safeguards.
Unique Features of Seamless
Provides delivery and takeouts in more than 600 cities.
User-friendly interface.
Deliver orders on time.
Different kinds of food are available.
Offer automated coupon integration and real-time tracking.
8. Delivery.com
Users of the Delivery.com app can order food, groceries, alcohol, and dry cleaning over the website. Most significantly, no fees are associated with using the app to order food in USA from restaurants.
Nevertheless, the restaurant can impose a delivery cost depending on your location. The software rewards users with points for each order. Later, they can use these points to get a deal or a free delivery.
Additionally, the app displays products under various categories to simplify users' navigation. Users can quickly locate the item they're seeking in various categories. Additionally, the app makes product recommendations based on user browsing habits.
Unique Features of Delivery.com
Users can place on-demand delivery orders.
Score delivery points with every order.
No fees to use the service.
Get $100 off on your first order.
Get Indian, Chinese, Italian, Sushi, and Mexican food.
9. Gopuff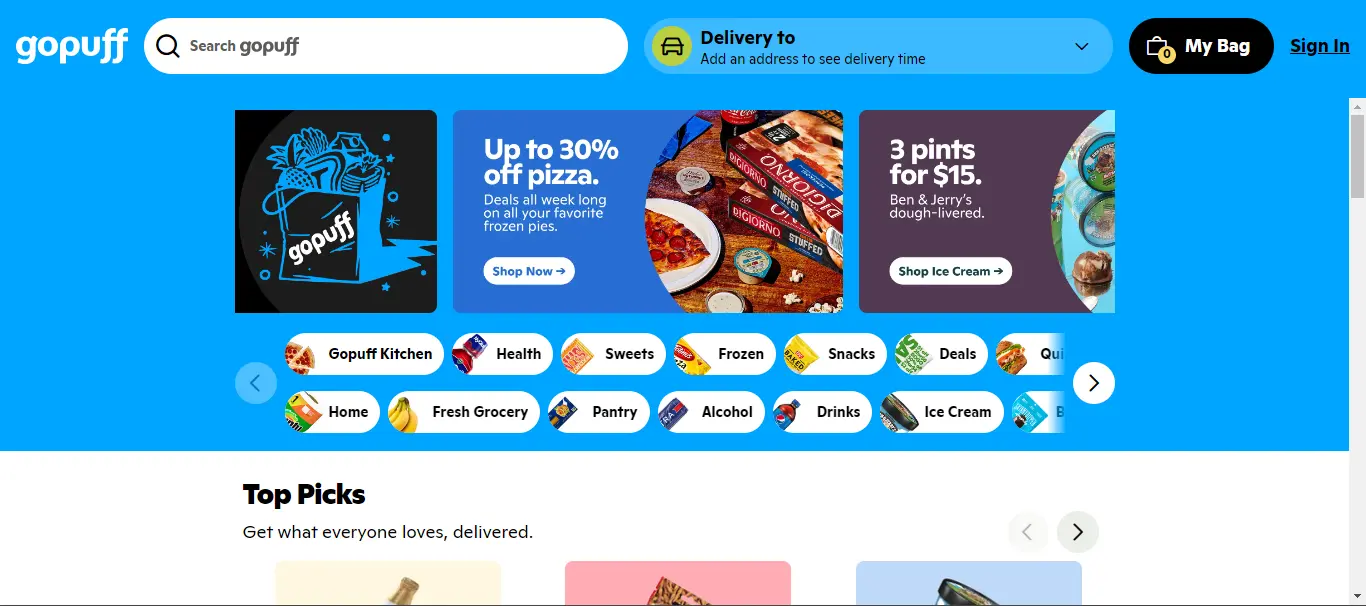 Gopuff is available in more than 650 US cities. It delivers almost everything from ice creams to phone chargers. They also deliver the dinner during late hours at your doorstep. Notably, GoPuff prioritizes safety by presenting customers with no-contact delivery.
The gopuff app is a mobile convenience store to get anything you need day or night without going to a corner shop. Gopuff offers a handy flat delivery fee of $2 and a product catalog with over 2,000 items. The best thing about Gopuff is they offer a 30-day free trial. They have the lowest monthly subscription fees.
Unique Features of Gopuff
The subscription plan offers free delivery on all orders with some amazing benefits.
The app operates in the US and UK.
Users can book pre-orders.
24-hour delivery in most major markets
Timely delivery
10. ChowNow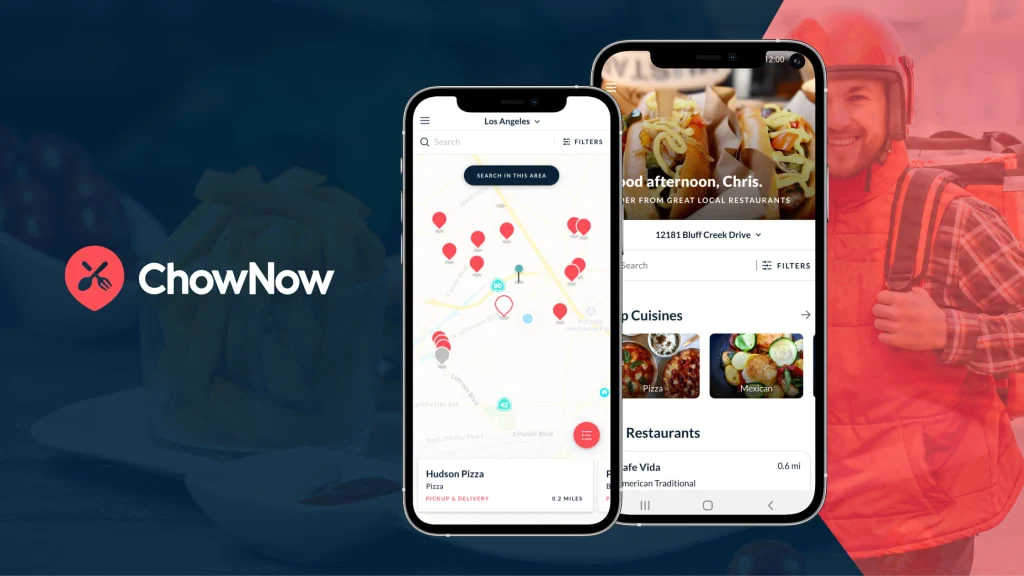 ChowNow is an innovative app in Los Angeles that is available in various cities across the US. It can extend beyond just being a food-ordering app. While online food ordering services are offered in specific areas, ChowNow's primary focus revolves around facilitating orders for pickup at nearby restaurants. 
By integrating ChowNow, restaurants can streamline their operations and broaden their reach, catering to a broader audience. With its user-friendly interface and tailored solutions, it redefines how food establishments connect with their clients, enhancing convenience and accessibility.
Unique Features of ChowNow
No hidden fees
Available in 18 US cities
Offer different discounts
Offer membership program
Deliver orders on time
11. Caviar
It is operating in 28 cities and regions nationwide. Caviar, which DoorDash acquired in late 2019, extends a range of enticing features. You can peruse a diverse array of local eateries and place orders through the app. With real-time GPS tracking, you can monitor the progress of your deliveries. You can personally pick up your order, minimizing delivery and service fees.
Caviar presents a variety of exclusive in-app deals, diverging from the rapid service-oriented approach of certain other apps. The platform shifts its focus away from fast food and instead accentuates various restaurant types. Furthermore, Caviar acknowledges your preferences, allowing you to specify no-contact delivery instructions when you finalize your order checkout.
Unique Features of Caviar
Real-time GPS tracking.
Focus on local restaurants.
Offer customizable search features.
Users can check the reviews of the restaurant.
Earn a 4. 8-star rating on the Apple Store.
Benefits of Food Apps for Customers and Restaurants
Ordering food apps have emerged as a game-changing solution. They are especially good for those seeking delicious meals without leaving the comfort of their homes. These apps have revolutionized how we experience dining by offering various benefits.
So, let's explore the advantages of delivery food apps and how they have reshaped the culinary landscape.
You can choose from various restaurants and cuisines using food delivery service apps. You can quickly browse menus, place orders, and have your favorite meals delivered to your door, whether at home, at work, or even on the go.
Say goodbye to time-consuming commutes, parking hassles, and line waiting. Through delivery food apps, you can save time and effort by forgoing the need to go to a restaurant. Your meal will be delivered in a few simple taps.
Different Variety of Foods Available
These applications provide various food options, from regional specialties to international cuisines. There is something to satisfy any hunger, whether you're in the mood for sushi, pasta, or exotic dishes.
Most applications let you personalize your orders according to your dietary needs and requirements. You can choose ingredients and create a perfect meal that suits your taste.
Access to Reviews and Ratings
User-generated evaluations and restaurant ratings are frequently included in food apps. They can help you make the right decision and get the food you order that matches your standards for taste and quality.
Numerous apps now offer no-contact delivery in response to health issues like the COVID-19 pandemic. Reducing direct interaction between clients and delivery employees for increased security.
Order Tracking in Real-Time
Almost all apps provide an order-tracking feature. It allows you to see the progress of your delivery. You can see when your meal is being prepared, picked up, and on its way to you.
Food delivery service apps can help brands to attract new customers. With the help of these apps, brands can enhance their visibility, get new customers, and boost sales revenue.  
Offers Deals and Discounts
Restaurant apps often provide exclusive deals, discounts, and promotions. Subscribing to newsletters or loyalty programs can help you save money on your orders.
The restaurant apps can help the brands track regular customer data, which includes:
Type of cuisine
Specific dished ordered
Frequency of orders
Time of orders
With the help of this information, they can make better marketing strategies and provide better services.
Effortless Group Ordering
Are you planning an event that involves a gathering of friends, colleagues, or the entire office? Many apps offer group ordering features, making it easy to coordinate and pay for multiple orders in one go. This financial simplicity alleviates potential sources of discomfort.
How to Find the Top Food Delivery Apps in USA?
Choosing the top food ordering apps can be a daunting task with several options available. Below are some tips that will guide you in finding the best American food delivery apps. 
Read Reviews: Check out online reviews and ratings to learn what other customers say about the various food delivery services in USA. Choose services with a high rating and good reviews.
Explore Variety and Partnerships: Think of food delivery platforms in USA that boast collaborations with numerous eateries. A platform with a wide variety of food alternatives can accommodate your family's or party's different tastes and dietary needs.
Check Availability: Verify your area's availability for the meal delivery service. Checking the coverage area of service. Before utilizing it is crucial because many are restricted to particular areas.
User-Friendly App: Choose an app with a simple interface. Your ordering experience is improved, and the procedure is simpler and more pleasurable with a user-friendly platform.
Check the Delivery Time: Choose a food delivery service that is fast and quick. Several businesses offer real-time order tracking to help you know when your meal will arrive. Some restaurants offer discounted or free food delivery when you order through an app.
Special Deals and Offers: Benefit from exclusive deals, discounts, and promotions. Many food delivery businesses provide promotional offers, loyalty awards, and referral bonuses that can reduce the cost of your meals.
Customer Support: Investigate the quality of customer support provided by the service. A helpful and responsive customer support team can address any issues arising during your ordering experience.
Check the Payment Options: Choose platforms that offer a variety of payment methods, such as credit cards, debit cards, and mobile payment platforms.
Health and Safety Measures: Prioritize platforms that preserve strict health and safety standards. To protect clients and delivery staff, look for contactless delivery choices.
Trial and Error: Trying a few different possibilities is sometimes the greatest strategy for locating the ideal food delivery service. Start with a few platforms and evaluate their functionality, dependability, and user experience. This technique can help in your decision-making.
Check the Customer Service: Always look for those services that offer excellent customer service via phone, email, or live chat. It will help you ensure that any issues or concerns are addressed quickly and faster.
Key Features of the Best Food Apps in USA
With the right features, you can create a great app that helps you get more customers, improve user experience, and streamline the ordering process.
Some of the main key features that food delivery companies should be included in their food ordering app are:
Order Tracking: The best food ordering app in USA allows users to track their orders in real time, from food preparation to doorstep delivery.
Order Customization: The food delivery service provides the option of customization so users can customize their orders according to their needs and preferences.
Multi-Language Support: Online food ordering provides different language options to cater to the needs of all users easily. This will help you expand your reach and boost sales.
Multiple Payment Options: The meal delivery apps offer users various payment options, including mobile wallets, credit/debit cards, and cash on delivery. 
Deals and Discounts: This feature in the food apps can attract and retain more customers. You can send SMS, emails, or notifications on the app for your special deals.
Customer Support: The fast food delivery services should have an excellent customer support team available 24/7 to answer all your queries.
Various Delivery Options: The restaurant delivery apps offer various choices, such as curbside pickup, contactless delivery, and scheduled delivery.  
User-Friendly Interface: The online food ordering apps should have an easy-to-use interface that allows users to navigate easily, browse menus, search restaurants, and more.
In-App Chat: The in-app chat feature helps customers and delivery riders to communicate better.
Order History: This feature helps users review their past orders and easily place orders in the future. This streamlines the reordering process and improves the user's overall experience. 
FAQs
Is Zomato available in USA?
Zomato is not available in the USA. It is operating only in India and the United States.
What is the most used food delivery app?
Enatega is the most commonly used food delivery app in USA. It provides various features to its customers.