Open source projects are the best pillars for developers to dive into technological advancements. The open-source projects are a great way to start your programming career. These projects have transformed software development and can help builders quickly develop their software. 
Moreover, open source projects are cost-effective and help developers understand different programming paradigms. These projects are generally maintained by devoted volunteers who create high-quality, trustworthy software for everyone. 
Contributing to open-source projects is the best method to learn and grow as a developer. However, so many possibilities make it hard to select. That's why we have curated a list of top open source projects on various domains that are shaping the future of software development. 
What is an Open Source Project?
An open-source project has a project code that is free to use. It is available for everyone to view, modify, and download. Open-source licenses enforce these permissions.
You can make unlimited changes to an open-source project without asking the maintainer. You can also submit code changes to the original project.
The main features of an open source project are:
Affordable
Transparency
Users can change the code according to their requirements
More secure
High-quality code
Helps in developing the software more efficiently
Furthermore, top open source projects for beginner programmers are crucial to gaining experience with coding and software development. However, if you are a skilled programmer, you can also contribute to open-source projects and expand your impact on the world of technology. 
How to Contribute to Open Source?
Contributing to top open source projects is a great way to enhance your programming skills and interact with the developer community. To contribute to open-source projects, you should follow these steps:
Search and select the project
Explore the project and read project documentation
Set Up Your Development Environment
Select the small task
Join the project's communication channels
Fork the repository
Make changes
Testing
Push your branch to your forked repository and submit a pull request
Why Should You Contribute to Open Source Projects?
Here are some reasons that show you why it is vital to contribute to open source projects.
You get immediate feedback on your project
Get valuable knowledge
Coordinate with talented employers
Improve your project with the help of experts
Top Python Open Source Projects
Python is a powerful programming language. It is one of the most popular programming languages for various reasons. One factor is the abundance of open-source projects and libraries for this language. Python has projects for almost everything, from machine learning to animation.
Python's community-driven approach has produced amazing open-source projects in various domains, such as:
Web development
Data Science
Machine learning and automation
With the help of these projects, you can improve essential development skills. As a beginner or expert programmer, researching and contributing to the best open source Python projects can be a great way to learn Python. 
Below is a list of the top Python open source projects that will help you improve your Python skills. 
1. Django
Django is a high-level and incredible web framework project. It helps developers to build scalable and powerful web applications with ease. Django is known for its "batteries-included" philosophy. So, you don't need to reinvent the wheel when creating web applications. It offers various features, such as:
URL routing
Authentication
Templating
Database management
Further, Django has a huge community of users and developers. This community helps you communicate with developers and quickly get helpful responses.
2. Flask
One of the most widely used web frameworks is Flask. It is a web mini framework. It provides the tools to build web apps fast. Also, it allows developers to choose and integrate additional components as required.
Flask is lightweight and offers virtual debugging. Its functionality is simple to expand. For complex applications, you can scale it up. With the help of Flask, you can easily build scalable web applications. It is based on the projects Werkzeug and Jinja2.
3. OpenCV
OpenCV is one of the best free open source projects. It offers different functions and tools for computer vision tasks, such as:
Producing 3D models of objects
Classifying different human activities
Recognizing and detecting objects
Tracking movements with a camera
Additionally, OpenCv is accessible and supports a wide range of languages. It includes C, C++, Python, and Java. You can easily integrate OpenCV with other libraries. Integrate with Numpy, a popular library, to perform numerical operations.
4. Keras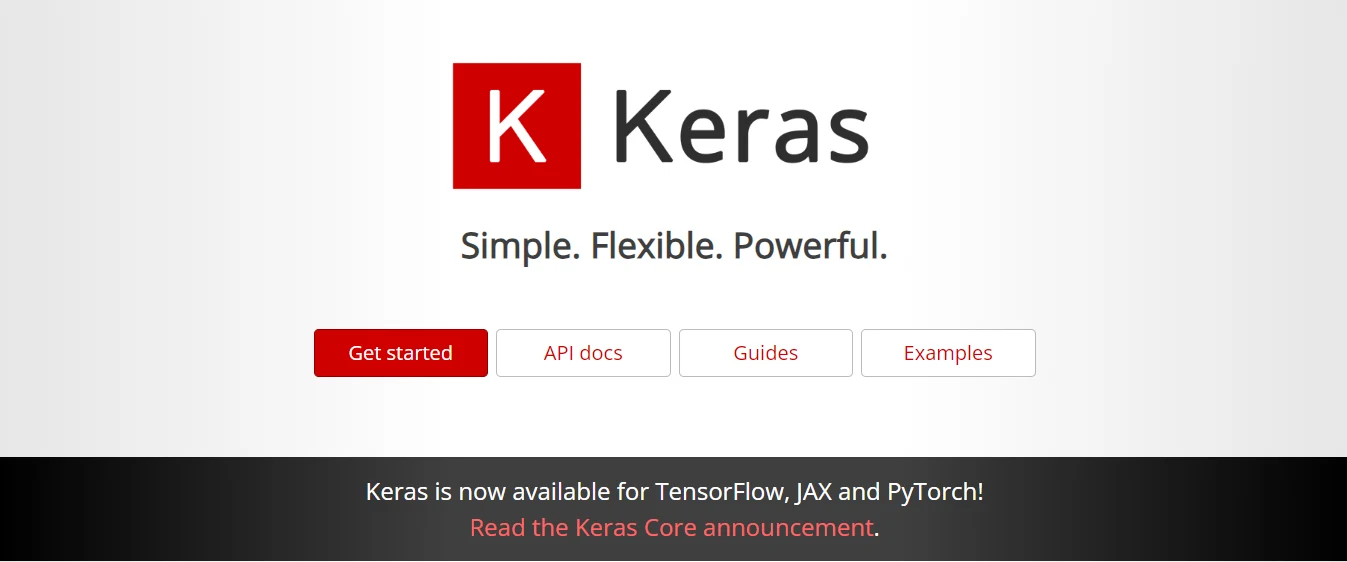 Keras is a popular open-source library written in Python. It is easy to understand and use because it has a high level of abstraction and many ways to do computations. Because of this, Keras is slower than other deep learning systems but is incredibly easy to use.
Additionally, the framework Keras supports includes the following:
PlaidML
Tensorflow
MXNet
Theano
CNTK
Keras provides many benefits. It is popular for its quick error messages that alert you when you make mistakes. Many famous organizations like CERN, LHC, NASA, and others use Keras for research.
5. SpaCy
SpaCy is another free, open-source natural language processing tool in Python and Cython. With SpaCy, making systems for natural language processing or information extraction will be easy.
FAQs
Where do you find open-source projects to contribute?
Below are some helpful resources that help you to find open-source projects.
GitHub
Contributor-ninja
CodeTriage
Open Source Friday
First Timers Only
Is contributing to open source worth it?
Contributing to open-source offers several benefits, such as:
Sharpen your programming skills
Portfolio building
Expose to new technologies
What is the most popular open source project?
The most popular open source project is Enatega. You can customize it to your needs, take your restaurant business online, and reach more customers.
Is Python an open source project?
Yes, Python is an open source project, and it is available for everyone to use.
Which language has the most open source projects?
Javascript is the most used language for open source projects. Most projects are build using Javascript.
What is the biggest advantage of open source software?
There are many advantages of open source software, which include:
Scalability
Cost-efficiency
Transparency
Flexibility
What are 3 disadvantages of open source software?
The three advantages of open source software are:
Hidden cost
Security concern
Compatibility issues