Nowadays, on demand apps are taking over the world. These apps are the game changer and make lives more efficient and convenient. On-demand service apps give businesses an edge in providing their services to customers.

Companies who are invested in on demand apps can grow their business. These apps provide companies with limitless opportunities to drive sales and business. Experts expect that by 2025, the market value of on-demand apps will reach $335 billion. 86.5 million people in the US use on-demand service apps for daily tasks. From this, we can expect a huge increase in the usage of on-demand apps.

In addition, the on demand services app's main goal is to target customers who need fast and easy access to services. These apps have the power to bridge the gap between consumers and providers. Plus, they provide convenience to the customers. With these apps, customer demands can be met in an efficient and scalable way.    

Do you want to explore more about on-demand services platforms or apps, how they work, what services they offer, and more? So, this blog gives you all the information you need about on-demand service apps.
What is an On Demand Service App?
On demand service apps are the service platforms that connect customers with service providers. These apps are the middleman between the customer and the business. On demand services apps help to connect service providers with the right kind of customers. 

In addition, these apps help in solving all the user problems efficiently. These apps save you from standing in long lines for hours for a specific service, such as getting a table in a restaurant, waiting for a taxi, etc. The on-demand services apps provide a platform that makes everything easy, timely, and cost-sensitive.
The main purpose of the best on demand service apps is to:
Increase customer base
Provide better services to customer
Improve customer experience
Help users access services from the comfort of their home
Moreover, on demand service apps have gained significant popularity. With an on demand services platform, businesses can make a profit with technology. Many industries can make money with on-demand services.
Airbnb for hotels, Uber for cabs, Printful for print on demand services, and Grubub for food delivery are on-demand service platform examples. Therefore, the users can avail of any services through these on-demand platforms.
How Do On Demand Services Apps Work?
Below are some steps involved in how on demand service apps work.
Step 1: Registration
Users and service providers register on the app by entering their name, email, phone number, and payment information.
Step 2: Service Selection
The app's users choose the service they need from the on-demand services list. This can include booking rides, delivering food, cleaning homes, plumbing, etc.
Step 3: Service Request
Once the user chooses the service, they can request it and give information like the location, time, and service date.
Step 4: Matching
The user's request is matched with the nearby service provider who can fulfill it through the app.
Step 5: Confirmation
Once a service provider takes the request, the user gets a confirmation email with information about the service provider, such as where they are and when they are expected to arrive.
Step 6: Service Delivery
The service provider renders the requested service once they reach the user's location.
Step 7: Payment
The service is paid for through the app, using the payment information given when the account was set up.
Step 8: Rating and Feedback
After the service is done, the user can rate the service provider and give feedback. This helps the app improve the quality of its services.
Categories of On Demand Service Apps
On demand services are designed for household chores. They cover various categories to cater to different needs and preferences. For example, finding a plumber, maid, electrician, or cleaner, the on demand apps are a lifesaver and provide a quick solution to all these problems. With the help of these apps, you can connect to a specialist who can professionally do all the tasks.
Below are some popular categories of on demand service apps.
Food and Grocery Delivery
Food and grocery delivery is a popular on demand service platform. The on-demand food delivery industry is growing. These services make life easy for those who want to get their favorite food and groceries without leaving the home. By 2025, the on-demand food delivery sector is expected to reach $200 billion. 
Food and grocery delivery apps like Uber Eats, DoorDash, Instacart, and more have become a part of many people's lives.
On Demand Home Services
Home service apps can provide you access to a large pool of experts. These apps can redefine your living experience and manage all aspects of life. These apps connect you with experts who have the skills to take care of your home and do all household chores such as cleaning, plumbing, etc. From 2020 to 2024, the on-demand home services will grow by more than $1.5 billion.
The following categories apply to on demand home services:
Home cleaning and repairing
Packing and moving
Pet care
Babysitting
AC maintenance
Car wash
TaskRabbit, Thumbtack, Handy, DARI, etc., are the most popular apps designed to make your life easier.
On Demand Transportation Services
The on-demand transportation services have been accessible to a wider audience. With the help of transportation apps, people can easily move around conveniently. These apps help users to book cabs and safely reach their destination. The best thing about these apps is they can be easily accessible to mobile phones, and from anywhere, you can book a ride.
Uber, Bird, Lime, Turo, and more are the most common apps for car rental, bike, and ride-sharing.
On Demand Beauty Services
With an on demand beauty service app, you can easily book an appointment in a few seconds. You can access hair and beauty care services from the comfort of your own. These apps have made it easy to pamper yourself and maintain your grooming routine without leaving the comfort of your home. The best thing about these apps is the professionals on these platforms are licensed and vetted.
StyleSeat, Urban, makeO, Glamsquad, and other apps are available that provide on demand self services.
Healthcare
The healthcare industry is quickly developing now. With an on demand healthcare app, companies in the healthcare business are making millions of dollars. On-demand healthcare apps help patients access healthcare services without physically visiting the doctor. With the help of these apps, patients can easily do the following:
Consult with healthcare providers remotely via phone calls or video.
Access to online pharmacies.
Order prescription medicines online and get them delivered to their home.
Education
The demand for online education has significantly increased due to its flexibility and convenience. People can access educational content from anywhere and anytime with on-demand learning apps. These apps make it easier for those who want to learn new skills and languages in their busy schedules.
On Demand Entertainment Services
The on-demand entertainment sector is booming and becoming very popular. Netflix and Amazon Prime have changed how people watch TV shows, movies, documentaries, and TV series. Statista said the number of paid subscribers reached 195.15 billion worldwide in the 3rd quarter of 2020.
On Demand Travel Services
With on demand travel services apps, users can easily book their flights through mobile apps. Statista says the travel market will be worth $854.8 billion in 2023. Most of this money will come from hotel bookings. The study also says that in 2027, the market will be worth more than $1,016 billion, with most of that money coming from online bookings.
Which Are The Most Popular On Demand Services?
Below are some popular on demand service apps that can be categorized into different categories.
Food and Grocery On Demand Delivery Services
UberEats
UberEats is a popular food delivery on demand service platform. It operates in numerous countries and delivers local and international cuisines to your doorstep. It has partnered with thousands of restaurants and provides promotions, discounts, and deals to its customers. In addition, UberEats provides various features that make it the best choice for everyone.
DoorDash
Breakfast, lunch, dinner, and more are safely delivered to your doorstep by DoorDash. It operates in the United States, Australia, Canada, and other countries. DoorDash offers some unique features to its users. With DoorDash, you can also order groceries and get them at your home.
Instacart
Instacart provides a convenient way to order groceries online. They can deliver as fast as 1 hour. Also, the first grocery delivery is free. On Instacart, 1 billion products are available to shop from 80,000 stores. From household essentials to office supplies, Instacart delivers everything.
Enatega
Enatega is the leading food ordering platform. It helps you to order and get the food at any place where you are. It allows customers to order food from a vast selection of restaurants. Additionally, the Enatega food ordering process is very simple. Within a minute, your order is placed.
Shipt
Shipt is another popular on demand delivery service. It delivers groceries and other products directly to your door from your favorite stores. It offers free delivery service and annual membership with unlimited benefits. Plus, Shipt offers same-day delivery and convenient services for users. It operates as a subscription-based service and is known for its focus on grocery shopping and delivery.
Home Services
Thumbtack
Thumbtack is an American home service app. It connects users with professionals for projects like wedding planning, home improvement, and more. You can easily hire, compare prices, and book services simply. With Thumbtack, homeowners can easily manage their homes without hassle.
TaskRabbit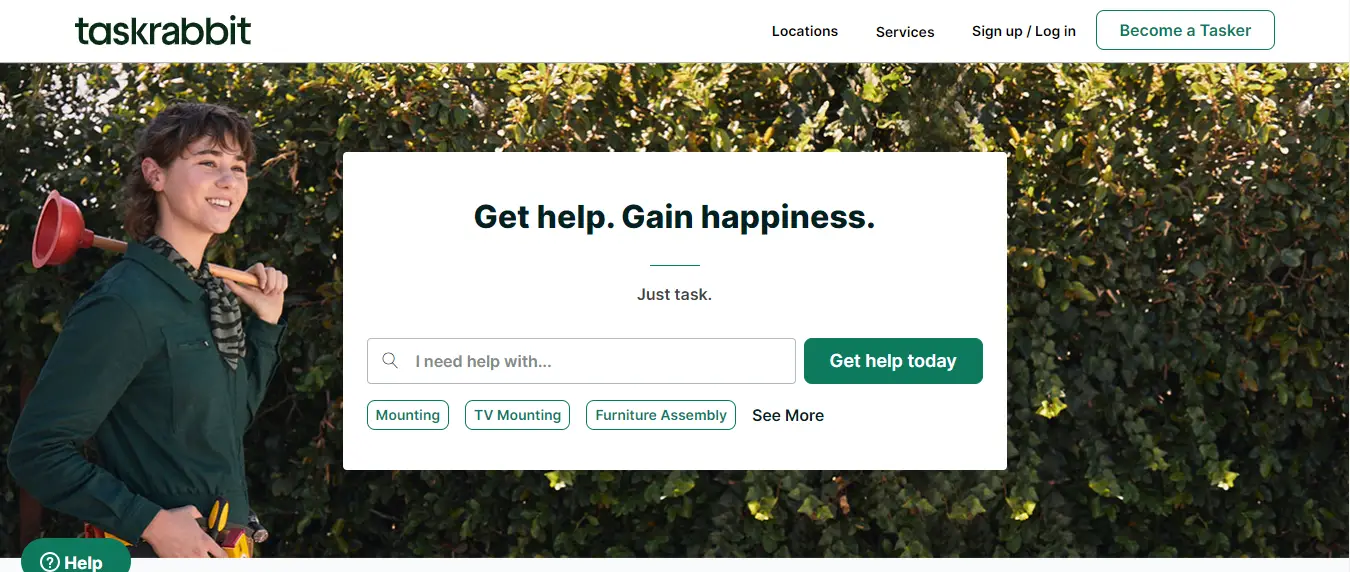 TaskRabbit is a popular in-home service app. It provides a wide range of services. It helps you to hire "Taskers" for various tasks, such as cleaning, plumbing, furniture assembly, and more. All the taskers on TaskRabbit are verified. TaskRabbit allows you to communicate with Taskers on the app.
Zimmber
Zimmber is the one-stop solution for your household woes. You get all the services under one roof, from home cleaning services to AC repair. With Zimmber on demand cleaning service, you can easily get help from verified service professionals for home-related tasks. Quikr acquired it and has changed the way people do their household chores.
HouseJoy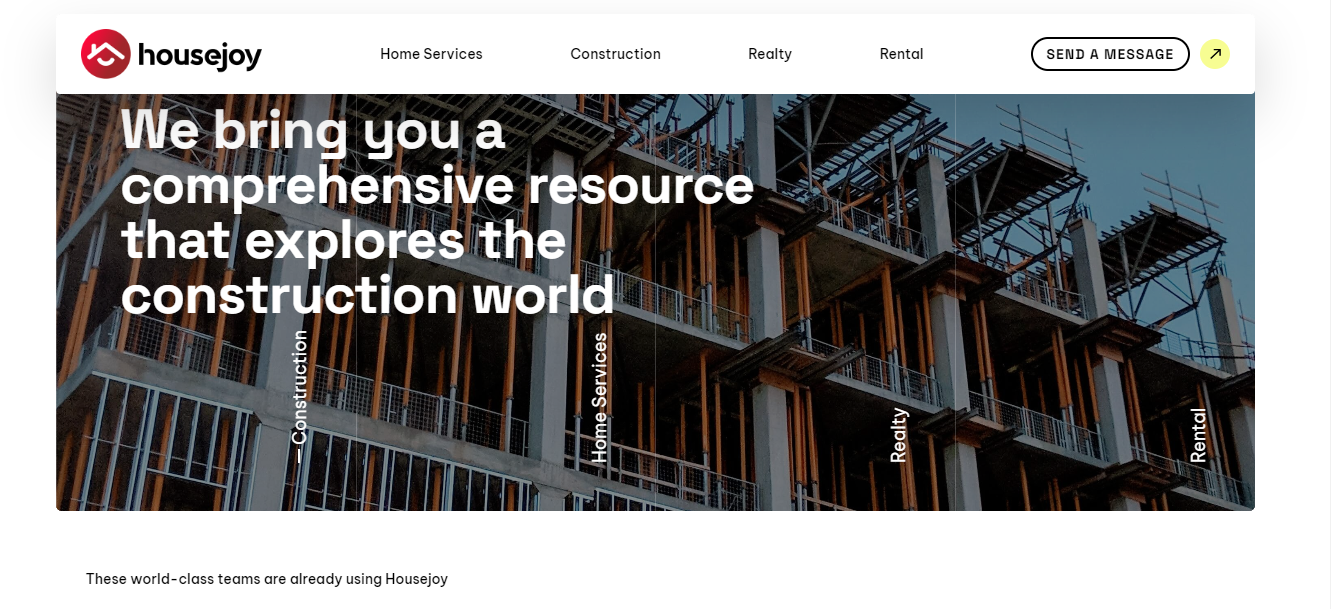 HouseJoy's main goal is to simplify everyday living by providing the best services. Whether interior designing, construction, home cleaning, or any other household chore, the HouseJoy app solves your problems. It also offers quick and easy booking of services from the app.
Mr.Right
Mr. Right is the most trusted platform for home services. This home service app provides 300+ services. This platform offers various services with reliable and verified professionals. The best feature about Mr.Right is upfront pricing and hassle-free payment options.
Transportation
Uber
With Uber, your destination is at your fingertips. It is the most well-known and largest ride-sharing on demand services platform in the United States. It provides affordable transportation services. The company has 131 monthly active users and 6 million active drivers. In addition, Uber can track the driver's location in real-time.
Uber provides various ride options for users to choose from, such as:
UberPOOL
Uber Black (premium rides)
UberX (standard rides)
Lyft
Lyft is another famous on demand ride service in the United States and Canada. It offers various ride types. Plus, it allows companies to create accounts and provide rides to employees for work-related purposes. Lyft has a reward program that allows passengers to earn points for every ride they take. Users can use these points for another ride.
Didi Chuxing
Didi is the world's leading transportation platform in China. It offers a full range of services to users around the world. It has sometimes been referred to as China's Uber. Didi makes travel in China quick and easy. The company offers special cars, taxis, buses, vehicle driving, and other services.
Grab
Grab is a South Asian ride-sharing, food delivery, and grocery app. It is one of the leading apps in Southeast Asia that provides several services through the mobile app. Grab also offers financial, document, and parcel delivery services. However, keep in mind that Grab services can vary from location. Therefore, check the availability of services first.
Careem
Careem is a Dubai-based app. It operates in 100 cities and 12 countries across Africa, the Middle East, and South Asia. It makes moving around easier, ordering groceries and food, and more. With Careem, you can choose from various cars and make your journey hassle-free.
Beauty
StyleSeat
StyleSeat is a beauty and wellness platform. It helps millions of users to book appointments for hairstylists, makeup artists, and more. Customers can book appointments 24/7. This app offers a 30-day free trial. However, after that, you must buy the subscription plan that costs $35 per month.
Zeel
With Zeel, you can get massage therapy in the comfort of your home or workplace. You can choose the time for the provider to come to you. All the therapists are insured, licensed, and fully equipped for each appointment. Zeel gives you your own time back with added peace of mind.
Glamsquad
Glamsquad is an online on demand service platform that allows you to book hair, makeup, and nail services. All the professionals are certified and have years of experience in this field. Their booking process is very simple, and you can book a Glamsqud professional within a few minutes. Customers can pay online or through an app. Payments start at $50, which usually includes a 20% tip.
Glamera
Glamera is an online provider of beauty services. Users can browse salons based on their location. Also, review photos and descriptions. Compare services and book appointments with them over the Glamera. Its app is available for download from the App Store and Play Store.
Singu
Singu is an online on demand service platform that connects you with beauty professionals. It provides various beauty and wellness services such as hairstyle, manicure, makeup, and massage. All the professionals are trained and deliver the best experience.
Healthcare
Heal.com
Heal.com is well-known for offering healthcare services. It helps to connect patients with licensed healthcare providers. Patients can book doctor appointments online according to their day and time. Plus, they can talk to the doctor by phone or video. Further, Heal offers various insurance plans.
DispatchHealth
DispatchHealth is an affordable and high-quality medical care. It offers on-demand in-home medical services. Their main aim is to make healthcare accessible and convenient.
DispatchHealth has qualified doctors, nurses, physician assistants, and medical technicians. They can send them to patients' homes or places of work to give them medical care.
Luna Physical Therapy
Luna is proudly serving patients across the United States. It works with over 2,500 professional physical therapists. Also, they offer insurance plans to patients. Luna also provides online reviews to learn about the experiences of other patients.
Doctor on Demand
Doctor on Demand is another online medical care provider. Patients can talk to a doctor, therapist, or counselor face-to-face through video on their iPhone or iPad. Doctors who work for Doctor On Demand are qualified, board-certified, and based in the US. Their doctors, therapists, and psychologists have experience in various fields and get an average of 4.9 out of 5 stars from their patients.
Teladoc
Teladoc provides a full range of healthcare services. The certified doctors are available 24/7 through phone or video call. Teladoc completed 50 million virtual visits. Plus, 76% of people with depression feel better with their third party visit to the therapist. Within a few minutes, Teladoc will connect patients to the doctor.
Education
Coursera
Coursera is a US-based online course provider. 6,100+ courses are available from world-class institutions. It offers some free courses. They partner with universities and organizations to offer online courses, certificates, and degrees. Plus, Coursera courses are available in multiple languages.
Udemy
Udemy is a popular online learning platform. Millions of students and thousands of instructors are on Udemy. Marketing, data science, programming, and more are easily learned from Udemy. On completion of the course, students get a certificate from the Udemy.
edX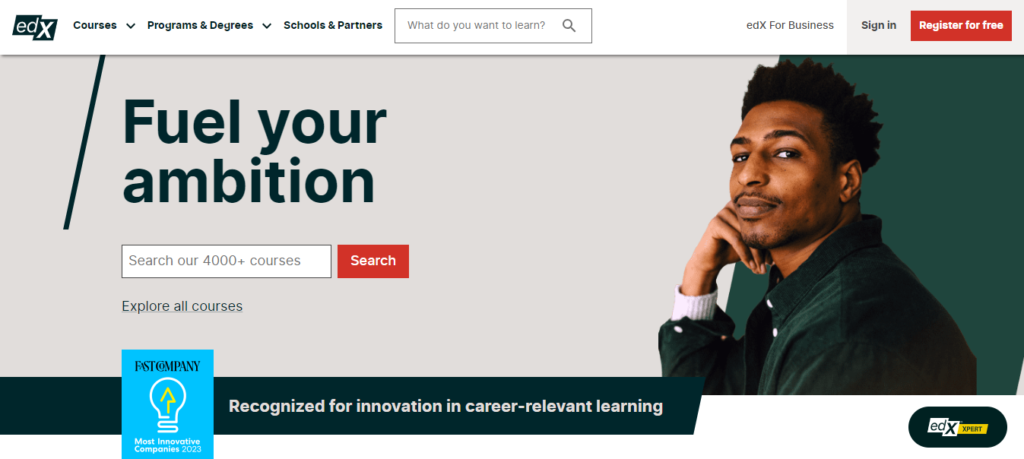 edX is another online course provider with 3,500 courses. It aims to make education affordable and accessible for everyone. edX offers courses in many fields, such as engineering, health, business, and more. Also, edX partners with universities to offer bachelor's and master's degree programs.
Duolingo
Duolingo is a free platform for learning a language. You can learn 30+ languages online with bite-size lessons. They take courses that teach reading, writing, listening, and speaking skills. Duolingo has speaking and listening exercises for pronunciation and understanding. AI and language science are used to customize classes to your learning level.
Lynda
Lynda is also known as LinkedIn Learning. It is an American online learning platform. It offers various courses on various subjects such as business, software, technology, etc. On Lynda, you can learn from industry experts passionate about teaching. Lynda gave the certificate on the completion of the course.
Entertainment
Netflix
Netflix is a streaming service. It provides various TV shows, movies, and other entertainment content. Its main feature is ad-free streaming. Therefore, the users can enjoy their content without disruptions. It also offers to download your favorite shows and view them offline.
Amazon Prime
Amazon Prime is another famous best on demand movie service. It provides thousands of movies and TV shows. It is available in different countries. The new members get a 30-day free trial. However, its prices are affordable, and anyone can easily afford it. The charges vary from location.
Spotify
Spotify is a Swedish digital music service. Millions of songs are available on this app from various artists and albums. The Premium subscribers can download the songs from the app and listen to them offline. It is available on mobile and desktop computers.
Disney+
Disney+ is one of the best video on demand streaming services. It is popular with Disney, Marvel, and Star Wars fans. They make content that is suitable for all age groups. It is available in numerous countries, but the content may vary from region to region.
Hulu
Hulu is one of the best and largest streaming platforms. It produces its original content. From award-winning shows to movies, everything is available on Hulu. It is an excellent video on demand service streaming service that allows users to customize their subscriptions.
Travel
Airbnb
Airbnb helps you find the perfect place to stay at an affordable price. It provides various lodging options such as apartments, hotels, restrooms, and more. It operates in thousands of countries and cities worldwide. On Airbnb, you can easily book hotels, homes, and more at an affordable price.
Expedia
Expedia is an American travel company. It can help you to plan, book, and manage your entire trip under one roof. Expedia has a loyalty program that helps users to earn points. It also offers deals, promotions, and discounts that help travelers save money.
Booking.com
Booking.com is one of the largest travel platforms. It offers a wide selection of accommodations, from luxury to budget-friendly. Finding the hotel, apartment, etc., can be easy in just a few minutes. On Booking.com, you can save on car rentals, hotels, flights, and more.
TripAdvisor
Plan your next trip with TripAdvisor. On TripAdvisor, you can plan your trip and get travel advice from the community. This helps you in planning the best trip. Also, you can compare prices, search hotels, vacation rentals, and more. Trip budgeting and itineraries are available on Tripadvisor.
Kayak
Kayak mobile app and website are available in 30 countries and 20 languages. You can organize your itinerary with tips, track prices with price alerts, and more. It is an easy-to-use platform that helps you to travel your plan without hassle.
Features of On Demand Services App
Below are some on demand service app features.
On-Demand Services App Features
Features
Description
Push Notifications
These notifications help users get alerts about new offers, promotions, and deals.
Reviews and Rating
Users can rate and give feedback about the services. The feedback helps future customers.
Payment Gateways
Pay using different payment modes for secure transactions.
Order Tracking
It is the most valuable feature of the on demand services apps. Users should know their order status in real-time.
Easy User Registration
Users can create an account by providing some basic information. Also, provide the facility to users to use their social media profile or email address for account creation.
In-app Chatting
With this feature, users can easily communicate with the service provider.
Search and Filter
Customers use an on-demand app to find their favorite products and services. You need the most advanced search and filter options to boost sales early.
How to Build a Successful On-Demand Service App?
Building a successful app can be a profitable business opportunity. With a successful app, you can grow your business and build a solid user base.
Here are some steps that will help you in creating the best on demand service app.
Choose a Niche
Select a niche that differentiates yourself in the industry. Define your unique selling points and value propositions. Choose a niche that people will love and make their lives better. Make sure that the end product is user-friendly, reliable, and available at all times.
Identify Your Target Audience
Before starting to build the app, identify your target audience. Understand their demands and interests for the services that you provide. Do thorough market research, conduct beta testing, and analyze the competitor to determine their gaps.
Determine Your Business Model
Determine your business model according to your requirements. The business model can be a subscription, commission, service fees, or a combination. Also, plan how you will monetize the app.
Define a Pricing Strategy
Finding the right pricing strategy is the main priority for businesses. Some on-demand service apps let the provider choose the price, but in a traditional marketplace, merchants define their prices and can only charge a service fee. However, money mistakes are always possible. High pricing is the riskiest method. Stop being greedy. It can prevent you from competing and damage your app's development.
Decide the App Features
Keep one thing in mind: the features of the app differ according to your specific niche. For example, the on demand laundry service app will vary from the on demand bus service app. Also, you'll need to make an app for users, an app for service providers, and an admin panel. Each of these will need different features.
However, here are some basic features that any on demand apps should include and can be incomplete without it.
User registration
Search filters
Live tracking
Payment methods integration
Ratings and reviews
Customer support
Start On Demand Home Services App Development
When you decide on the app features, start developing the app. If you don't have expertise, hire the development team or company to create the app. Ensure your design app is user-friendly, visually appealing, and meets your target audience.
FAQs
What are the benefits of on demand services?
Here are the benefits of on demand services.
Cost-effective
Improve customer experience
Highly efficient
Improve market reach
What is the disadvantage of on-demand service?
The on-demand service provides several benefits but comes with challenges and disadvantages.
Privacy concerns
Speed
Inconsistent ratings and reviews
Disrupt traditional industries
What is an example of an on demand app?
Here are a few examples of an on demand app that gives you a better idea.
Uber: Use Uber to book the car and bike for your travel.
Enatega: Use Enatega to order food online from various restaurants.
What is an on demand service platform?
The on demand service platform connects the customers with professional service providers for their particular needs. With these platforms, customers can access various services in no time.