Food ordering apps have transformed how we dine and revolutionized the food delivery industry. These apps provide a seamless experience for customers and restaurant owners. With the help of a food ordering app for restaurants, customers can browse several restaurants and cuisines without any hassle.
The apps for ordering food in restaurants can make your life easier when you have a long day at work and don't have the time and energy to cook. No matter where you live, these apps deliver the food to your doorstep.
The market for food service has also grown a lot in the last five years. By 2029, the market for food service apps is expected to be worth $165 billion.
Many people have shifted from traditional dining out to online food delivery services. Many food delivery apps are available in the market, but choosing the right one is a big decision for ordering food.
Apps that serve food online are becoming popular all over the world. Swiggy, Foodpanda, Grubhub, and Zomato are some on demand food delivery apps. They already have special tools that are easy to use and provide a great user experience.
So, if you are looking for the best food delivery apps, you have come to the right place. This blog will examine all the options and determine which app is best for customers.
Apps For Ordering Food at Restaurants
Online food ordering apps provide convenience to customers to order food from their favorite restaurants at any time or from anywhere. These apps make the entire online food ordering process effortless.
Here is a list of the top food-ordering apps that make your dining experience remarkable.
1. DoorDash
DoorDash is the best online food delivery app in the USA. It is available in over 4,000 North American cities. In 2022, DoorDash has increased revenue by 34.8% to $6.58 billion. The best online food ordering and delivery platform in the USA has partnered with several restaurants, allowing customers to explore a wide range of cuisines, from fast food to Chinese and more. In addition, DoorDash has over one million riders who deliver food.
Features of DoorDash
Customer history
Delivery tracking
Better customer experience
Subscription service
Schedule delivery
2. Enatega
Enatega is another popular online food ordering service that allows customers to place orders directly from their website and mobile app. It is the most widely used online food ordering app for restaurants in the US. With Enatega, customers can easily browse menus, place orders, and make secure payments from the comfort of their homes or offices.
Features of Enatega
Order tracking
Rating and reviews
Multi-language support
Vouchers and tipping option
Previous order history
3. Grubhub
Grubhub is an American best food ordering platform. This platform has the largest and most comprehensive network of restaurants. From the Grubhub app, placing orders is a hassle-free process. It is available in over 4,000 cities in the US and Canada. From small local eateries to well-known restaurants, all are available on Grubhub.
Features of Grubhub
User-friendly interface
Alerts/notifications
Order management
Order tracking in real-time
Feedback
4. Delivery.com
Delivery.com is an online food ordering platform that delivers food, groceries, beverages, and more from your favorite restaurants, grocery stores, and liquor stores near you. This platform also provides laundry and dry cleaning services. It connects customers with local services and businesses.
 Features of Delivery.com
Group ordering
Loyalty program
Online ordering
User-friendly mobile access
Order tracking
5. ChowNow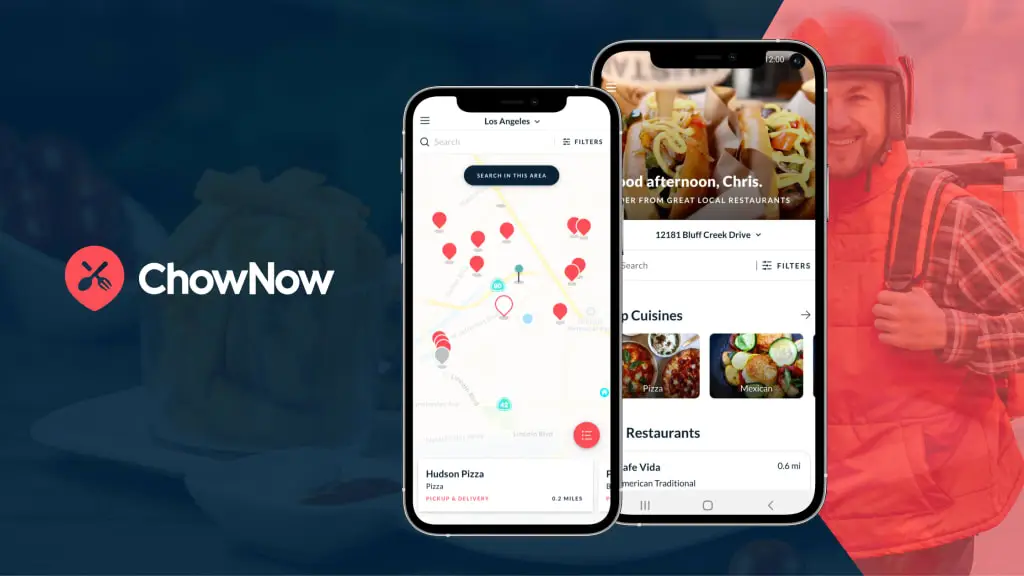 ChowNow is a top mobile ordering system that makes the food ordering process hassle-free on an iOS and Android app. The app allows the option to customers for pick up and delivery from their favorite restaurants.
In addition, ChowNow is one of the best food ordering apps for restaurants that help them organize their operations. Plus, this platform reduces the risk of errors and helps to engage new customers.
Features of ChowNow
Customize food menus
Track delivery location
Rewards and loyalty program
Notifications
6. Himenus
Himenus is an easy-to-use food-ordering app that provides several benefits and features to its customers. With just a few taps on the mobile phone, customers can order from their favorite restaurants, coffee shops, cafes, and cloud kitchens. Therefore, whether you are craving a pizza, burger, or Italian cuisine, Himenus has you covered.
Himenus also helps restaurants provide customers with a convenient and efficient way to order food. It also allows restaurants to reduce labor costs and paper waste.
Features of Himenus
Digital menu
Various payment methods
QR code ordering
7. RestroApp
RestroApp is an online ordering system and mobile app for restaurants. It is a powerful food ordering app that can help restaurants improve their business in several ways. This platform delights your customers with a seamless digital food ordering experience.
With RestroApp, giving your customers the choice to order through your restaurant's website will make them happy. Enhance their food ordering experience by letting them search for food items to order online from your website.
 Features of RestroApp
Offers and discounts
Rewards
Online payments
Update customers with complete order details
8. Zomato
If you want to get your favorite foods delivered quickly to your door, Zomato is the only app you need. You can order biryani to satisfy your Indian tastes, pizzas, burgers, or even a salad with chai or coffee. This food delivery and dining app is available in India and UAE. Zomato provides partner restaurant information, user reviews, menus of restaurants, and food delivery options.
Features of Zomato
Contactless delivery
Available in 11 languages
Book a table
Review photos and map directions
Subscription
9. Indolj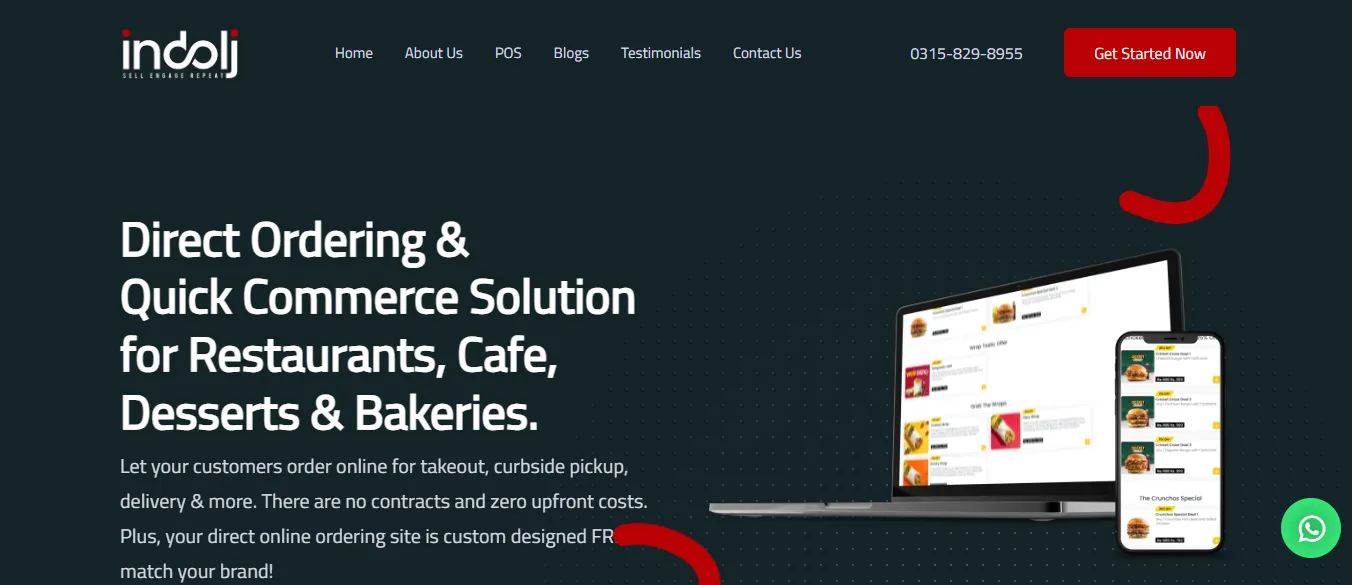 Indolj is a free food ordering app for restaurants that helps them to satisfy their customer's cravings. 400+ restaurants are available on Indolj. It is a reliable online ordering platform to place food orders.
Features of Indolj
24/7 support
Easy to set-up
Customer feedback
Delivery management and tracking
Best user experience
10. Foodpanda
Foodpanda is a popular food ordering platform serving several countries worldwide. From the Foodpanda app, customers can order food and groceries at their doorstep. They offer a wide range of options to order from local to international food chains. It is currently the largest food and grocery delivery platform.
Features of Foodpanda  
Ordering and checkout
Ingredient choice
Multiple order placement
Order history
Tip provider
Advantages of Using a Food Ordering App for Restaurants
Do you want to boost restaurant revenues without investing a fortune? Consider an online ordering app. More customers want their favorite restaurants to deliver and pick up.
Mobile apps are a must if you are owning a restaurant business. A customizable mobile ordering app is a one-stop restaurant solution to increase customer engagement. The mobile ordering app provides several benefits to restaurants and their customers.
Look below and learn the benefits of using mobile apps to help your restaurant outrank your competition.
Easily Attract New Customers: It is a powerful tool to increase customer engagement. However, try to provide the right content on your restaurant app to attract customers. Reward your customers when they order from your food delivery app. It keeps the customers engaged, and they use your app more for placing orders.
Also, promote your app everywhere, from social media channels to your website. Make posters and flyers and distribute them to people. Put brochures on each table to let people who are eating in know they can also use your app to place their orders.
Increased Sales: With the help of a mobile app for your restaurant, you can quickly improve your overall sales and increase profit. The convenience of the mobile app encourages customers to place orders online from their favorite restaurants.
Increased Brand Awareness: Online ordering apps are a growing trend, and most restaurants do not have their own food ordering apps. Therefore, take advantage of it by building a food ordering app for restaurants that makes you stand out.
Error-Free Orders: If you take orders on the phone, there are chances of more errors. The apps for ordering food in restaurants can lower the chances of human mistakes. Also, you can solve issues more quickly and avoid negative customer reviews.
Less Pressure on Employees: If you manage everything manually, from taking orders on the phone to answering customer queries, you need many employees. However, you can appoint a few employees to manage everything with the best food ordering app for the restaurant. In addition, it reduces the work pressure on employees, and they could take care of other tasks.
Complete Control of Your Business: It is the main advantage of creating your own food delivery app for your restaurant. You can have full control of your business from design to the food ordering process. You can easily access your customer data, which you can use with their permission for marketing purposes.
Reduce Customer Frustration: With an app for ordering food at restaurants, customers can easily browse menus, check customer reviews, pricing, and restaurant information. This is a convenient way for customers to place an order online with just a few taps on their mobile phone.
Low Running Costs: The expense of maintaining an application is relatively low. You can choose a service provider who will build one for you at a monthly or annual cost, or you can pay an app developer to create one from scratch.
Factors to Consider When Choosing a Restaurant Ordering System
Choosing the best restaurant ordering system can involve several factors that meet your needs. Below is a list of factors that will help you choose the right one.
Quick and Simple Customization
Remember your requirements when you pick the restaurant ordering system. Select the ordering system that is easy to customize according to your requirements and helps you manage everything effectively. The system should be adaptable and flexible, allowing restaurant owners to make changes quickly and easily.
Basic Features
An online ordering system must have basic features that can help you streamline your business tasks. Ensure they have all the features, such as order tracking, various payment methods, location navigation, and more you need. Otherwise, you will face problems.
Integration with Existing Systems
The ordering system should easily integrate with your existing Point of Sale (POS) system. This integration can make handling orders, keeping track of supplies, and doing other business-related tasks easier.
Menu Management
The system should make managing menus simple and customizable. Changing menu items, titles, prices, and availability should be easy at any time.
Reporting
It is another crucial factor to consider when selecting the restaurant ordering system. You know the number of orders you have fulfilled daily, weekly, and monthly. With this information, you can make an informed decision about marketing, purchasing, raw materials, etc. This reporting feature will be beneficial when it comes to measuring the ROI of your restaurant.
Scalability
The online ordering system should be scalable according to the restaurant's needs as it expands and grows. Also, it should be easy to use and set up without any advanced training.
How to Make a Food Ordering App For Your Restaurant?
Online ordering apps can help restaurants to take orders and execute them at a faster speed. With these systems, they can improve their brand value, boost the order volume, and organize restaurant operations.
Here are some steps for building a food ordering app for restaurants.
Define Your Objective: Clearly define your objective and goal for your online ordering app. Identify the features you need in your app that make your app unique for the customers. Plus, thoroughly research and understand the current market trends and your target audience.
Select the Features: After researching and knowing your requirements, select the app features. Include all the features that make your app attractive to the customers and boost your business.
Choose the Development Approach: Decide whether to build the native app or a cross-platform solution. Determine this by considering your requirements, budget, and long-term goals.
Start the Development: Create the UI/UX design of the app. Make sure it is user-friendly and customers can easily use the app without hassle. The design should be visually appealing to the customers. After the design, start the backend development and implement each feature. 
Testing: Do a lot of testing to find and fix bugs and other problems. Make sure the app works on various devices and running systems by testing it on them.
Launch the App: After the testing, launch the app on the Google Store and Apple Store. Start promoting the app on all social media channels and make strong marketing strategies for attracting customers.