In the fast-moving world, convenience, speed, and efficiency are crucial for life. From food ordering to booking a service professional for home chores, people prefer to get their things done online. All this is possible with the help of on demand apps. The on demand apps can connect customers with businesses that provide various services, such as home cleaning, food delivery, transportation, and more. 
These apps have gained significant popularity, and you are surprised that on-demand websites and mobile apps earned a sales revenue of $15 billion in 2013. Even in 2025, this revenue is expected to grow to $613,433 million. In addition, the on-demand services will reach USD 14.7 billion by 2030, according to Grand View Research.
The top on demand apps provide benefits to customers and are a long-term investment for businesses to get more revenue and profit. These apps help you to uncover new business opportunities. They are a good choice for different types of businesses related to travel, food and grocery, education, fintech, and more. 
In addition, these apps come in various forms and serve different purposes. Therefore, in this blog, we have gathered detailed information about on demand apps to help you select the best app for your needs.   
What are the On Demand Apps?
The on demand apps are those where customers can connect with businesses, and businesses connect with customers. These apps allow users to order various services from their mobile phones.
The main purpose of top on demand apps is to:
Save time and effort
Get things more quickly
Make products and services more accessible to all
Provide the option of customization
Offer cashless payments
Make life easy
Moreover, on demand apps are suitable for all businesses and offer diverse business opportunities. Plus, they are affordable and provide their customers with something unique and useful.
For example, if you come home from work and only want your favorite food. At the same time, you don't have time to cook it. In that case, the on-demand food delivery apps are the lifesaver.
Best On Demand App Ideas
Below are some best on demand app ideas that can be categorized into different industries.
On Demand Home Service Apps
Below are some of the best on demand home service apps that stand out for their usefulness.
1. TaskRabbit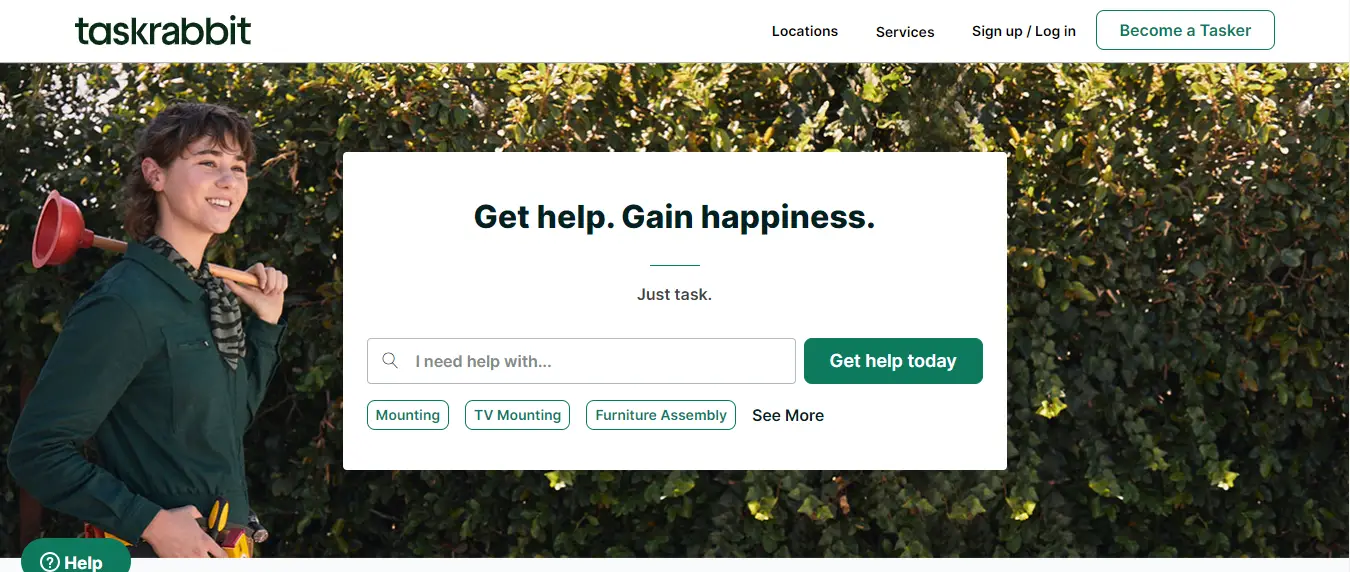 TaskRabbit is a same-day on demand cleaning service app. It is a secure and private platform that helps you manage your home. This platform connects its users with skilled service professionals who help them with various tasks such as cleaning, home repairs, plumbing, electrical help, and more.  
It also allows users to post the task on the app, and once the task is posted, the users can review the profiles and reviews of the available Taskers and choose the best one that matches their needs. The best thing about the TaskRabbit app is that it includes Taskers' detailed profiles with their skills, experience, and client reviews.
Features of TaskRabbit
Users can select the day and time for their tasks
Compare prices
Save your favorites to book again and again
Secure payments
Easy-to-use interface
2. HouseHappy
HouseHappy assists its users with home repair, renovation, and maintenance projects for their homes. The app makes homeownership easier and saves you time and money.
There will be no more stress over forgetting to fill out forms or wondering if you messed up when trying to fix something. You can just sit back and let the HouseHappy app handle things around the house.
Features of HouseHappy
Exclusive deals
Schedule your virtual home visit
Free app
Real estate marketing
Offer several tools and resources to simplify your process
For on demand home services app development, consult us and get the best app for your needs. 
3. GreenPal Lawn Care
GreenPal Lawn Care is the best platform for those who want to maintain their lawns without hassle. This app can save you time and money on your lawn care. Also, the GreenPal Lawn Care app makes it easy to maintain your lawn.
You just have to enter a few details about where your lawn is located and what day you want the grass-cutting services; GreenPal reviews your details and connects you with affordable grass-cutting and lawn maintenance companies near you. In addition, GreenPal offers snow removal services. The users can compare the free grass-cutting quotes and reviews.
Features of GreenPal Lawn Care
Real-time communication
Transparent pricing
Providing bidding option
Schedule your services
User-friendly platform
4. Mr.Right
Mr.Right is the trusted platform for home services. It is the fastest and quickest way to book reliable and verified professionals for home chores, which include:
Home cleaning
Home repairing
Car wash
Laundry
Plumbing
Computer, refrigerator, and TV repair
Pest control
Geyser installation and more
In addition, Mr.Right, also a car wash on demand app provides a search feature that helps users search for specific services and hire the best professionals. Mr.Right's website is rated 4.5 out of 5 based on 624 ratings.
Features of Mr.Right
Secure payments
Ratings and reviews
Several home services
Certified service professionals
Easy booking process
5. HomeZada
HomeZada is the best app to manage your home. It helps to organize the stuff in your home, projects, and finances. The app calls itself "digital home management software," a massive platform for home projects.
The HomeZada app simplifies house maintenance finances like mortgage payments, insurance payments, and repair expense plans. A maintenance calendar lets you arrange and track large upgrades or little fixes with your contractor or handyman. The app is free to download on Android and iOS.
Features of HomeZada
Easy to use
Unlimited photos, documents, and more
Maintenance calendar
Track your home inventory
Use advanced technologies
On Demand Food Delivery Apps
Here are some on demand food delivery apps that can make your food ordering process seamless.
1. Uber Eats
Uber Eats is one of the popular on demand delivery apps that has partnered with more than 40000 restaurants in all the major cities worldwide. With an Uber Eats app, users can easily order anything with ease. 
According to Sensor Tower, Uber Eats is in the top 10 positions in the food and drink app category. The app has 5 million downloads worldwide, and most people in the US use this app for food ordering. Therefore, if you create an app like Uber Eats, you must follow its business model.   
Features of Uber Eats
Group orders
Simple pre-orders
Schedule orders
Push notifications
Smart curation
Delivery tracking
In-app search
Restaurant manager
2. Grubhub
Grubhub is an American online food ordering and delivery platform based in Chicago, Illinois. The online food delivery platform GrubHub has been appreciated across multiple platforms several times. It helps you find and order food from wherever you are. From Grubhub, you can order takeout from your favorite local restaurants.
Grubhub can help you avoid waiting in long lines and browse the menus of several restaurants. Users can also customize their orders by giving special instructions.
Features of Grubhub
Gift card management
Food delivery dispatching
Order tracking
Online payments
Search/filter
Reviews and ratings
Subscription service
3. Enatega
Enatega is an excellent on demand food delivery app development company and provides a heaven's way for food lovers. With an Enatega app, users can explore various restaurants and order their favorite food quickly and simply.  Its interface is simple and easy to use. The food business owners can easily customize the app according to their needs. It is the best solution for small to mid-sized businesses.  
Features of Enatega
Restaurant app
User app
Rider app
User-friendly interface
4. Postmates
Postmates is another famous platform for getting food, drinks, groceries, household essentials, and more to your doorstep. It was founded in San Francisco in 2011 and allows you to order food and more from the app.
Additionally, Postmates, an on demand grocery app, offers a subscription service to its users that offers unlimited benefits like free delivery, exclusive deals and promotions, and more.  
Features of Postmates
Route optimization
In-app chat
Push notifications
Track the order
Users have the option to call or text the rider
Payments via in-app
Deals and discounts
5. DoorDash
DoorDash is an online food ordering and food delivery platform. Customers can order from local restaurants online through DoorDash. This allows restaurants to market their business in DoorDash's online marketplace.
This food service app uses artificial intelligence to give its users a list of options based on what they choose. DoorDash also provides contactless delivery options to ensure the safety of customers and riders.
Features of DoorDash
Customer history
Live order tracking
Subscription service
24/7 online support
Customization
Intuitive user interface
Schedule delivery
Best on Demand Fitness Apps
Look at the below best on demand fitness apps that are best for every fitness lover.  
1. Sweat
With the help of the Sweat app, the expert trainers will guide you on your fitness journey. They offer special programs and workouts according to your lifestyle. The app is designed for women; female trainers guide all sessions. In addition, Sweat helps you work out anywhere without any equipment. The app also provides a 7-day free trial.
Features of Sweat
Workout programs
Vast community
Video demonstrations
Expert female instructors
App available on iOS and Android
2. Nike Training Club
The Nike Training Club is one of the best on demand workout apps that provide free guidance from favorite athletes, trainers, and wellness experts. The app's user-friendly interface allows you to browse workouts according to your needs. From Nike Training Club, you can shop accessories that are divided into different categories.     
Features of Nike Training Club
Various fitness programs
Nutrition and wellness tips
Free app for Android and iOS
Classes are easy to follow
3. Peleton
Peleton has a huge library of live and on-demand workouts, such as yoga, meditation, riding, running, and strength training. The app provides a free trial for 60 days, and you can take classes at home, in the gym, or on the go with no equipment needed. Users can also invite their friends and participate in virtual challenges to stay inspired.
Features of Peleton
Top industry instructors
Several workout categories
Customized workouts
Integration with wearable devices
4. Grokker
Grokker is a wellness platform that offers various health and wellness content. The app provides various courses on stress relief, sleep, financial wellness, and more. Grokker has a lot of different ways to help your mind and body stay healthy.
Features of Grokker
Multi-language support
Interactive incentives and challenges
Transparent pricing
Wellness challenges
Award-winning content library of 4,000+ videos
5. Obe Fitness
Obe Fitness is a personalized and one-stop platform for women and men. It offers various workout options to meet varied fitness goals and tastes. You can get a personalized, step-by-step exercise plan from the app that works for you. Within the app, you can pick from over 7,000 on-demand lessons or 20 live classes daily.
Features of Obe Fitness
Schedule your workout
Certified instructors
Offer free trial
Progress tracking
Live classes
On Demand Car Rental Apps
On demand car rental apps provide a convenient way for people to access and use vehicles for their business, leisure, or specific travel needs. Here are some of the best on demand car rental apps that are widely used.
1. Hertz
Hertz is a popular on demand car rental app, and it is recognized globally. The app provides a user-friendly interface to rent a car whenever needed. They have a vast collection of vehicles that make your travel seamless. Hertz also has a loyalty program, "Hertz Gold Plus Rewards" that provides several benefits to its users.
Features of Hertz
Discounts and promotions
Driving guides
Provide specialized vehicles
Franchise opportunity
Alter the date and time of your pick-up or your drop-off location
2. Turo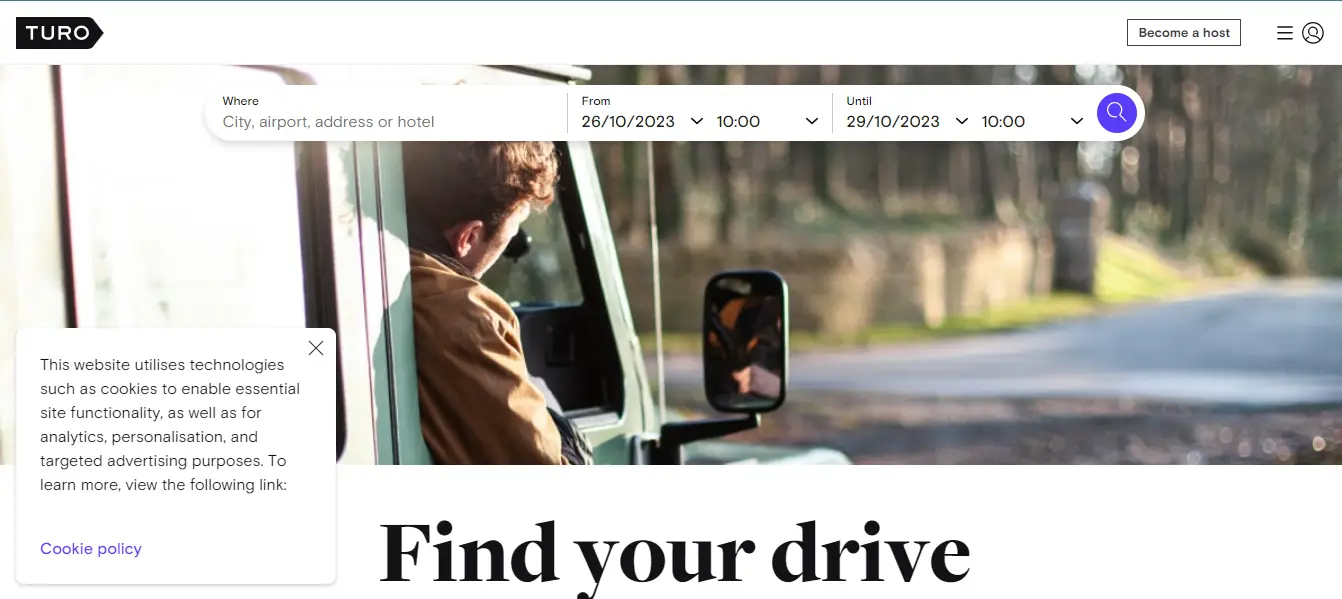 Turo helps you to explore the world's largest car-sharing marketplace. Renting a car with Turo is easy in the US, Canada, and the UK because over 10 million community members offer their cars. Also, if you want to make extra money, you can share your car with others who need it and charge them for it.
Features of Turo
Gift cards
Offer discounted prices for weekly and monthly trips
Reviews and ratings
Large selection of vehicles
Car calculator
3. Alamo
Alamo helps you find the appropriate kind of vehicle for your needs. From small to bigger cars, you can find it on Alamo. The company provides a hassle-free and fun customer experience to the most famous travel destinations throughout the US.
Features of Alamo
Last minute deals
Reward programs
Travel destination guides
Cleanliness and safety
A variety of vehicles are available
4. Sixt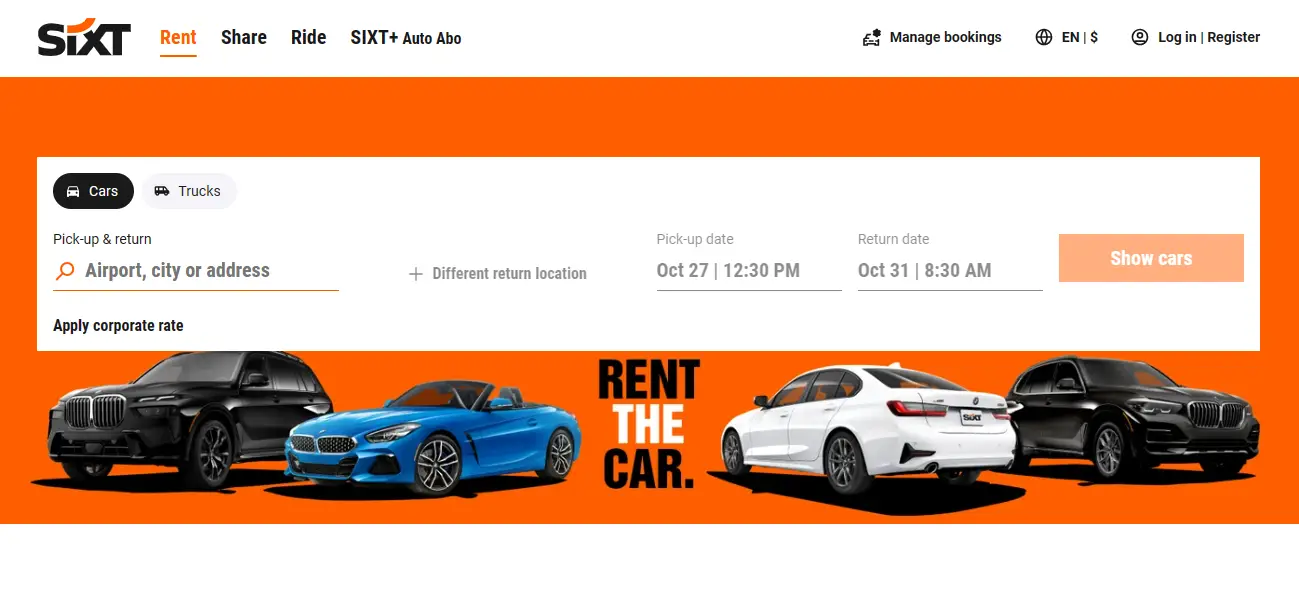 Sixt is a good app if you need vehicle rentals. It caters to the needs of all customers and travel agencies. From trucks to sports cars, various rental vehicles are available for customers. Also, customers can rent SUVs, convertibles, passenger vans, and more at airports, train stations, cruise ports, and hotels.
Features of Sixt
Online booking
Loyalty program
Browse cars
Safety and cleanliness
5. Europcar
Europcar is a well-known French car rental company that helps you to book a car online without hassle. They offer a diverse range of vehicles catering to customers' travel requirements. Also, they provide airport rental facilities and make it convenient for travelers. In addition, Europcar has more than 200,000 vehicles and services in more than 140 countries worldwide.
Features of Europcar
Complete flexibility
Hassle-free booking
Exclusive offers
Corporate services
For on demand service app development, you can book a demo and explore how our solutions help boost your business.  
Tips for Choosing the Best On Demand Apps
You know the best on demand apps, but now you must understand how to choose them for your tasks to avoid difficulty. Below are some great tips that help you choose the best on demand app.
Transparency
Transparency is an important factor that you must check when selecting the app. Always look for apps that show transparency in pricing. Choose those apps that offer exact details and upfront quotes about services so you can make an informed decision.
Budget-Friendly
Cost is one of the biggest factors when choosing on demand service apps. Some on demand apps are free, so they're easy to check out, but others are not. If you have a budget, compare the prices and choose the app according to it. Also, remember that some companies offer low costs and do low-quality work. Therefore, pay attention to quality.  
Wide Range of Services
Always opt for apps that provide a wide range of services. This saves you time and effort in searching for services on multiple platforms. Also, check and read the client's reviews and ratings. This information helps you find the best app.
User-Friendly
The user-friendly interface is important for a stress-free experience and seamless navigation. It enhances user satisfaction and helps them to use the app without difficulty. Also, the apps with user-friendly interfaces improve the chances of more users using the app.
Customer Support
Excellent customer support is crucial in addressing queries and issues that you may have throughout the process. Always use those apps that provide the best customer support and resolve your issues promptly.
Customization Options
A good on demand app allows users to customize their settings according to their requirements. Choose the apps that provide the option of customization to create a task list, upload photos, add special instructions, set schedules, and more.
Also, if the on demand app has a trial version, use it before paying. This lets you figure out if it meets your needs and expectations.
Frequently Asked Questions (FAQs)
What are the benefits of on demand app development?
Below are the main benefits of on demand app development.
Better customer engagement
Improve visibility
Make services more accessible to customers
What are the features of an on-demand delivery system?
The main features of an on-demand delivery system are:
Pay online
Register on the app
Find the required app
Get the order on time
What are the four components of a delivery system?
The main four components of a delivery system are:
Kitchen
Marketplace
Feedback
Logistics
How to make an on demand app?
The below-mentioned steps will help you in creating the on demand app.
Define customer needs
Do thorough research
Select features
Create the design
Start the development