In the era of online food delivery, gaining new customers and expanding the customer base is easy. People are shifting to the convenience of online food delivery rather than going out from their homes and placing an order. Therefore, investing in the right restaurant delivery management software is crucial for owners to manage their operations seamlessly and efficiently.
The delivery management software for restaurants is best for all small to large-sized businesses. It is a game changer for restaurants that can improve their performance and become a vital tool for success in the modern food service industry.
From order placement to tracking the rider location, this software can help restaurant owners meet customer expectations and improve delivery services. The delivery management software streamlines all the operations, which includes inventory management, communication between customers, riders, and restaurants, and more. It improves the overall experience and customer satisfaction.
To be successful in the food delivery business, you need to pick software that meets the needs of your business, makes your customers happy, and helps you reach your business goals.
However, some restaurant owners have some questions in mind before using the restaurant delivery service and management software. Therefore, in this blog, you get all the answers that remove all your confusion about using delivery management software for your restaurants.
Let's get started.
What is Restaurant Delivery Management Software?
Restaurant delivery management software is a type of software that is designed for restaurants, coffee shops, bars, food trucks, and other food businesses. It works as a one-stop-shop solution for restaurants that manage and process customer orders efficiently.
Restaurant delivery software can add significant value to food businesses. The primary purpose of using the restaurant delivery service management software is to:
Efficiently manage customer's orders
Deliver orders timely
Help restaurants manage inventory and staff
Save time and money
Help to automate your food delivery operation
Help in reducing errors and improve customer satisfaction
Moreover, the restaurant delivery service and management software help owners to focus on other important matters and benefit them and their employees. Restaurant management software can help managers cut costs, maximize profits, and deliver customers with an outstanding experience.
Main Features of Restaurant Delivery Management Software
Below are the main features of the restaurant delivery management software.
Order Management: With the help of restaurant delivery software, food business owners can easily manage their orders. They also automate order processing, reduce operational costs, and improve accuracy.
Real-Time Tracking: The delivery management software for restaurants provides real-time tracking. With this feature, customers can monitor their order status, knowing their estimated delivery time and the rider's location.
Auto Dispatching and Driver Assignment: It is another of the best features that help restaurant owners assign orders to available drivers, monitor driver performance, and optimize delivery routes.
Analytics and Reporting: Helps restaurants access data and analytics to make an informed decision. With these analytics, they know where they lack, identify growth opportunities, optimize delivery services, and determine which service needs more improvement.
Proof of Delivery: The proof of delivery helps the riders and protects them from any disputes. The customers, restaurants, and admin can see the result of proof of delivery. Also, the rider has to submit the signature, image, and notes.
Online Chat Platform: The online chat platform helps customers to address their concerns, issues, and queries. Plus, it allows restaurants to analyze their performance and improve their services.
Benefits of Restaurant Delivery Management Software
A good restaurant delivery management software provides several benefits to food businesses, whether they are fast food restaurants, fine dining establishments, or any food service provider.
Below are some key benefits of restaurant delivery service and management software.
Reduced Errors: With the delivery management software, there is a lower chance of occurring mistakes. It automates all the tasks, from writing down kitchen orders to order dispatching.
Improve Productivity: The software manages all the tasks that require a lot of time. It helps your restaurant staff to focus on other tasks that boost the growth of your business and overall customer experience.
Track Sales: With the help of software, restaurants can easily manage a vast amount of cash and credit/debit card transactions. This software can simplify the task of keeping track of sales transactions, the products you have sold, and more.
Scalability: As your restaurant expands, the software may easily be modified to meet the increasing demands. It helps to position your restaurant in a competitive market for continued success.
Cost Savings: The restaurant's delivery management software reduces operational costs and improves profitability. It is a crucial element for any restaurant that helps them to thrive in a competitive market.
Best 10 Restaurant Delivery Management Software for Food Businesses
Here is a list of the best restaurant delivery management software to give restaurants a competitive edge in the food industry.
1. Toast
Toast is a cloud-based restaurant management software. It helps restaurants to improve their operations and create a better customer experience. It is an all-in-one point-of-sale and restaurant management platform that can be customized to meet the requirements of different food businesses.
Features of Toast
Online ordering
Data and analytics
Customer relationship management tools
Delivery management
Menu management
2. TouchBistro
TouchBistro is another POS and restaurant management system that helps restaurants grow their business. It can be accessed and managed remotely. With TouchBistro, you can make your restaurant management software even more unique by adding top-of-the-line integrations for budgeting, inventory management, staff scheduling, and more.
Features of TouchBistro
Staff management
Menu management
Reporting and analytics
Tableside ordering
Floor plan and table management
Delivery tracking
3. Flipdish
Flipdish is an online ordering platform for restaurants. It has everything that every restaurant owner needs in a restaurant management software to run their whole business. It provides a range of services tailor-made for restaurants. With Flipdish, customers can browse menus, place orders, and pay online through a user-friendly interface.
In addition, Flipdish is trusted by thousands of restaurants and chains across the globe. It provides websites and apps or integrates with your existing site. With the help of Flipdish, restaurants can drive revenues and build a loyal customer base.
Features of Flipdish
Multi-location support
Table reservations
Marketing tools
Real-time tracking
Automated order confirmation
Secure online payments
4. GloriaFood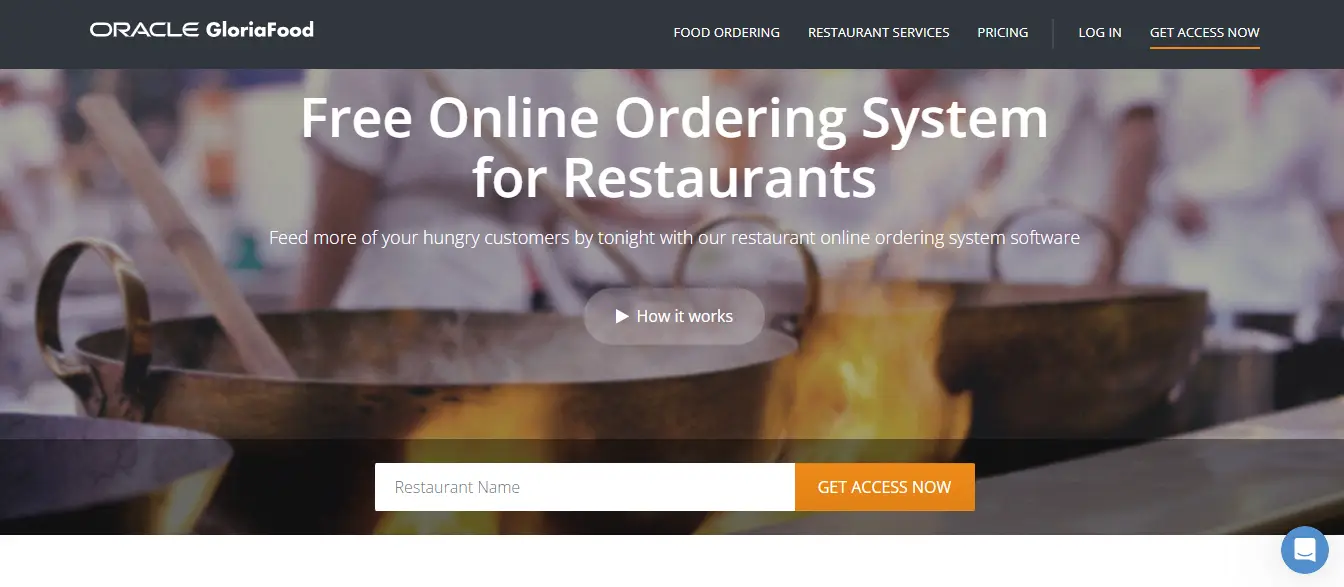 GloriaFood is a free online ordering system and delivery management system for restaurants. It helps restaurants to take unlimited orders online free from their website, mobile app, and Facebook page. The company helps restaurant owners organize point-of-sale operations and efficiently manage orders. Additionally, with the GloriaFood app, you can accept online food orders from your device.
Features of GloriaFood
Delivery management
Table reservation
Order Ahead
Takeaway ordering
Menu management
5. ChowNow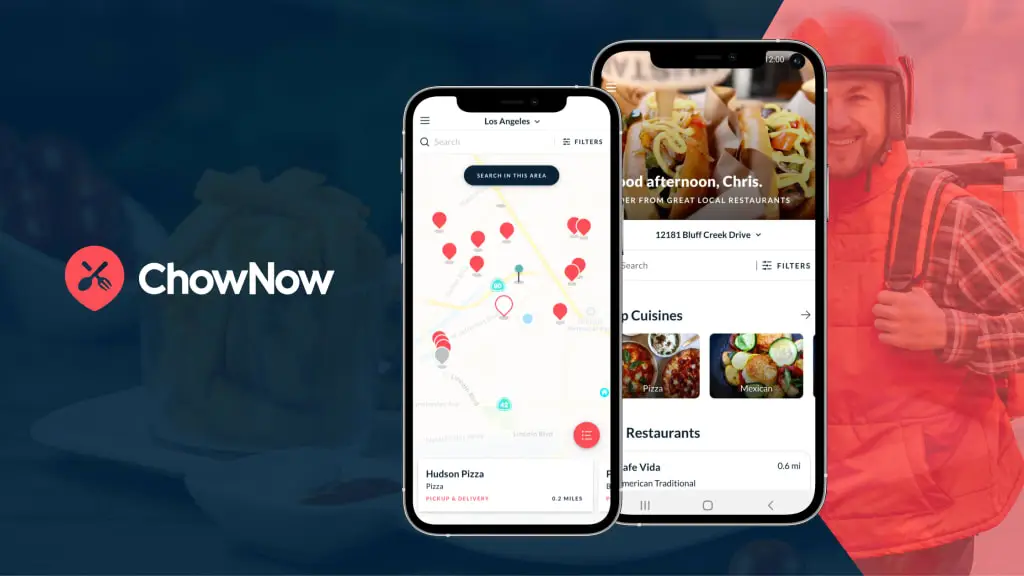 ChowNow is an online food delivery software with a customizable online ordering system. It connects customers with local restaurants. It helps local restaurants to thrive in the food industry. This platform is suitable for a wide range of food businesses, and it has gained popularity due to its flexibility and customization options.
Features of ChowNow
Marketing tools
Track order progress
Manage online orders
Integration with third-party delivery services
No hidden fees
6. OpenTable
OpenTable is an online restaurant reservation service that allows customers to discover new restaurants. This restaurant platform also offers delivery and takeout services to customers near them based on location. In addition, OpenTable partners with several restaurants and food providers to provide a wide range of cuisines. Their network connects diners with over 50,000 restaurants worldwide.
Features of OpenTable
Reward program
Restaurant reservation software
Table management
Real-time inventory
POS integration
Takeout management
7. Enatega
Enatega is the best restaurant delivery service and management software. It helps restaurants and food businesses to manage their online orders and food deliveries. This platform is easy to use, improves efficiency, and dramatically cuts costs. With Enatega, restaurants can attract new customers and grow their business.  
Features of Enatega
Full-fledge open source food delivery solution
Rider app
Customer app
Restaurant app
Data protection
8. Grubhub
Grubhub is an online food ordering and delivery platform with the largest and most comprehensive network of restaurant partners. This easy-to-use platform has improved the delivery experience and food ordering process. There are more than 320,000 restaurants on Grubhub, and the company is partnering with more than 225,000 in more than 4,000 cities in the U.S. and London.
Further, partnering with Grubhub is easy. Over 80% of independent restaurants agree that ROI is high when partnering with Grubhub.
Features of Grubhub
Customized ordering
Membership
Delivery options
POS integrations
Promotions and loyalty tools
9. Delivery Hero
Delivery Hero is an online food ordering and food delivery company that is present in over 70 countries across four continents. The company partners with a large global ecosystem of restaurants, pharmacies, and grocery stores. From prepared meals to groceries, flowers, coffee, and medicine, they deliver whatever you need to your door.
Features of Delivery Hero
User-friendly website/app
Contactless delivery
Restaurant management tools
Analytics and reporting
Customized ordering
10. Delivery.com
Delivery.com is an online platform that helps users to order from local restaurants and stores. It is a great platform to order food, groceries, and beverages at your doorstep. With Delivery.com, restaurants can integrate their existing POS system and efficiently manage orders.
Further, Delivery.com streamlines your entire delivery process. It can help you boost efficiency, meet customer expectations, and reduce delivery costs.
Features of Delivery.com
Order management
Dedicated app for restaurants and their staff
POS integration
White glove service
Single invoice and reporting
Tips for Selecting the Delivery Management Software for Restaurants
Delivery software will play a significant role in the food industry. You must know the features, benefits, and the best restaurant delivery service management software. Now, it's time to identify how to choose the best delivery management software for restaurants.
Selecting the right delivery management software for business can be a daunting task. However, with some guidance and expert tips, you can easily find the best one. Here are some tips to help you make the right decision for your business.
Cost: Cost is the main factor to consider when choosing delivery management software. Understand the pricing structure of the software. Also, remember that you are not only paying for the software but are investing in your company's reputation for high-quality service.
Understand Your Requirements: You should identify the requirements, goals, scope, features, and size of your business for selecting the right delivery management software.
Request Demonstration: Businesses should request demonstrations and free trials to test the software for their needs and requirements.
Customer Support: Look for a company that provides customer support and training sessions. It is an essential feature for selecting the best software.
Read Reviews: Check reviews of other restaurant owners who have used this software and get an idea about the software's reliability and performance.
FAQs
What is delivery management software?
The delivery management software is designed to help businesses deliver services and goods to customers quickly.
What are the benefits of a delivery management system?
Below are the main benefits of the delivery management software.
Better customer service
Reduce cost
Higher productivity
Which is the best software for restaurant management?
Here is a list of the best software for restaurant management.
Restaurant 365
Foodics
Square
Enatega
Aloha Cloud
What is the top delivery management software in the market?
The best delivery management software are:
Tookan
Shipday
Routific
Onfleet
OptimoRoute
What software can I use to manage orders for food delivery?
The following are the best software that you can use to manage food delivery orders.
UberEats
DoorDash
Olo
Toast
ChowNow